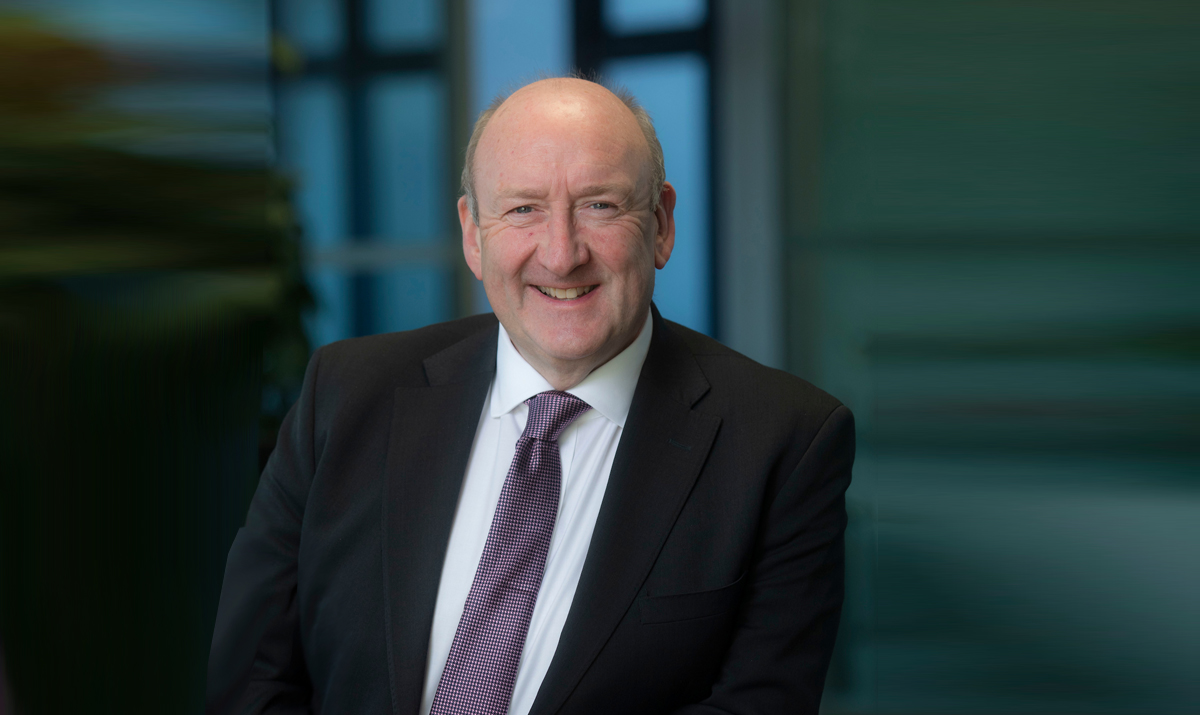 19 Jan

Interview with Dr. Pat Daly, CEO of Limerick City and County Council, Ireland

BF: Limerick has undergone significant transformation over the past few decades and has emerged as a key player in Ireland's economy. Limerick City and County Council plays a critical role in facilitating this growth by overseeing the administration and management of public services. As CEO of Limerick City and County Council, what would you highlight as key drivers of Limerick's standout position in the Irish economy and what are the main challenges the region currently faces?

Dr. Pat Daly: We would be regarded as Ireland's scaling capital. We're a location where companies come to scale, whether they're existing industries or newly emerging ones. Particularly with our partners at the national agencies, we've built a strong footprint with international companies and developing indigenous companies, helping them scale quickly through the support we provide.

We're working with a dedicated economic and spatial plan that's currently eight years into its program, aligning placemaking with the economic agenda. We've mapped out how we see Limerick developing over the next decade and beyond, so investors and citizens can see our growth plans and the sectors we're targeting. Supports were put in place accordingly, and it is delivering fantastic results.

The framework is delivering close to 20-24 new investments per year, creating, on average,  2,000 new jobs  and €1 billion annually. The pipeline for future investments is also strong. Investors appreciate the dedicated focus on growth and development, a strong plan to support it, and a proactive public authority that's invested in growth.

We've backed it heavily with policies and plans. We've also taken direct action by setting up a number of development companies to facilitate growth. We're not just planners, but active actors in the space, partnering with the private and public sectors. We like to see ourselves as an entrepreneurial local authority, operating in the same space as the investors.

BF: You've held senior positions in several local authorities throughout your career. How have these experiences informed your approach to the challenges facing the council today, and what are your strategic priorities and vision for Limerick going forward?

Dr. Pat Daly: I joined the local authority in 2013, coming from an economic development agency, so compared to some of my colleagues, I may be considered a newbie. I previously held the position of Economic and Regional Director with the Shannon Development Company, and I brought that perspective when I joined the local authority. I started as the Head of Innovation, then progressed through the system. At that time, my experience aligned with the ambition of the authority; we were able to use that experience and methodology to develop our approach. We now have one of the largest local authority investment teams in the country, covering areas such as trade and investment, post-investment aftercare, and place development. In fact, as part of our internationalization efforts, we worked with M&C Saatchi to rebrand Limerick and tell our story in the way we wanted it to be told. This has been significant and has gained traction in the market.

Coming from a different background and offering a fresh perspective has helped move things forward. There was a great entrepreneurial team here and there was a significant opportunity to come in and develop the innovation aspect, then to expand into economic development and beyond. Our approach is aimed at assisting the private sector to achieve more and we strive to be entrepreneurial in managing risks effectively. Investors have appreciated our approach as we speak a common language with them, but we also recognize that we are a planning authority and must work in tandem with that responsibility.

About eight years ago, we successfully helped Uber to invest in Limerick as their European location. People questioned why Uber chose Limerick when they could have gone anywhere, and this garnered significant attention. We recently announced that Eli Lilly has developed a new major pharma campus in Limerick, with a billion-euro investment and 600 new jobs. The campus just broke ground a couple of weeks ago. Limerick is currently experiencing a surge of activity and is seen as an innovative authority. The key point now is to keep the momentum going.

BF: The Limerick Development Plan for 2022-2023 is the first combined plan for Limerick City and County since the amalgamation of the two authorities, mapping out a high-level blueprint for regional development over the next six years. In light of this plan, can you tell us more about the strategies and initiatives that Limerick City and County Council is implementing to promote economic growth and development in the region?

Dr. Pat Daly: It's the first plan we've had as a joint authority and it's the first development plan that encompasses both the city and the county of Limerick. It builds upon the tactics and strategies mentioned earlier, extending to areas such as road systems, transport, mobility, and climate change. This plan brings it all together, mapping out where developments can and cannot occur, increasingly depending on developing a sustainable agenda. It sets Limerick on a path to becoming a green region on the Shannon estuary, aligned with the objectives of the Wild Atlantic Way. As the largest capital city region along the Wild Atlantic Way, it acknowledges the good work done so far and builds up on it without changing for the sake of change. It's building up the whole time. We've been steadily working on this plan for eight years. It confirms our current position while also enabling us to proactively address the climate change agenda, given our location on the estuary, ocean and the Wild Atlantic Way. Offshore wind development is seen as a key factor for us going forward, as it aligns with our focus on new and green energy sources.

BF: A prime aspect of Limerick County's first joint Development Plan includes major infrastructure developments. Can you provide details about this and other significant infrastructure or development projects that are currently in progress in the region?

Dr. Pat Daly: We are currently zoning new areas in both the city and county of Limerick. These areas include both new living districts and innovation campuses. We're working closely with key partners to drive home development, investment, and innovation across the plan. The plan aims to create nearly 15,000 to 16,000 new homes in the coming years, while maintaining 2,000 to 2,500 jobs per year and attracting over a billion euros in investment annually. For example, we're currently dealing with two new hospital campus projects on the north and south sides of the city. We had recent major pharma campus investments from companies like Eli Lilly and Regeneron in the recent past. We're focusing on MedTech investments, financial services, and the digital and healthcare sectors, both from indigenous and foreign perspectives. Managing the growth in all these areas is key. Complimenting these, we also have major plans for mobility and transport systems, and these are currently under consultation with the public. Maintaining the pace of growth and development is the key challenge.

BF: The Limerick Tourism Development Strategy, which aimed to attract 1.1 million visitors to the region annually, generate €360 million in revenue, and create 1,500 new jobs by 2023, is currently in its final year of implementation. What role does tourism play in the local economy, and how is the region working to attract both domestic and international visitors beyond the implementation of the current Tourism Development Strategy?

Dr. Pat Daly: We're currently on target. We hope to out perform it by the end of the year. Limerick will host the Ryder Cup in 2027, which will take place in Adare, located only 20 km from the city. We have successfully increased the number of visitors to over 1 million per year, which is a significant accomplishment for a city region. We have also established a new tourism company, called Discover Limerick DAC, which aims to invest in and protect public assets like key landmarks and heritage sites as well as support the private sector with hotels and hospitality. This initiative has been effective and with the upcoming Ryder Cup, there will be a need for additional investment in new hotels, restaurants and transportation systems. As a key city on the Wild Atlantic Way, we're a popular stop-off point, and our collaboration with national agencies like Tourism Ireland and Fáilte has been beneficial. We're hoping to achieve that target. We've also developed a new walking and cycling greenway that runs from Abbeyfeale in the county to the city; this has attracted about a million visitors in just nine months, which is incredible. Ireland is well-prepared for the future.

BF: Limerick County has cultivated a thriving ecosystem for entrepreneurship and start-ups in recent years and the council has actively promoted the region as a destination for business and innovation, with initiatives like the Limerick for Engineering campaign aimed at attracting high-tech companies to the area. Could you tell us more about some of the initiatives or programs specifically targeted toward promoting innovation and entrepreneurship in Limerick County?

Dr. Pat Daly: When I joined, we founded Innovate Limerick with the idea of bringing together public and private innovators, academic and incubation centers, the investment community, and entrepreneurs. We aimed to be the glue that brought them all together and it has worked. We've invested and tripled the amount of innovation space, including incubation centers, hot desk facilities, and workspaces, in the county. To this day, we continue to see overwhelming interest. The scale, size, the cost of housing and investment, and the office spaces are well-suited for our needs. Additionally, the quality of talent available from the universities (with over 6,000 graduates annually, many in the sciences, economic and business fields) has been a great advantage. In fact, Limerick has attracted the most venture capital in Ireland for the past several years, showing that our efforts have been successful. What was previously lacking was infrastructure, such as offices, meeting places, and incubation centers. This has been tackled. We have put those in place to foster innovation and create a place where everyone can network and collaborate.

BF: Limerick promotes itself as "the city with an Atlantic Edge and a European Embrace" and the fastest-growing FDI region outside the capital. Recently the city also claimed the top spot on the FDI European Cities and Regions of the Future 2023. How does Limerick County Council work with investors and businesses to promote economic growth and development and what opportunities are there for U.S. investors looking to invest in the city?

Dr. Pat Daly: We have a clear and dedicated vision of where we want to be. We have a team of executives who work closely with national agencies, providing real-time intelligence and information about current and upcoming developments. It's important to ensure that the right information reaches the right people at the right time, especially when it comes to investment and engaging with the community. The future of our region is likely to revolve around green energy, offshore energy, and energy logistics.

In collaboration with M&C Saatchi, we worked on our brand to effectively tell our story as a region connected to the U.S. and Europe, embracing the exchange between the two. In addition, we're seeing significant growth in the supply chain for pharma and MedTech, with a doubling up of investments in this space each year. Smaller industries in the supply chain are also emerging as leaders. Healthcare is another strong sector, with two private hospitals considering investments in Limerick. The health supply chain and the health industries are robust, complementing the developments in finance and technology. As the historic manufacturing cradle of Ireland, we're now focusing on digital manufacturing and incorporating new systems that build on our past while shaping the future.

BF: The city is emerging as a front-runner in sustainable development and the digital-green shift; it's one of just two EU 'lighthouse' cities selected for a pioneering climate-change program and a digital 'Smart City' under the European Commission program. What specific sustainability initiatives has Limerick County implemented and how is the council working to promote sustainability and environmental protection in the region?

Dr. Pat Daly: As a "lighthouse" city within the European Project, we received a €30 million grant that allowed us to collaborate with partners and share developments with other cities in Europe. One of the challenges we faced was dealing with old buildings in the city center that were difficult to develop due to their original construction. However, the grants provided us with an opportunity to reinterpret these buildings, which were very energy efficient for their time in the 1800s. We've been exploring ways to reinvent these buildings for the future, such as through energy exchanges with districts and neighborhoods in the city. Excess energy produced in these areas can be sold back to the grid. We've been experimenting with community grid systems and running innovation challenges in the private sector to address issues, like heating in older buildings, that don't meet current regulations. There has been a cross-fertilization of ideas among our partners in these efforts. Currently, the Shannon Energy Task Force is looking at opportunities, particularly in Foynes, which is our major port located 50 km from here. Offshore wind energy is being explored as a potential solution to generate enough energy to supply the region and also contribute to the grid. This aligns with our development plan, as we have been forward-thinking and considerate of the future needs of the world.

BF: Do you have a final message to the readers of USA Today about choosing Ireland as their next business and investment destination?

Dr. Pat Daly: We welcome the investment community, and they shouldn't bypass Ireland without taking a close look at the opportunities in Limerick. Limerick is one of Ireland's oldest cities; we are even older than London. The opportunity of hosting the Ryder Cup for its 100th anniversary will be a truly significant moment and visitors will be amazed and enthralled by what Limerick has to offer. We're conveniently located close to Shannon Airport and are hyper-connected by rail, making it easy to travel in and out of the city. Come visit anytime and you will not be disappointed.