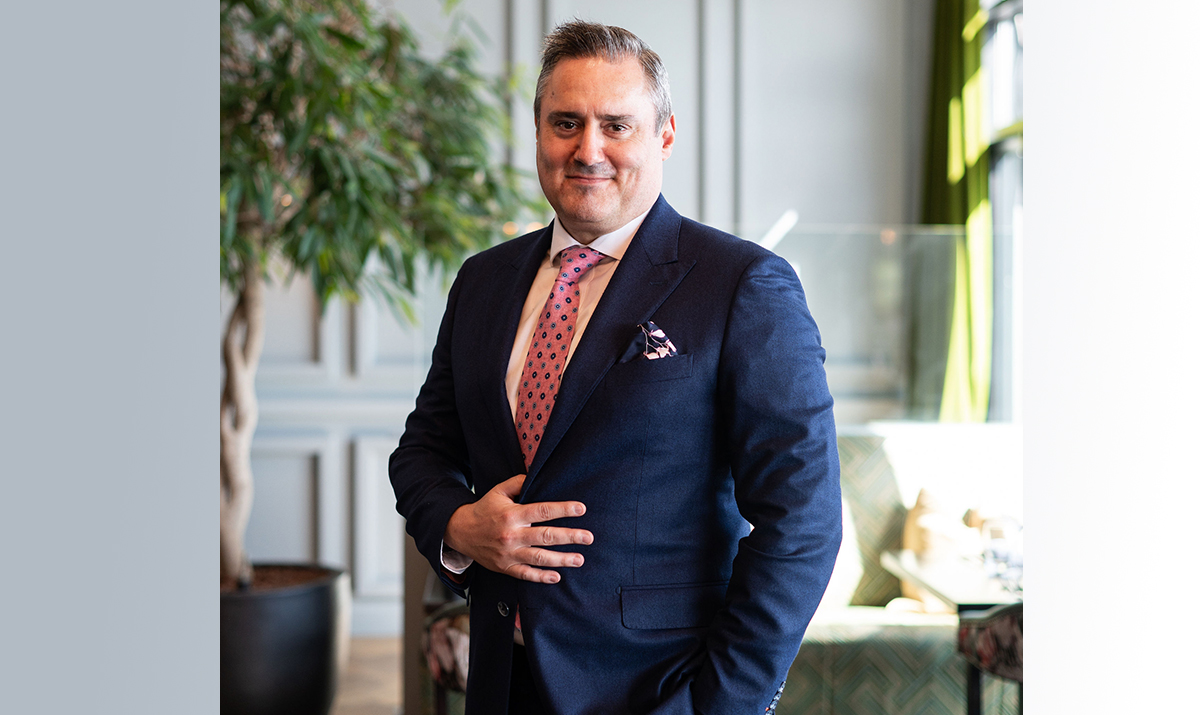 19 Jan

Interview with Frits Potgieter, General Manager of Montenotte Hotel, Ireland

BF: Pre-COVID figures had the hospitality sector making up 10% of Ireland's GDP and bringing in €9.3 billion in revenue. As travel returns after the pandemic, tourism in Ireland is seeing a return to its previous numbers. To begin the interview, I'd like to talk about the hospitality sector as a whole. What factors have led to the robust recovery of Ireland's tourism sector, and what outcomes is the hotel expecting in 2023 and beyond?

Frits Potgieter: I believe that the recovery of the hospitality sector has been largely due to pent up demand for travel (from both international and domestic guests) as well as deferred bookings and accumulated savings. Since late 2021, we've seen our industry benefit from guests looking to travel and eat out after two years of uncertainty and global lockdowns.

At The Montenotte Hotel we are expecting 2023 to be a strong year. We have already experienced positive signs of recovery in quarter one and, importantly, our international leisure guests from Europe and North America are starting to return. Quarter two and three are also starting to show positive advance demand, which bodes well for our international leisure segments. Domestic and international guests are now more plentiful than ever. To meet this expectation requires continuous investment in new products and experiences and we have been working on several exciting new projects in the background.

To start, we have just completed a significant renovation project within our residences. The Montenotte's on property with 26 one- and two-bedroom luxury apartments. We are also very excited to be working with a new executive chef who will enhance our gastronomical experience, and this is important as we are committed to creating authentic guest dining journeys, underpinned by the very best flavors and ingredients from local Irish producers that will not only encourage more local guests to visit, but also introduce our international travelers to the very best Cork and Ireland has to offer.

Early 2024 will see the launch of 'The Woodland Suite Experience' at The Montenotte Hotel, which will epitomize the truest sense of escape. Nestled within the beauty of the Irish landscape, high above the Port of Cork, these exclusive Woodland Suites and Woodland Nests will enhance a sense of exploration and experience, evoking harmony and calm. As always, we continue to develop our sustainability strategy to remain as conscious as possible and, as we develop the Woodland Suites, a new layer of trees will be developed using native oak, birch, alder and holly, and a new understory enhancement program will also be undertaken to include native ferns, berries and flowering bulbs. Benefits to wildlife and biodiversity will be significant. The space will eventually evolve into a new mixed woodland and will ultimately create a unique urban woodland experience.

BF: Built in the 19th century, the now four-star Montenotte Hotel is iconic for Cork and is a key player in the city's luxury tourism sector. Before we talk about the hotel's renovations, I'd like to talk about the hotel's unique ethos. What aspects separate the hotel from its competitors in the way it is run and how it markets itself?

Frits Potgieter: The Montenotte Hotel is a very special property, it is a vibrant, family-owned, design-led destination hotel in Cork, with a uniquely different style and ambience, that offers guests an experience like no other. Originally built within the former 18th century residence of a merchant prince and nestled in stunning surroundings it has amazing and unrivalled views of Cork City and harbor. To date, our owners have invested significantly in the property and our people, which epitomizes our ethos of delivering truly exceptional experiences.

The essence of The Montenotte Hotel's uniqueness is that it is so much more than the sum of its parts. It offers guests a truly immersive experience and endless possibilities, with unrivalled views over Cork City, stunning design-led interiors, a cosmopolitan bar and brasserie, an eclectic rooftop cocktail bar that could take you to London or New York, an award-winning spa, carefully curated rediscovered Victorian gardens and grounds, and a location that is literally a stone's throw away from the city. All of these elements combine effortlessly to create a true urban haven.

Our service ethos and people culture revolve around our four values: passion, integrity, ambition and courage. This very much drives and empowers our team to genuinely engage with our customers and create truly authentic guest experiences.

BF: The hotel has undergone many transformations over the years, including a €7 million revamp back in 2016. Despite the pandemic, the hotel began undergoing renovations, including a €1 million terrace bar. In 2023, more changes are underway. Can you give us an overview of the hotel's new features in the last decade and what the hotel will feature by the end of 2023?

Frits Potgieter: While originally dating back to the 19th century, The Montenotte is distinguished by its unique modern eclectic style with new-meets-old design details. We embrace our prestigious heritage and grand architecture but through more contemporary ideals. We're incredibly proud of one of the hotel's most recent additions, The Glasshouse, a stylish, cosmopolitan rooftop cocktail bar with a vibrant design, eclectic interiors and amazing terrace views over Cork Harbor and City, The Glasshouse was built in 2021. Despite the issues we were facing with the pandemic at the time, we realized the potential of The Glasshouse and what it would bring to the hotel and Cork City. We had faith that the

investment in this Cosmopolitan rooftop bar would create a unique and exponentially enhanced guest experience, and we are thrilled with the incredibly positive responses the space has elicited from both our residents and local customers.

As mentioned previously, we have recently relaunched The Residences, the hotel's private luxury apartments. The shared spaces have been completely redesigned by our owner, Josephine Whelan, and the project, a €500,000 investment, very much rejuvenates and repositions these beautifully appointed residences perfectly for the leisure market. These spacious, contemporary, design-led residences offer total privacy and exclusivity with full access to every experience in the resort, including our private cinema, Cosmopolitan Bar and Brasserie, rooftop cocktail bar, spa, swimming pool and gymnasium. It's in the perfect location, tranquil in a residential area, with close proximity to Cork City; the very best of both worlds!

In early 2024 we will be launching a Woodland Suite Experience that is totally unique to Ireland: an immensely ambitious development which will include the addition of 22 individual designed, luxury Woodland Suite hideaways, some suspended more than 20 feet in the woodland, others cantilevering across the woodland topography with stunning river view private balconies. When fully completed, the Woodland Suite Experience will comprise 22 Woodland Suites and Nests and a private club house, for exclusive use to The Woodland Suite guests. We've worked with the award-winning Dublin-based design firm Kingston Lafferty to create The Woodland Suite Experience, which was designed with nature at its very core, and with each environment exuding an inherent luxury, an understated elegance and complete exclusivity. The minimalist style is combined with modern elements to accentuate the views over the city and port below and to maximize natural light, creating a sense of being outdoors, allowing our guests to reconnect with nature. The woodland in which the Suites are will be developed, contains remnants of the original demesne landscape. Oak, lime and beech in excess of 150 years old can be experienced at the fringes, and all of the old demesne trees will be protected and retained. The architecture across the space is of a minimal style, with modern glazing elements that accentuate the views and maximize light within. The suites float and cantilever across the woodland, in keeping with the varying gradient of topography promoting minimal impact and site sensitive consideration. Lighting is designed to be in accordance with dark sky guidelines, with no light above the horizontal plane of the head of the luminaire in the case of pathway and roadway lighting, and no upward light pollution.

For The Woodland Suite Experience, think: unique luxury, escapism, privacy, multiple night stays, high touch concierge services and bespoke itineraries for individual guests.

BF: The COVID-19 crisis had a transformative effect on hospitality and tourism and we are currently seeing a lot of new opportunities. What impact has the pandemic had on the way the hotel operates, and what changes are we seeing in guests and their needs?

Frits Potgieter: The pandemic has reignited the importance of connection, whether that be with loved ones or with oneself. I feel that it has brought forth a new appreciation of our friends and family, tranquility, the importance of "me time" and the search for meaningful experience, including travel. Guests are searching for experiences that deeply engage with their sense of discovery and wonder, and it is important that we deliver a resort journey that fulfils this need.

I think the pandemic has also reminded us all of the importance of connecting with nature, and we are fortunate to be situated on six acres, which include beautiful curated gardens for guests and customers to explore. We are proud to have recently won The Best Landscaped City Hotel in Ireland, not only because of our beautifully curated sunken Victorian gardens but also as we encourage biodiversity, something that we'll be continuing to improve.

From a sales and marketing perspective, the pandemic has shown us that we can connect with clients and future clients in so many ways, not only in person but also virtually now when an in-person meeting is not an option. Our global reach is increased, and this can only be a positive.

The support received for our industry from Tourism Ireland and Fáilte Ireland has been phenomenal over the past two years and, indeed, for us here at The Montenotte. They have also introduced our brand to many new clients over this time.

BF: The hotel involves itself in the Cork community in many ways, including through its support of the arts. The hotel recently named its annual artist in residence and set off some art events in 2022. What initiatives does the local institution have to support and involve itself with the local community and the City of Cork?

Frits Potgieter: We are a proud supporter of the arts. As part of its long-standing commitment, The Montenotte Hotel's Artist in Residence program aims to showcase Irish artists and promote their work through a six-month exhibition within the hotel's lobby. Now in its sixth year, the program is in partnership with The Gallery Kinsale, a local art gallery that represents the best in up-and-coming local and national talent.

We are also very involved with our local community on the ground. We support local public cleaning initiatives with the Tidy Towns association, a drive decorating and planting in our local neighbourhood, and our team very much enjoy playing their part in these important projects.

Finally, our guest relations team are always encouraging our guests to explore Cork and the local area, visiting renowned establishments like The Crawford Art Gallery and Jameson's Distillery in Midleton, to enjoying an incredible maritime experience by taking a boat rib out of the Port of Cork with Ocean Escapes, to immersing themselves in the community and to experiencing Cork's unique history and culture.

BF: In June the hotel joined the prestigious Small Luxury Hotels of the World partnership. How has this and other global partnerships helped to cement the hotel's place as Cork's premier luxury stay?

Frits Potgieter: Through partnering with the right brands, whether that be local institutions like The Gallery Kinsale, The Kildare Gallery of Sculpture or international companies, we have maintained the unique Irish charm of The Montenotte Hotel.

Not only has the hotel become a go-to place to stay in Cork, but we have also been recognized as one of Ireland's leading hotels. We recently won silver at The Virgin Gold Medal Awards 2022. The award acknowledges excellence in service and accommodation. Our silver win demonstrates the high class and flawless service provided by the Montenotte Hotel, and the comfortable, quality surroundings of the hotel establishment. The Montenotte Hotel continuously aims to meet and exceed guest expectations. As a proud member of Small Luxury Hotels of the World, we've seen our business grow through The Montenotte Hotel's standing becoming more international; and as our reputation rises, we are positioned among some of the best independent hotels in the world.

As a member of Small Luxury Hotels of the World, our international reach has grown considerably, and our team have visited both the U.K. and the U.S. on three occasions on sales trips in the past six months. We are also very proud to work with Tourism Ireland and Fáilte Ireland as we grow our brand internationally through their many international events and showcases.

We have also just started working with Grown Alchemist, one of Australia's top beauty and lifestyle brands. We have no doubt that this will take our spa to the next level.

BF: You recently stepped up as general manager at the beginning of last year and are leading the charge on transforming the hotel into its new incarnation. It's an incredibly exciting time for tourism. What are your current top three priorities as general manager of the hotel, and what vision do you have for the stay beyond 2023?

Frits Potgieter: My three key priorities are inextricably and beautifully intertwined. One revolves ensuring we consistently deliver exceptional service experiences for our customers that are brimming with personality, character, authenticity and professionalism. The second is to continuously drive the development of new products and experiences for our guests that are unique, innovative, meaningful and that deeply connect with our guests on a personal level. And thirdly, perhaps most importantly, to develop, support, equip, inspire and empower our amazing team to deliver these experiences consistently.

Our vision is very clear: to become the leading, independent urban resort hotel in Ireland, and we very much recognize that this is a journey. As we further develop more unique guest experiences on properties such as The Residences and Woodland Suites, and bring to life additional new dining concepts in the next 24 months, we are committed and determined to play our role in promoting Cork City as an international destination worthy of exploration and discovery.

 

BF: What is your final message to the readers of USA Today?

Frits Potgieter: Ireland is an unmissable destination that simply must be discovered and experienced. Cork is Ireland's maritime haven, with a history spanning over a thousand years, set in a beautiful soft coastal environment with a people and culture that exudes a unique authenticity that will stay with those willing to embark on this journey of exploration for a very long time.