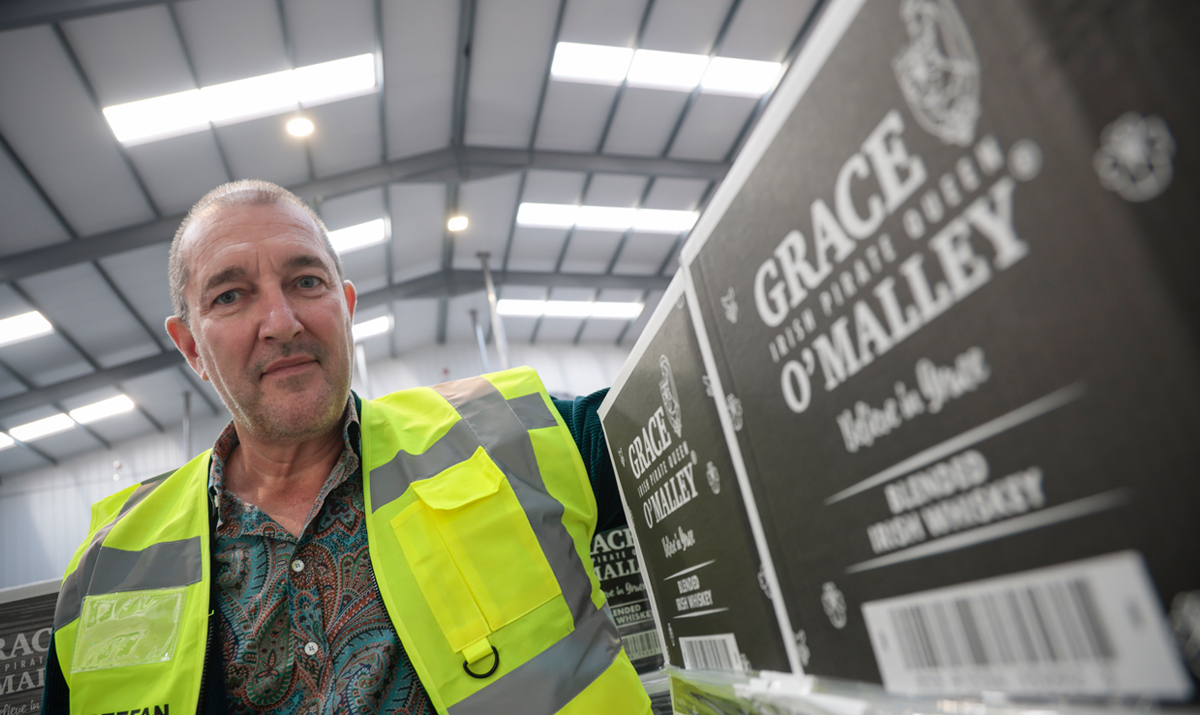 19 Jan

Interview with Stefan Hansen, Managing Partner, Private Pier Industries, Ireland

BF: Irish whiskey is seeing a renaissance. It has been the fastest-growing spirit category globally over the past decade, achieving a 140% rise in sales between 2010 and 2020. From having just two distilleries in the 1980s, Ireland now produces considerably more single-malt and blended whiskies, which include Private Pier Industries' own much-admired brands: Grace O'Malley, Independence and Ór. To begin this interview, can you explain the main factors behind the increasing demand for Irish whiskeys in general?

Stefan Hansen: Brown spirits are in vogue at the moment and the market for them is growing worldwide. Within that, Irish whiskey has an advantage, as it is the world's original whiskey and it's seen as a more approachable whiskey because of the way it is made. It is usually triple distilled and must be matured for at least three years, so Irish whiskey is smoother, it's not peated and therefore easier to drink than Scotch whiskey. That lack of heavy peat also makes it easier to mix and use in cocktails. If you look at the statistics for Scotch whiskey consumers, 95% of them are older, white men, whereas Irish whiskey appeals to a much more diverse audience: for example, 50% of its consumers are women and the female market for Irish whiskey continues to expand massively in Asia, America and elsewhere in the world. Another reason is that the number of people globally who are consuming alcohol is rising, so sales of all spirit categories are increasing, plus the world's Irish community that wants to enjoy and promote Irish whiskey is very large.

BF: Private Pier Industries was established by yourself and another German entrepreneur in 2011 and you are currently using your combined and extensive experience in marketing to build brands in Irish whiskey and pet food. In 2018, you launched the Grace O'Malley whiskey brand, a unique blend of triple- and double-distilled single-malt and grain whiskies that recently won gold at San Diego International Wine and Spirit Challenge and double gold at San Francisco World Spirit Competition. You followed that two years later with the Independence brand, which is a triple-distilled single malt matured in Irish imperial stout casks. And last year, you introduced Ór, a traditional and smooth Irish whiskey. Could you give our readers an overview of how the company became one of the most-established names in Irish whiskey so quickly?

Stefan Hansen: Usually, people entering the Irish whiskey sector start by building a distillery, which locks down a lot of money that they have to pay interest on in order to finance their capital expenditure. After they've started distilling, they have to wait three years until they have a product to sell. Then they realize they need to create a brand and invest in a bottling line, bonded warehouse and so on.

We did it the other way around. First of all, we bought some whiskey from one of the existing facilities and we got our hands on the Grace O'Malley brand trademark. This Irish folk heroine was a pirate queen born in 1530 and our Grace O'Malley brand is the only whiskey brand in the world that is named after a woman, which resonates with female consumers of the spirit.

We launched a test run of 2,500 bottles of Grace O'Malley that were distributed to specialized whiskey shops in Dublin. The test was very successful, with all the bottles being sold within four weeks. After that, we decided to secure a big whiskey supply contract with Great Northern Distillery, Ireland's largest independent distillery, so that we could ensure that we could buy a significant amount of its production each year. We then gave Grace O'Malley, which is our premium brand, a full launch the following May. This included our now multi-award-winning Grace O'Malley Heather Infused Gin. With Grace O'Malley Spirits established, we followed with Independence Whiskey, which is a mid-level brand comparable to Jameson, and then Ór Whiskey, our market-entry brand, whose name is pronounced Aura and means Irish gold in Gaelic.

Our Independence brand benefits from the fact that there are 165 different independence days around the world every year, but it also has a strong connection to Ireland, while our other two brand names make it clear that we are selling Irish whiskey. When my business partner Hendrick Melle and I stepped out of the advertising industry after 25 years — where we worked for global giants like Honda and Procter and Gamble — to set up Private Pier Industries, we agreed that the most important thing in any of our future endeavors had to be the brand: it must travel the world and tell its story by itself. And, when you have such a massive Irish diaspora, if your story is about Grace O'Malley, Independenceor Ór, then you've already done a substantial part of what needs to be done to make the brands successful.

BF: Having launched your whiskey brands, Private Pier Industries has gone on to become the country's top whiskey wholesaler. Why did you decide to expand your activities in the sector?

Stefan Hansen: We realized that there is a big shortage in bottling lines and facilities in Ireland, and it was very expensive to bottle, as there were only two or three companies in that sector. So, we decided to set up our own bonded warehouse and bottling line, which is currently fully booked for our products, plus those of third parties and we are producing 15 to 17 other brands today.

We buy up to 2 million liters of alcohol a year from Great Northern Distillery and several other distilleries which is enough to produce 3.6 million bottles of whiskey. At the moment, we don't need that huge volume for our own brands, and so we have become the largest wholesaler of Irish whiskey. We recognized that there was a shortage of unbranded whiskey in the market: due to the enormous growth in global demand for Irish whiskey, most distilleries need all their own spirits for their own brands — but we had access to a substantial quantity. We are now supplying several blenders and we are producing.

We have a large plot of land for our own bonded warehousing, working distillery and bottling line — the complete package. Overall, we had a 10-year plan to develop the business in this direction: first establish the brands, then the supply, then services and, at the end, the distillery.

BF: The US is an enormous market for Irish whiskey: in 2021, the sector's sales to the US grew by 16% to reach €1.3 billion and it is projected to replace Scotch as the second-most consumed whiskey in the US behind Canadian by 2030. How significant is the US for Private Pier Industries' exports?

Stefan Hansen: The US market huge, but it's hard to achieve success in that country. It's expensive and there are a lot of hurdles to jump over. We were growing faster in Africa, Europe and Asia than in the US, where our US Irish whiskey exports started with slow progress. Now, however, our US exports are ramping up, particularly in states like Texas, and this year we will launch our Independence Irish whiskey brand in the US on the 4th of July.

The US is important because, if you could make it there, you can make it anywhere. One challenge is the massive size of US orders: when you're selling to France, they order pallets, but when you're selling to the US, they're ordering shipping containers full of whiskey. That's a challenge we can meet, as we have the capacity to produce up to 3.6 million bottles a year.

BF: Private Pier Industries also markets grain-free, high-meat-content wet and dry dog food, plus a kelp-algae superfood for pets, under the Irish Pure brand name. All Irish Pure products are made in Ireland and they are increasingly popular in Europe. What makes this brand stand out?

Stefan Hansen: Private Pier Industries entered the Irish pet food sector before we launched our whiskey operations. Previously, we had an online pet food shop in Germany and its most popular product was from Canada, thanks to that country's image as a green and healthy environment. Unfortunately, our supplier suffered a fire and stopped producing. My partner and I decided to create our own pet food brand instead, we started considering sources and realized that Ireland — where all cows feed outdoors on natural, green grass — also conveyed a hugely positive image.

First we came up with the brand: Irish Pure. Then we traveled all round Ireland to find the right pet food producers. We met the Conolly family, developed a deep friendship with them and they are now the manufacturers of our main dry pet food product. Together, we've developed the best dog food on the market, which is made from fresh Irish beef and produced within 48 hours of slaughter. This product also contains the kelp-algae superfood.

There is a big trend in the European pet food market toward people wanting the best quality food for their dogs. They want a good, healthy product and they want to buy brands that genuinely care about the environment and animal welfare. At the moment, Irish Pure is available at Das Futterhaus, the second-largest retail chain in Europe for pet food. It is the chain's only non-in-house brand that is allowed to carry out in-store advertising, and that is because of our concern for animal welfare. Irish Pure has been doubling its turnover every year and we plan to do that again this year. We also have plans to start exporting Irish Pure outside of Europe.

BF: Why has a company founded in Germany chosen to focus on Irish-made products and what are the top-three priorities you have for Private Pier Industries moving forward?

Stefan Hansen: We had other businesses, but we decided to sell them, because our Irish dog food and spirit divisions were growing so successfully that we wanted to focus on them. Today, we've moved more or less everything to Ireland, although we still have a headquarters in Berlin. I spend a lot of my time in Ireland, mainly because of its natural environment, friendly people, good food, dairy and so much more. In addition, in the Irish business environment doors are always open and you don't have to spend time explaining to international customers that you have a good product, because everybody expects you to have a good product when you say it's made in Ireland. And I'm very happy that the Irish food board Bord Bia, Enterprise Ireland and all stakeholders are very strict about maintaining the standards of "Brand Ireland".

In terms of our priorities, Private Pier Industries has been growing extremely rapidly since 2015 and we have to be careful that the company continues to have the right structure in place to achieve its goals. The second priority my partner and I have is that work remains fun and we are doing great things powerfully and emphatically. The third is that we refuse to do anything that goes against our philosophy — everything we are engaged in has to be environmentally aware, we don't get involved in political projects and we don't do anything just for money. All of our products must be good products for the world.