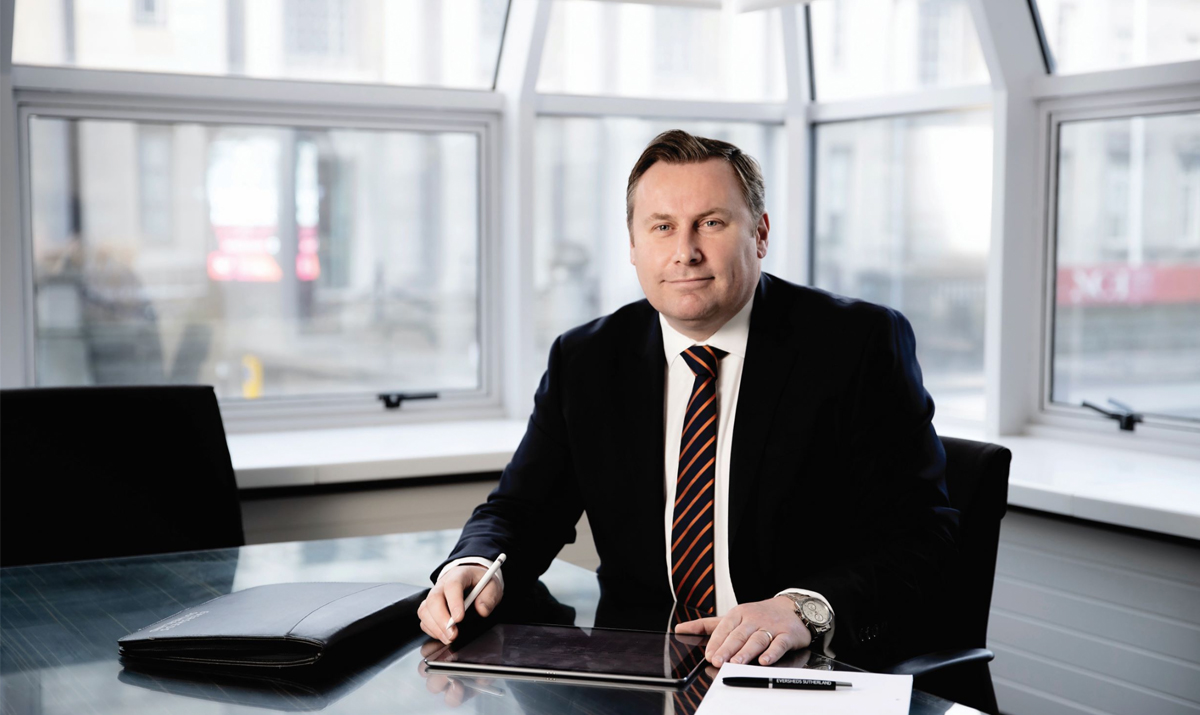 17 Jan

Interview with Alan Connell, Managing Partner of Eversheds Sutherland LLP, Ireland

BF: Ireland has done extremely well over the COVID-19 pandemic, being the only economy in the EU to grow in 2020 and having a projected GDP growth of 10.1% this year. We'd like to talk about Ireland's economy as a whole. What factors have led to Ireland's current rise in GDP, and how has Ireland's law sector been a part of this growth?

Alan Connell: Ireland has positioned itself over the last few years as very much an international business hub location, and that position in the global market has become even more important, especially given the internationalization of the economy. Ireland now has the highest FDI per head of population within the top 10 FDI destinations in Europe. Our success in attracting high-quality multinational organizations to Ireland has paid dividends, creating highly paid jobs and boosting our tax receipts generally.

Put simply, Ireland's offering is a powerful combination of benefits. In addition to providing the free movement of goods, people, capital and services within the EU's single market, Ireland offers a low-tax, EU and Eurozone jurisdiction with a pro-business environment, talented workforce, and the necessary physical, legal, regulatory and commercial infrastructure of a highly developed OECD jurisdiction, with the ease of connection to the rest of the EU and US with direct flights.  As such, Ireland provides an attractive platform for multinationals and their leadership teams to do business both in Europe and beyond.

Ireland's approach enables companies to set up swiftly, with minimal red tape, in a connected English-speaking, and common-law environment.  The talented and youthful workforce is well-educated, mobile, ambitious, and adaptable.  As a country, Ireland combines competitive salaries with a high standard of living to attract talent from every corner of the world.  It is the people, rich with creativity, skills, and culture, who drive Ireland's, and its FDI investors', success.

Multinationals and their global leaders and teams face ever-growing complexities flowing from geopolitical conflicts, trade wars, tariff issues, a global pandemic, and they are also grappling with a rapidly evolving global tax environment with major reforms emanating in recent times both from Europe and the US.  Ireland is very much embracing this challenge by offering certainty in an uncertain world.  Certainty of commitment to the EU, certainty of access to the EU's single market, certainty of access to global talent and skills, not closing borders, and offering certainty of legal and tax treatment.

The outlook for Ireland remains positive as multinationals, together with their leadership teams, can avail of the possibilities presented. Consequently, Ireland continues to remain the jurisdiction of choice for internationally focused companies, and their global leadership, looking to break into European markets and beyond, particularly for the US and other global MNCs, and this is a trend we see continuing.

BF: Eversheds Sutherland is Ireland's leading full-service global law practice. The firm covers all areas, with your realm of expertise being in taxes. What key milestones has the company recently passed – such as its merger with Kenny Solicitors – and what is the company doing to further grow its operations in Ireland and abroad?

Alan Connell: After many decades without change, the legal sector in Ireland is changing, and changing significantly. The attraction of Ireland as a hub for investment, particularly post-Brexit, has seen an increased number of internationally focused organizations looking to establish operations in and from Ireland. Dublin is continuing to develop as an international platform and legal hub.

We welcome all of this and expect this trend to continue. We are fortunate to be ahead of the curve, so to speak, and by some distance. We were the first major international law firm to have a significant presence in the Irish legal market, and we have led the way in terms of driving its evolution.

This globalization has meant that the number of global decision makers based in Ireland, whether that is in Irish or multinational organizations, with significant budgets, has increased rapidly in recent times. Such global decision makers need to be advised by global advisers; they require multi-jurisdictional services and solutions, as their businesses are global. The indigenous law firms in Ireland are focused solely on Irish legal matters and, as such, do not offer this. For global businesses, which are invariably sophisticated purchasers of cross border legal and tax services, this can be very limiting, costly and time consuming.

Today, we are the most established and largest global full-service law firm in the country, with an all-island offering.

With our multidisciplinary expertise and diverse practices, we are the standout law firm of choice for internationally focused companies and financial institutions doing business in and from Ireland.  Our global footprint as a top 10 global law firm means we can seamlessly assist internationally focused clients on all their cross border legal and tax requirements. We can leverage the legal and tax expertise of our talented colleagues in our offices across the globe, encompassing 75 offices in more than 30 countries, including eight offices in the US. We have the ability to provide a seamless legal and tax service right across Europe, the US, Asia, Africa, and the Middle East.

We have also recently expanded our US presence by opening a San Francisco office to serve one of the top business, technology and legal markets in the US, while also extending our worldwide footprint. We are particularly excited by this development.

BF: Brexit was a big deal for Ireland given its high amount of trade. Around 15% of Irish goods and services are exported to the UK, with some sectors, such as agrifoods, exporting 40% of its product to its neighbors. Given the firm's close dealings with the UK, what impact has Brexit had on major businesses in the Irish market, and how are firms like Eversheds helping to fill in the gaps?

Alan Connell: It is important to say from the outset that Brexit, in and of itself, is not a welcome situation. The UK is Ireland's largest trading partner, and for the UK to be outside the EU single market is not what many of our clients would want. The other side of it is that Brexit brings opportunities for Ireland, in particular sectors, not least financial services, where clients need to have access to the single market and be able to passport their goods and services across the single market.

Our reaction to that is to help and support our clients to navigate through all these unforeseen consequences of the UK leaving the single market, and there have been many.  We have advised many of the companies that have declared Dublin as their post-Brexit EU base, and many others seeking advice around operating models, corporate structures, cross-border trading relationships, supply chain re-alignment, data protection, intellectual property, taxation and so on.

Our unique Brexit Advisory Group, which draws on the expertise of our multidisciplinary teams in Dublin, Belfast and across the UK provides a "two island offering" helping our clients anticipate and plan for the challenges, and the opportunities, ahead. Also, our employment and labor team has been providing important employment advice to clients for Brexit-related areas and we have advised many clients in our internationally focused client base, particularly those in the tech, energy and financial services sectors: looking at their existing business models and the opportunities presented for growth, particularly in the context of the single market, and developing greater efficiencies in their operating models.

As Ireland is the only English-speaking common-law jurisdiction in the European Union, importantly, for multinationals and their leadership teams, it is now the jurisdiction of choice for business contracts and dispute resolution.  In fact, in the wake of Brexit, the Law Society of Ireland joined with several key stakeholders to highlight Ireland's advantages as a venue for international legal work and dispute resolution. Ireland For Law, the banner brand for Ireland's International Legal Services Strategy, is the result of this collaboration. It is supported by the Law Society, The Bar of Ireland, IDA Ireland, and several government departments.

BF: Eversheds Sutherland is a global firm with around 70 offices in more than 30 countries. How significant is Ireland in its global portfolio, and how does the firm leverage its global entities to raise knowhow and attract multinational deals?

Alan Connell: Ireland is very much a platform jurisdiction.  As such, in terms of Ireland's importance to Eversheds Sutherland global network, it is very important, as most internationally focused corporates have some presence in Ireland, often as a valuable operating or holding company jurisdiction.

Our Irish offices serve as an important platform for our internationally focused client base. In addition to servicing businesses in Ireland, we are also in a position to service businesses expanding out of Ireland. Our global footprint means we are on hand as "a one-stop shop" to assist our clients as they seek to expand their operations in and from Ireland.

In the context of global expansion for businesses, Ireland often acts as a bridge or a gateway to many jurisdictions.  We talk about Ireland in the context of our US clients as effectively being the quarterback for Europe. We know clients are not just investing in Ireland just to access the Irish market. Rather they are seeing Ireland as a launchpad into the EU single market and beyond.  Ireland has positioned itself such that it is that quarterback for that investment across Europe and beyond. That has been a real success for the Irish economy and a real success for Eversheds Sutherland as well.

BF: Ireland is aiming to have net-zero carbon emissions by 2050, which is a pretty ambitious goal. However, a recent study sponsored by Eversheds shows that the country has fallen on its decarbonizing efforts and is among the lowest in the EU. What is required of both public and private sectors for Ireland to meet its net zero deadline, and what kind of new opportunities has the rise of green investment created in the legal world?

Alan Connell: We are certainly seeing a dramatic change in attitude toward the green agenda.  A few years ago, sustainability was seen as somewhat of a nice thing to have, and now it is absolutely a must have. We are very much seeing it from our clients, for example financial institutions, where they are looking at what is the underlying purpose of the financing they are providing and the type of assets clients are ultimately investing in. There has been a significant change and shift in emphasis here in terms of the business world.

With energy security and sustainability, we have advised many clients in our internationally focused client base, particularly those in the energy sector, to look at their existing business models and the opportunities presented for growth and greater efficiencies.

The energy sector is particularly vibrant in light of the emerging issues around energy consumption and an energy crisis; we are seeing an increase in demand for alternative and renewable energy sources, and we have worked with several providers on energy financing projects, particularly renewables. This has also led to increased levels of work for our clients across environmental, social and governance (ESG).

We have an entire division dedicated to ESG with expert knowledge of sustainability regulations, rules and guidance being introduced around the world.

Our global team delivers a single-source solution and can assist with the development of applicable policies and procedures, including remuneration policies, investment decision making processes/product governance processes, disclosure policies and ongoing integration of sustainability risks into existing frameworks.

BF: The digital revolution is transforming every industrial sector, including the legal profession. How has Eversheds had to evolve to deal with new challenges caused by digital tech in the legal world, and what kind of new technologies are you harnessing in your own operations to step up efficiency?

Alan Connell: Digital transformation has been a major area for us – businesses that traditionally were not considered technology-focused, have embraced digital transformation (particularly as a result of the global pandemic) as a pivotal strand of their strategy, in recognition that no sector can ignore the commercial gains and game-changing nature of digitalization.

Businesses are forecast to spend more than $10 trillion on digital transformation projects over the next five years and 97% of corporate executives say that the pandemic accelerated their digital transformation. In this regard, we have experienced recent accelerated growth in our corporate and commercial divisions, including data protection, intellectual property, cyber security and litigation and investigations to not just meet, but to stay ahead of our clients' evolving needs.

Also, within Eversheds Sutherland, digital transformation has been a focus for us; we are one of the few firms in Ireland to actively pursue the use of AI in document review and discovery, as well as M&A due diligence, bringing greater service and efficiencies to our client base.

BF: You were named managing partner at the beginning of 2021 but have been with the law firm since 2017. Previously you worked at Matheson in Dublin and Mayer Brown in London. What are your current top three priorities as managing partner for Eversheds Sutherland, and where would you like the see the firm in the next five to ten years?

Alan Connell: The main priority is to ensure that we remain the leading international law firm in Ireland. To do that, we need to continue to support our clients' needs by investing in our people and in our key practice areas. You mentioned Kenny Solicitors. That is an example of us looking around corners to ensure that we are prepared to meet the challenges of what is coming in terms of our clients, and to be able to assist them and help them navigate any issues.

As a people business, our people are our greatest asset and, in line with the wider industry, talent attraction and retention are an important focus for us. To not only meet but to stay ahead of our clients' needs, we have grown a number of our practice areas and specialisms. We have invested in several senior hires across our business, ranging across our corporate, commercial, IP, technology & DP, employment, real estate, tax, litigation, banking & financial services and our projects & energy departments. We will also remain focused on our talent retention; ensuring our talented people have the platform to achieve their own goals and aspirations at Eversheds Sutherland has been a key component of our ongoing success.

Like most businesses, we have been tested over the past couple of years, but we have risen to the occasion and demonstrated our agility, adaptability and resilience as the market and our working environment have changed.

Despite all the challenges, we at Eversheds Sutherland Ireland remain confident about the future and are facing it with continues confidence. We remain committed to strengthening our all-island and global capabilities and to the development and progression of our teams to support the growing business needs of our continually expanding domestic and international client base.

Ireland and Dublin will continue to develop as an international platform and legal hub, and as the most established and largest full-service law firm with an all-Ireland offering, we are very confident in our market-leading position.

BF: Is there anything else you'd like to leave to the readers of USA Today?

Ireland has a proven track record as a successful location for world-leading, established and high-growth multinationals from around the globe. Ireland's performance to date as a hub for FDI is unrivalled; one-third of the multinationals already in Ireland have had operations in the country for over 20 years. Thus, illustrating the longevity, resilience and commitment of these companies to Ireland, and indeed, of Ireland to those companies.

Ireland has much to offer: EU membership and the ability to serve global markets as an EU jurisdiction, common law framework, English language, skilled and adaptable workforce, ease of connection to the EU and US with direct flights, and a business-friendly environment. However, amid global tax changes and policy shifts, Ireland has been at the forefront in ensuring long-term stability and certainty for businesses, while also adhering to best practices and regulations emanating internationally.

The OECD corporate tax reform poses additional opportunities for Ireland to ensure that our tax regime remains competitive, effective and appropriate in an ever-changing global trading landscape. Signing the OECD International Tax agreement allows for the retention of our statutory 12.5% rate for businesses with annual revenues of less than €750 million, so no increase in the corporate tax rate for over 160,000 businesses representing approximately 1.8 million employees. This is quite significant in terms of Ireland's continuing attractiveness as a preferred jurisdiction of choice for ongoing and future investment.

Ireland will likely remain competitive in the future, and we will remain an attractive location when multinationals look for investment locations. The outlook for Ireland remains positive as multinationals and indigenous entities can avail of the possibilities presented, including the continued availability of the 12.5% tax rate for many. As part of the bundle of FDI benefits, Ireland will continue to have an attractive tax offering.