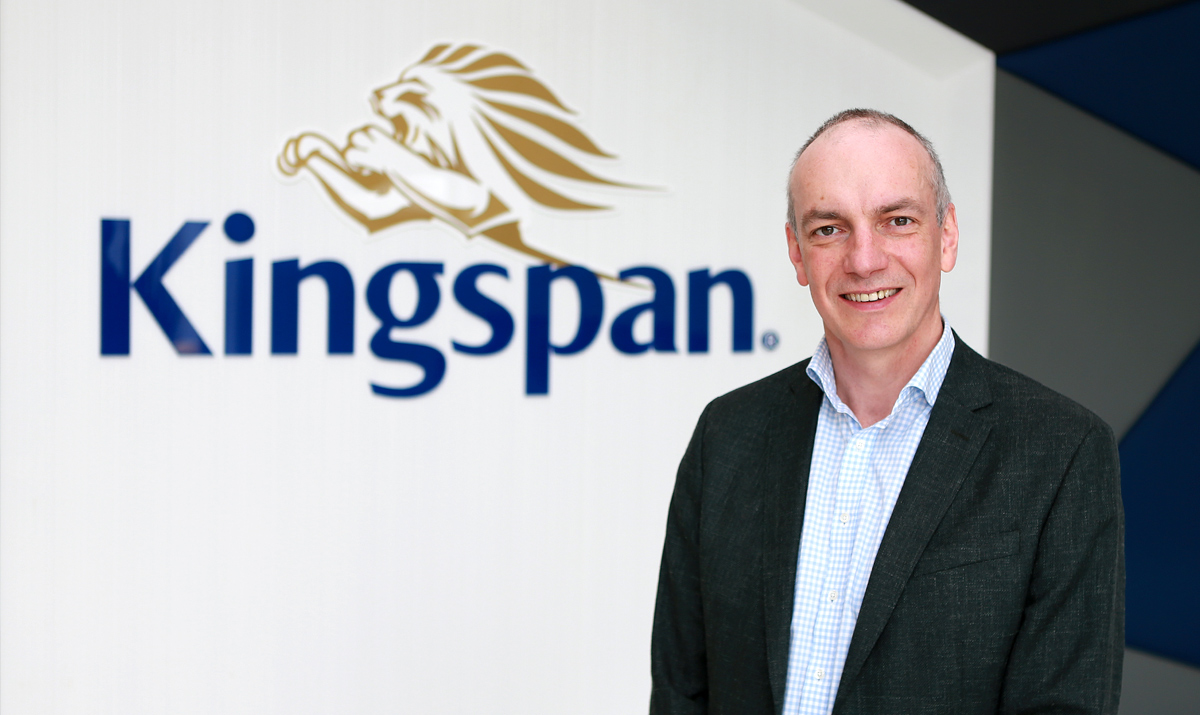 01 Dec

Interview with Alan Lawlor, Divisional Managing Director of Kingspan Group, Ireland

BF: Ireland's construction industry employed almost 160,000 in the first quarter of 2022, representing around 6% of all employment in the country. The government launched the Housing for All initiative in 2021 with the goal of constructing 33,000 new homes every year until 2030. To begin the interview, I'd like to talk about the construction sector as a whole. What factors have led to the rise in activity in Ireland, and what new trends are we seeing in the market?

Alan Lawlor: One of the overarching features of the Irish economy is the multinational sector and the investment in the Irish economy from companies particularly, but not exclusively, based in the US who have come into Ireland and see it as an English-speaking, European, well-educated population and with a good demographic profile. That has driven significant construction demand across several different sectors. For example, you've got people like Intel in manufacturing, you've got a lot of European headquarters for tech businesses, such as Microsoft and Google, and then you've got the people that are required to staff all of this activity. That's driven manufacturing and industrial building construction and, consequently, housing. So, inward investmentis one of the key dynamics. It's at a stage where the demand for residential units has significantly exceeded the supply in Ireland. And the government is stepping up to try and facilitate to bridge that gap. So, we're going from historically 20,000 houses a year being constructed to 30,000 last year, and the target would be significantly higher than that over the next number of years. In addition to that, to meet our carbon emissions targets, there's a significant program to retrofit existing housing stock and to upgrade 500,000 houses to higher energy efficiency by 2030. They're probably the key drivers across the piece.

BF: Kingspan has grown a lot since it started in 1965 and now has a massive global presence. The company recently acquired Troldtekt as part of its expansion plans. Can you tell our readers about what kind of products the company offers and the recent milestones the company passed that showcase its success?

Alan Lawlor: We're very hungry for growth and we're very ambitious in terms of the way we've set out to run our business. One of the key statistics that we quote to investors, shareholders, and general audiences is that we've grown revenues by 17% compounded annually since 1995, which is a very solid track record. What we try to do is address the complete building envelope and we aim to address that in the most carbon-efficient and carbon-neutral way that we possibly can. So, the products that we make are as energy efficient as possible and they enable the buildings into which they go to be as carbon efficient as possible. That's the way we address the construction market. We've developed several different products over the last number of years, which go further to address the decarbonization of the built environment. You've mentioned Troldtekt, which is an acoustic insulation made with locally grown wood as the key ingredient, and this is part of an overall strategy to introduce more bio-based raw materials and insulation technologies. But we're also focused on two other things: firstly, to reduce the carbon intensity of the products that we've always made so that we can offer lower embodied carbon solutions to our customers, and secondly, to produce more thermally-efficient products, which can have a greater impact on saving energy in buildings. Those are the three areas in which we are trying to grow.

BF: In 2021, Kingspan committed to reducing Scope 1 and 2 emissions by 90% and a 42% reduction in Scope 3 emissions from purchased goods and services by 2030. Before we talk about how your products contribute to lowering carbon emissions, what kind of work has the company done in Ireland and abroad to cut down its carbon footprint and create more circular operations as part of its 10-year Planet Passionate initiative?

Alan Lawlor: The Planet Passionate initiative is something that's core to us. It is a global sustainability program that was launched in 2020 and includes specific, measurable targets, most of which will be achieved by 2030, some by 2025. And these targets govern how we conduct our operations as well as what we make and how we make it. For example, we have a target to install solar energy in every single one of our owned factories across the globe to produce 20% of the energy used by our sites. This is part of an overall strategy to power our business directly with 60% renewable energy by 2030, which could be from wind, solar, or even hydro. And we also have a target of ensuring that all of our company cars and company vehicles will be replaced by purely electric from 2025. Those are just some of the significant targets, and we report on them every year as part of the Planet Passionate annual report. It talks about the projects that we're taking on, the targets that we have, and how we go about trying to achieve those targets. Our progress has been quite significant so far. It will take us until 2030 to achieve some of those targets, but it's a big program, particularly when you're growing. One of the most significant achievements that we had in the last year was that we reduced the carbon intensity of our production by 29%. This means that, on a like-for-like basis, we used 29% less carbon had we produced the same number of products as we did the year before. We also recycled in excess of 800 million PET bottles into our raw materials last year, again part of a wider strategy to include more recycled content in our products.

BF: Heating and cooling of buildings account for around 15% of global carbon emissions. What kind of new technologies and products is Kingspan Group offering that helps lower everyone's carbon footprint?

 

Alan Lawlor: Approximately 85% of our products relate to insulation, encompassing insulation boards, technical insulation and insulated panels. So, 85% of our products are very closely tied to the goal of saving energy and reducing carbon emissions from buildings. Our IKON Innovation Centre, together with our R&D teams around the world, are working on three ways to reduce energy and carbon in buildings. The first one is through bio-based based raw materials and insulation products. In the future we expect to have products that will actually have a positive carbon impact rather than emitting carbon in their manufacturing. The second step is to make our products achieve higher thermal-efficiency, which can enable more energy savings in buildings. And we have several new very high-efficiency and high-performance products that will be coming out over the next couple of years. One of those, into which we're putting a significant investment, is in Winchester, Virginia. It is a high-performance vacuum insulation panel that will be industry-leading in terms of thermal-efficiency. This product will also have an ultra-thin profile which saves space for both new builds and retrofits. And finally, we are looking at reducing the amount of carbon that we use in the manufacture of our existing products, and we are launching our first new lower embodied carbon QuadCore insulated panel solution in the UK and Ireland very soon.

Another big focus for us is education: equipping our customers with information to achieve very low-energy, low-carbon buildings that are compliant. We have a range of digital tools, which will also help customers, consumers, architects, and all stakeholders to model their buildings and predict what their behavior will be. These are next generation digital tools, and they will calculate the amount of carbon that a building could generate or save in certain scenarios if it is constructed in different ways and if it uses different insulation technologies. Those tools exist and are constantly being developed and improved to ensure that we can deliver the best knowledge and the best outcomes for all stakeholders, whether they are owners, occupiers or architects.

Across the wider Kingspan Group, we also have a range of solutions, such as natural daylighting and ventilation, and raised access floors, which can also contribute to energy savings and enhanced wellbeing in buildings.

BF: Kingspan is also heavily involved in its ESG campaigns, including being involved in IHF Cycles and raising money for the Irish Hospice Foundation. Can you talk about Kingspan's recent ESG initiatives? What measures is the company taking to improve the local community?

Alan Lawlor: There are things that we've done regularly for a long time and things that we do on a one-off basis, and you've rightly pointed out the Irish Hospice Foundation, which is a very important charity about which we care very much. We have sponsored the annual Irish Hospice Foundation cycle since 2009, which is their main fundraiser, and in which I have personally participated as a fundraising cyclist most years since my first go in 2010, covering over 650km in 5 days each year generally by the most mountainous route available! On average around 70 cyclists have generated €200,000 per annum for this incredible cause. More recently we have committed to donating €1m over five years to the Irish Hospice Foundation's Caru project, which is a training program for end-of-life care in nursing homes in Ireland.  We also support the Born Free Foundation with a lion conservation project in Kenya, called the Pride of Meru. We also have a five year partnership with the international humanitarian charity GOA, helping to build sustainable buildings in areas such as healthcare and education for people in need. We sponsor a new large-scale ocean cleanup project every year, and this year's project is a Clearbot robot that munches litter in river mouths before it enters the sea, which unfortunately you frequently see in developing countries.

On a more local basis, our people around the world support projects through our Planet Passionate Communities initiative. Each of our operating divisions has its own Planet Passionate Communities program. By way of example, our Insulated Panels West Division sets aside a quarter of a million euros every year to sponsor such projects. Some examples of these would be donating insulation and insulated panels into local housing for refugees or other good causes. Many of our businesses also do beach cleanups locally, sometimes even with our customers. Another good example would be in Winchester, VA where we are developing our site. Regrettably we had to clear some trees as part of the development. But we've engaged with the local authority to replace those trees in parkland in the neighborhood in Winchester. We have a continuous stream of these projects going on. Our people are very engaged in Planet Passionate Communities simply because they want to make the world a better place. We encourage participation. Our people love to know that they're part of a company that's making a difference. It's an incredible motivation to all of us.

BF: Kingspan exports to more than 70 countries from its almost 200 manufacturing facilities. It has a large presence in many nations, including the US. How significant is the US market in Kingspan's international portfolio, and what kind of synergies are we seeing between the two markets in terms of R&D and new technologies?

Alan Lawlor: The US is a core and growing market for Kingspan Group, and last year we had $1.3 billion worth of sales over there. We have 12 individual business units that operate across 27 sites, employing around 2,000 people. It's very significant for us. I suppose like any other large geography, it's got a range of different regional demands. Europe is generally leading the world in terms of regulation for sustainability in buildings, but we see that the industry and end-clients in the US are increasingly demanding solutions for low energy and low carbon buildings. Compared with traditional building systems currently used in the US, our insulated panel solutions can deliver a range of performance benefits, from energy and carbon savings to faster construction times, so we see huge opportunity there for growth. In my particular area of the business, insulation boards, we've gone from one factory in the US in 2020 to having six facilities at the end of 2021. It's a market that we're very excited about. And as the US tackles energy-efficiency in its new and existing buildings, we expect to see demand for our products increase, particularly in big cities where space is at a premium and high-performance products are critical. We are really starting to see that momentum in New York, which is at the cutting edge of implementing these advanced insulation technologies.

BF: You stepped up as managing director of Kingspan's insulation division at the beginning of 2021 after being CFO for almost a decade. What are your top three priorities as managing director, and what kind of future do you see for the company as we roll into 2023 and beyond?

The ambition that I have for this business unit, which is about 20% of Kingspan's overall business and is managed globally, is to be the solution provider and thought leader for the insulation industry. So, as mentioned, construction itself and the carbon that buildings emit represent almost 40% of all carbon emissions. We want to be able to answer any question that an architect or a stakeholder could come to us with. So they may come to us and say, I need an ultra-high-insulation product, or I need a product with the highest fire rating that will combine with a high insulation value, or they may prefer bio-based insulants. We want to be able to have the answer to all of those questions and needs.

We've doubled down on that; product innovation and product development, to try and come up with all of those solutions which are in the pipeline. We can see what the goals are, we can see how we get there, and we just have to deliver. So that is the key first priority. The second one is for all of our people to have enormous pride in what they do, and for them to be able to go home to their kids, to their friends, or whomever, and tell them what a difference they made in the world through their work. We're very proud of the positive impact our products have. For example, last year, if you look at across the entire group and our products sold, our products will save 193 million tons of carbon dioxide over the lifetime of the buildings that they were put into. And that's just last year's impact. That for us is huge. And I very much want our people to know that they're working for a company that is is making a meaningful difference to the enormous challenge that climate change is creating for our planet. Finally, we have a goal in our division to grow by 60% in the next four years. We've grown by 60% in the last two years, so for now we're going to ease off a little bit and target 60% over the next four years.

BF: What is your final message to the readers of USA Today?

Alan Lawlor: Kingspan is driven by the need to make the world a better place, both through the products we make and the way that we make them. We've got 21,000 employees now and that number keeps changing. It keeps growing. We are incredibly proud to be meaningfully contributing to making a difference in the world. We think that the world is increasingly realizing that technologies such as ours are critical to our collective future, and we're delighted that we can continue to push this. We would encourage any stakeholders who are interested to contact with us so we can make this happen together.