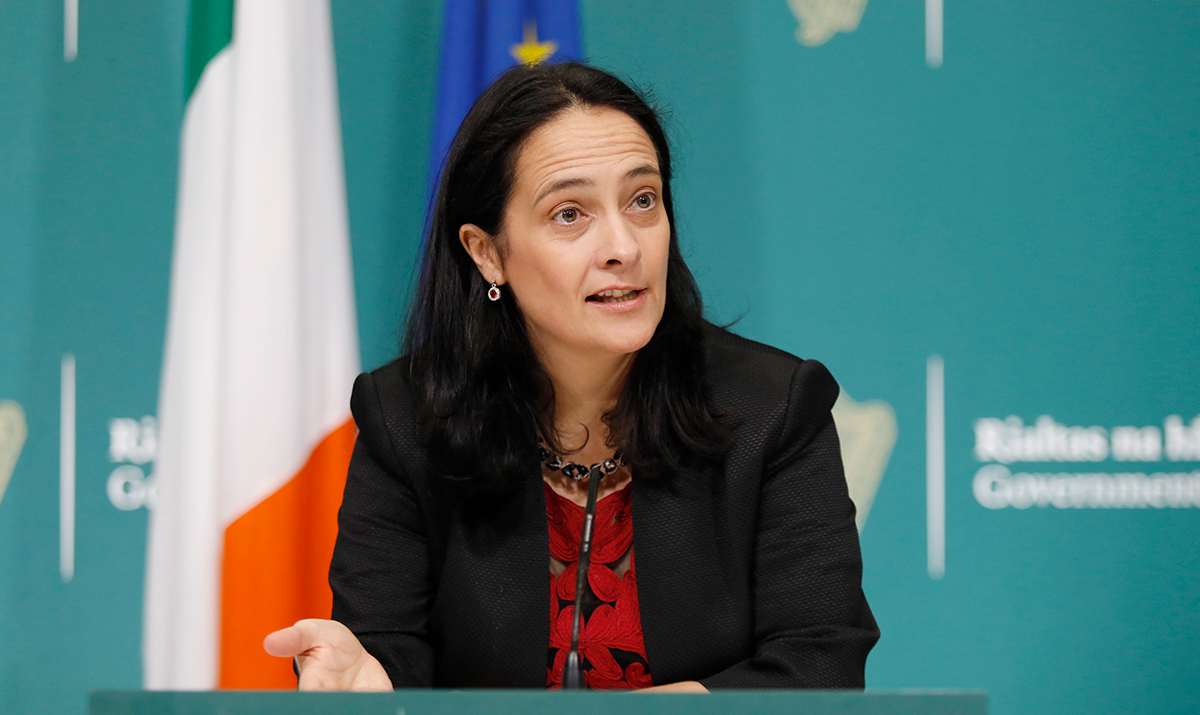 19 Jan

Interview with Catherine Martin, Minister for Tourism, Culture, Arts, Gaeltacht, Sport and Media of Ireland

BF: According to Ireland's national tourism authority, a major boost in tourism will come from the hosting of sporting events such as American college football, something that started up in August. What kind of impact is this expected to have in raising the number of American tourists in Ireland and what other large events are expected to spark the most interest from US and foreign tourists in the coming years?

Catherine Martin: There's an affinity between our two countries and a close connection with our diaspora who wish to travel. There's also the culturally curious. Pre-Covid, one in ten US travelers to Europe came to Ireland. It's an incredibly important market for us. We invited and welcomed 1.7 million American visitors in 2019. We're about to exceed those levels. We hosted the US College Football Classics last year. We had Northwestern and Nebraska with 15,000 fans. We can expect at least double that from the US next year for Notre Dame vs Navy. We're really looking forward to that. It's a unique opportunity for people to see what else we have to offer. Other major sports events are in the golf sphere. We had 237,000 golf visitors from overseas in 2019 and almost 70,000 were from the US.  Ireland has about one third of the golf leagues in the world. We have spectacular golf courses. The British Open will return to the Royal Court Portrush in 2025. The Ryder Cup is coming to Ireland in 2027 and will take place at Adare Manor in Limerick. The setting is absolutely stunning with the most spectacular estate, 5-star hotel and exquisite course. We're also bidding to host the rights for the Euro 2028 Football Championships in a joint bid with the UK. We've expressed interest in the Tour de France opening stages for 2026-27. We're also looking at hosting the 2030 Cricket World Cup with the UK. These are all wonderful things for Ireland. There are many exciting opportunities with arts, culture and sports to attract visitors.

BF: The country has pledged to become net zero by 2050 and has set a legally binding emission reduction target of 51% by 2030 through fixed sectoral emissions ceilings. I believe you are set to open Fáilte Ireland's first national conference on driving climate action in the tourism sector tomorrow. What's expected for Ireland's tourism sector under its new guidelines and what efforts will need to be made for the country to reach these goals?

Catherine Martin: Emerging from Covid, there's a unique opportunity here to reimagine our tourism. Ireland can be a global leader in terms of sustainable tourism with our network of greenways, blueways and waterways. US tourists are amazing for that because they come for longer stays. We want to encourage people to explore our regions as well as our capital. I'm also the deputy leader for the Green Party here. The Climate Action and Low Carbon Development Act of 2021 set legally binding emission reduction targets of 51% by 2030. It's committed Ireland to be climate neutral by 2050. We expect the Climate Action Plan 2023 will be published in the coming weeks and will set out the actions needed. Fáilte Ireland is the National Tourism Development Authority. They've recently launched a climate action roadmap for businesses and a series of eight climate action guides designed to support businesses on their climate journey. It's a journey we're taking together. They're ready to embrace it and see the opportunities in going green from a tourism point of view. We're working on developing a new sustainable tourism policy in my department and consulting with the sector. The awareness of the advantages of going green is established.

Committing to climate action makes a business more sustainable and helps cut costs in key areas. There are numerous benefits building the business resilience for the future. That's the journey we must take as we transition to a low carbon society. It will reduce business costs and consumption and boost the business brand and reputation. That's quite important for Ireland. We've seen the benefits and it makes business sense. Fáilte Ireland have shown that one small hotel estimated saving €29,000 simply by installing solar PV. One large hotel plans to reduce flow rate from simple things like bedroom showers from 18 liters to 8 liters, which will equate to an annual savings of €40,000. It's about helping people transition and make this journey. The National Tourism Authority and this department are developing in cooperation with the industry new sustainable tourism policies.

BF: Aer Lingus recently announced it had raised its flights from Ireland to the US by 236% between November 2021 to November 2022. As of November this year, the company planned to operate 15 transatlantic flights between the two markets in 2023. How has the rise in connectivity helped to underpin tourism in Ireland, and what is being done to grow the amount of connections to meet the expected demand?

Catherine Martin: The direct, convenient and affordable air access to Ireland is a key driver of visitor's growth, particularly from the United States. We lost a great deal of that connectivity during Covid and that was a concern. The outlook for summer 2023 is really positive. There will be a new service from Cleveland to Dublin, the only direct European service from Cleveland. Aer Lingus is also restarting flights from Hartford to Dublin, and a new United Airline service from Chicago to Shannon will begin next May. We're back to where we were pre-Covid, but building on that and will exceed it.

BF: The government recently released its Budget 2023, which includes €15 million put toward marketing Ireland as a destination and another €15 million for programs related to the industry, such as training and events. How has the new budget changed from previous budgets in its promotion of tourism and the arts, and what key programs is it expected to produce in this coming year?

Catherine Martin: The culturally curious are travelers here as well, those interested in Irish literature from Yates to Joyce and our music. The screen tourism element is something that we've been marketing as well. ''The Banshees of Inisherin'' recently received eight Golden Globe nominations. We're also hopeful for the Oscars, with Irish actress An Caílin Ciúin in ''The Quiet Girl.'' The National Famine Museum in Strokestown Park, Roscommon is absolutely breathtaking and would be of immense interest to anyone who feels that connection with Ireland. Our recent budget had an investment of €230 million in tourism and an additional €15 million for overseas marketing. Tourism Ireland advertises the do a great job promoting, from The Green Button campaign to bringing 15 outdoor journalists to Ireland, including from the Outdoor Writers Association of America, to get them to feel and experience the visitor attractions. They're also cooperating with airlines and travel media platforms. They're always digitally active with ads on TripAdvisor, Google, the USA Today network, Facebook and Instagram. We're constantly investing in our skills retention and domestic marketing. There are also other allocations that included over €36 million in capital funding for tourism product development. Enhancing the visitor experience is in line with our national development plan.

BF: What's your final message for the American readers?

Catherine Martin: We love to extend a warm welcome. What we love about US travelers is they come and want to spend quality time with us in Ireland. They know how to enjoy, explore and experience our culture. They'll tap into those sporting attractions that are happening now. Our main experiences are unforgettable, from the Wild Atlantic Way and the hidden heartlands to Ireland's ancient East, Dublin and Giant's Causeway in Northern Ireland, to the Game of Thrones studio tour in Banbridge. We're delighted that the connectivity has increased, and we look forward to extending our welcome to our visitors.