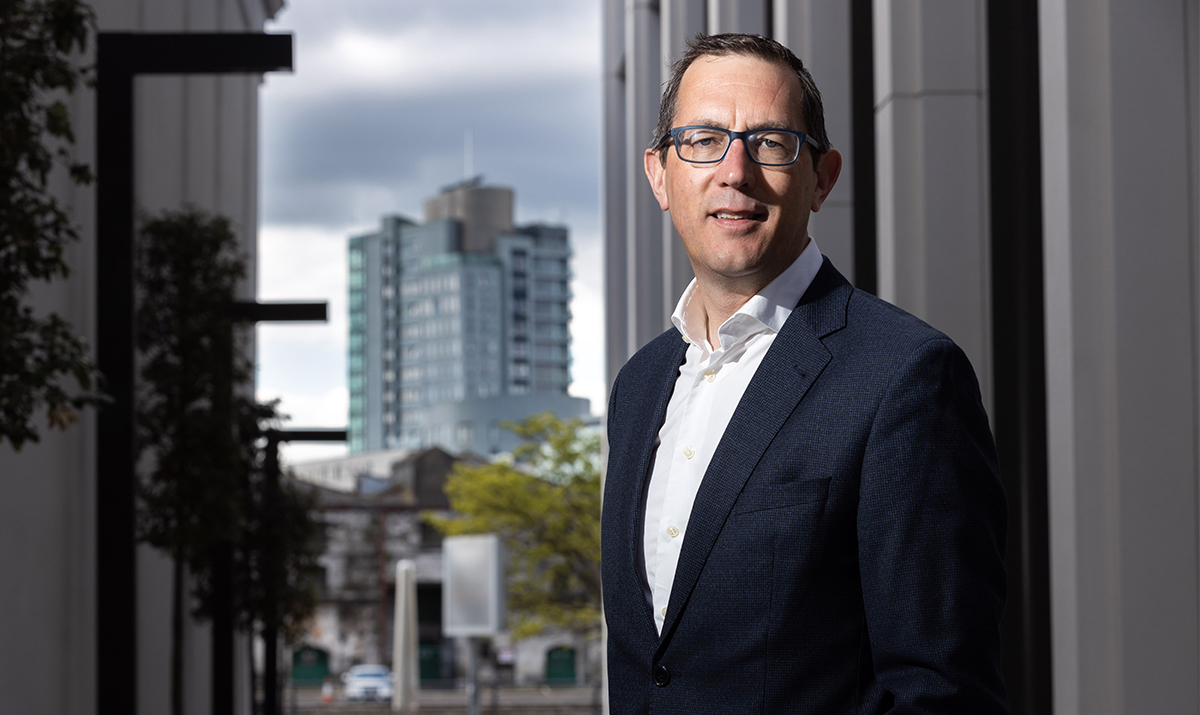 06 Jan

Interview with Conor Healy, CEO of Cork Chamber of Commerce, Ireland

BF:  Ireland has done extremely well over the COVID-19 pandemic, being the only economy in the EU to grow in 2020 and having projected GDP growth of 10.1 percent this year. To begin the interview, I'd like to talk about Ireland's economy as a whole. What are the key factors behind Ireland's recent economic success, and what kind of impact is it having on local industries?

Conor Healy:  I think you are correct in terms of the economy relative to some other countries. It's in a really good place, having come through a very difficult period with Covid, and I suppose that and other wider geopolitical influences are impacting economies all over the world right now. Ireland is doing very well. I think some of the primary reasons to do with that are still built around the core fundamentals of our economy in terms of a very good balance between overseas investment but also a very strong indigenous industry base across multiple sectors, from the traditional agri-food and tourism sectors all the way through to strong emerging technology companies. Undoubtedly, a core strength has been the level and scale of investment from overseas, primarily US companies. That's not something that's happened over the last number of years. It's something that's going back about forty years in certain examples. If you look at an organization like Apple which established in Cork over forty years ago and now employs over 6,000 people, it is the European headquarters for one of the leading global organizations and brands.  The same applies across multiple other sectors. If you take life sciences, you have organizations like Pfizer, based in Cork since 1969, as well as all the other leading pharmaceutical companies. You go into areas like professional services, financial services; again, very long-standing investments by significant companies that have grown, and they've grown in Ireland, and they've grown in Cork on the back of Ireland meeting their business needs. Those business needs are everything from a really strong stable political environment to an attractive tax policy, which is a key element of any successful economy and very predictably providing the right focus on skills and business environment and business structure for those companies to facilitate them to grow and to thrive. I think that foundation certainly positioned Ireland very well for the difficult period that was experienced over Covid. We maintained solid employment. Most of those businesses are deemed essential services so  continued to operate with obvious safety measures and restrictions in place but continued to operate through the Covid period, and then, I think, the strength of our economy built around that level of investment enabled our government to very well support those businesses and sectors that were more challenged, such as the hospitality and retail sectors, where the government support schemes for Covid proved very effective in terms of enabling businesses to maintain their employees. All of that combined resulted in Ireland coming out of a difficult Covid period in very good health.

 

BF:  The Cork City Council launched its Our City, Our Future 2022-2028 plan in August, which outlines some amazing new projects for the city. Can you give us a highlight of the key projects in the plan and their projected impact on the city? What will be needed for these projects to come to fruition?

Conor Healy:  Both Cork City Council and Cork County Council have produced their development plan for the next five years or so over the last number of months. Those plans are all built around providing the necessary infrastructure, the necessary environment to facilitate both society citizens and business to develop over that period of time. There's a very strong focus around climate and sustainability. If you look at Cork City Council, which is now one of one hundred cities in Europe designated as a mission city to be carbon neutral by 2030, that's a major plan. It's a major challenge and a major ambition of Cork as well as Dublin. Dublin is also one of the hundred cities. Cork and Dublin are two of the one hundred. They're both part of those one hundred mission cities and that is going to provide a platform for much of what happens over the next eight to ten years in Ireland in terms of Dublin and Cork for what measures are to be taken to support sustainability and to focus on climate action. I think there are key differentiators that we will see over time relative to other locations.

BF: Ireland launched its €11 billion 2023 budget in September, which is meant to address the global energy and cost of living crisis currently facing Ireland. What is your assessment of the new budget, and how will new government financing be helping the municipality of Cork specifically?

Conor Healy:  The strength of the economy means the government was able to focus on a budget that was progressive rather than regressive in terms of its approach. You know many of the measures in that budget are focused on providing support to businesses that are particularly challenged with the cost of energy with the various increases we have been seeing. So again, just providing that element of state support for those businesses as well as a strong focus on infrastructure development in Cork, we are now seeing a lot of investment in public transport, and in our public realm there are some very significant projects planned and underway at the moment.

While budgets would never go far enough in terms of what they are doing, I think there is a lot of progress. There is a lot of ambition in terms of how Ireland is approaching the future and I think this is one of the key elements which is different to maybe how things would have been done in the past. Government is very conscious of the importance of investing now in infrastructure and providing the necessary environment to allow business to grow. That was a key element of our message to government. We need to be sure that we continue to invest and develop. Now, while we have the resources, and while we're in a strong position to source funding, if necessary, to put the necessary infrastructure in place. Education is a big part of that as well, skills from a business perspective, developing talent and attracting talent are essential. Most organizations now are focused on growth which is built around knowledge and skills. Locations, be they national or be they regional such as Cork, their success will be defined by their ability to have locally produced and developed people with the necessary skills, but also with the ability to attract people to that region, and that's something that we've been very conscious of, and as a Chamber of Commerce, have been working very strongly on over the last few years in terms of a really strong message as to what Cork can offer potential employees as they look to build their lives and build their careers. We feel that we're seeing that the opportunities are there for the positions being created by both indigenous and international companies. The opportunity is to then ensure that we meet those challenges in terms of sourcing those people, be it from local sources or from overseas.

BF: The University College Cork published an interesting report in June outlining the impact of Brexit on Cork which notes that sectors in the southwest of Ireland were most impacted by the split. How successfully have Cork's industries caught up to the changes caused by Brexit, and what kind of opportunities has it opened for the city?

Conor Healy:  Brexit, I think, has, from a business and trading perspective, probably has worked out better than had been anticipated pre-Brexit. The primary challenges of Brexit have really been around supply chains and the movement of goods, where the UK would have traditionally been a bridge to our exports into mainland Europe, and you know that posed some challenges in the early months of Brexit; but business is innovative and by working with the ports and the collaboration with the various carriers and so on, people found their way around that. In terms of direct trade with the UK, I think there have been gains and losses on both sides in that regard. On balance, I think the trading relationship is still very strong. I think the potential for Irish companies now is that where they would have traditionally looked maybe only to the UK as being their main export partner, Brexit probably forced organizations to look further afield, and they found that they had very willing partners and customers and other locations beyond the UK. I think it was very useful in that regard. Obviously, maintaining the strong trading links with the UK is important, but I think there's an appreciation that there is business beyond the UK as well for exporting companies and in terms of trade in general. What we have seen from our area in Cork is that port of Cork has developed new trading routes, new shipping routes, as a result of Brexit. There are new connections into Zeebrugge, Belgium for the first time. There's a shipping route from Ireland to the east coast of the US into Philadelphia from Cork. I think that may not have happened without the impetus of Brexit. While it brought challenges and most people's view would be that were quite happy without Brexit, now that it is not a reality, I think it is not posing as many difficulties as had been envisaged.

BF: The city of Cork plans to become carbon neutral by 2030, which is very ambitious. The transition will be multifaceted. For example, Cork Harbor has been cited as a possible site for a hub for a floating offshore wind sector. What developments are required for the city's sustainability goals to be met, and what will be required from both public and private sectors?

Conor Healy: In the context of energy security and a shift away from fossil fuels to renewables, offshore wind as a renewable source is one of the main opportunities that's being explored across Europe and further afield at the moment, and considering we're an island with lots of wind and that Cork has a very large harbor, we have the capacity to deal with lots of growth in that sector. We're very focused on developing the offshore renewable wind energy sector, it being the next big sector of development in our region and nationally. But that does require investment and that needs to move more quickly. We need to see greater levels of investment in our ports nationally, including in the port of Cork. We need to speed it up and approach it from a regulation point of view in terms of permitting and so forth in what is now a fast-moving global industry. But I think that will happen and I'm very confident that it will. I think in ten to fifteen years' time, we'll be looking back and understanding how Ireland and Cork became a major hub in terms of an offshore renewable energy sector.

BF: The US is undeniably one of Ireland's largest supporters, whether through trade or investment. FDI inflows from the US stood at $390 billion dollars in 2020 alone, more than the US total for Brazil, Russia, India, China and South Africa combined. Why is Cork an attractive place for foreign investment, and what new areas of opportunity are we now seeing in the city that could be of interest to investors?

Conor Healy:  Back to what I said earlier on, first we have a really good track record of being a really good location for investment so that would have started out primarily being focused on around the life science sector, the technology sectors, and that has continued to be the case. Even very recently there you have an organization, NetApp, which announced five hundred jobs establishing their new global headquarters in Cork. The levels of investment are continuing and very much following the sectors. We have a really strong cyber security cluster which has developed over the last ten years in Cork which wouldn't have existed prior to that. We have seen a move in the pharmaceutical sector toward biotechnology. We received a growth in financial and professional services as well. I think Ireland and Cork have continued to meet the evolving needs of business. Again, it is down to having the right environment. I think culture is a big part of it. Culturally, the US and Ireland and our work practices and our approaches are very much aligned. I think there is a lot of trust in terms of Ireland as a really good business partner and a business location. The people and the skills, our universities and other third level and further education colleges, continue to engage very well with their needs and then meeting them and ensuring that the people coming out at graduate or postgraduate level meet the expectations of their employers. We're also the only English-speaking member of the EU now, which is important. In terms of confidence in the EU, we come from a common law perspective. We have that environment. I think we are going to continue to see growing levels of investment and I suppose our focus now is ensuring that newer sectors which are now only starting to look to global markets and global locations continue to see Ireland and Cork as being a positive location for them.

BF: You've been CEO of Cork Chamber of Commerce for almost 17 years! In that time, you've seen the city completely transform and successfully overcome some huge challenges. What are your current top three goals as CEO of Cork Chamber of Commerce, and what kind of vision do you have for Ireland's second largest city in the next five to ten years?

Conor Healy:  That's a big question. I have been fortunate to be in this role for that period of time and I have seen a lot of change in Cork over that period and I've seen it come through turbulent times in terms of the economic crash and then out of that into good times again and then the challenges of Covid. But I think what is exciting right now is the level of development taking place in Cork at the level of investment. Again, we have a government plan, our national framework and our national development plan which is really focused on driving Cork to be the fastest growing city region in the country. I think we're experiencing that week by week in terms of the level of activity and the levels of growth there. My ambitions are to see that the Ireland 2040 plan and the National Development Plan come to fruition and that all the projects that are important in that plan, be they in public transport, road infrastructure, healthcare, or education, agricultural investment, all those areas to come to fruition because I think if that happens, Cork city will be a very different place to what it was twenty years ago. From a Cork Chamber of Commerce point of view, we have 1,200 member businesses and they employ currently over 100,000 people and I think there is a responsibility to ensure that the plans that are in place by government and local authorities are delivered upon and that expectation of those businesses are met so that their employees and their employees' families have a very attractive quality of life in a place which is not a large global capital city but has all you need to ensure you have a good work, business, and personal environment.

BF: Is there anything you would like to add to the transcript for the readers of USA Today?

Conor Healy: The one area that we didn't touch that is really important is diversity, inclusion, and equity. We touched on sustainability and that being a key focus of the Cork region. Cork is on a scale where we can make real change and can embark on projects with an ambition that those projects can bring around change but equally in areas like diversity, inclusion, and equity. That is the real focus or our region as well. In a smaller location, I think you can have greater impact in terms of bringing about change and improvement but also we can communicate that in somewhere like Cork, that you can have a very inclusive, diverse, and equitable society, combined with a strong and attractive business and social environment. I think that is a key element of our focus which I think certainly is the right direction to take, but it's also a key differentiator as a business and investment location.