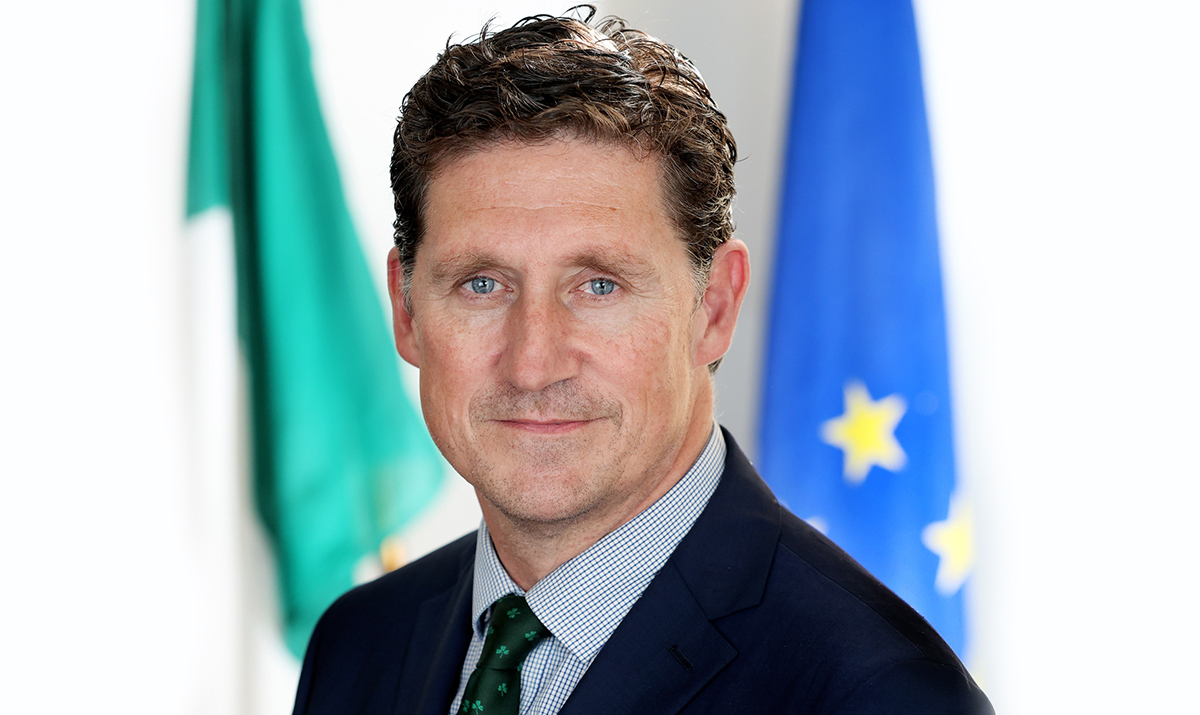 13 Feb

Interview with Eamon Ryan, Minister for Environment, Climate, Communications and Transport, Ireland

BF: Ireland has done extremely well over the COVID-19 pandemic, being the only economy in the EU to grow in 2020 and having projected GDP growth of 10.1% this year. To begin the interview, I'd like to talk about Ireland's economy as a whole. What are the key factors behind Ireland's recent economic success, and what kind of impact is it having on local industries and citizens?

Eamon Ryan: Ireland's economic success has been long in the making, going back 50 years in terms of strategic decisions to be accessible to the world, development in education, joining the European Union, and being a location for high-quality manufacturing. And this has been 50 years of decisions around being flexible and innovative. We've had our challenges with the recession and with immigration in early 2008-2010, where we were center stage in the financial crash. There have been ups and downs, but in a broader sense, it's the willingness to be a high-quality location for high-quality manufacturing and services. That's the key driver of our economy.

BF: Recent crises such as Brexit, the pandemic and now the conflict in Ukraine have caused large challenges to global supply chains. In what way are we seeing Ireland successfully coping with these new shifts in the market, and what gaps has Ireland been able to take advantage of?

Eamon Ryan: Everyone's finding it difficult because of the war in Ukraine and the cost of energy prices. For a country like Ireland, purchasing fossil fuels presents real difficulties like inflation. And from a security supply angle, it requires us to find new ways of storing gas. As I mentioned earlier, Ireland is an open trading economy, and these supply-chain difficulties are not just at our entry port but in shipping, steel, and all raw materials. It's made it difficult for a lot of businesses here. However, the response is to shift to the use of our energy resources. The war in Ukraine will see an acceleration for that switch removal, and I think that'll push the development of a circular economy; with higher levels of recycling, reuse, and reduction of use materials. Those will take time, but I believe that this would be the outcome of the war and supply-chain difficulties.

BF: The pandemic has really underlined our increased dependence on the telecommunications sector. Ireland's various large entities are currently rolling out their 5G networks and businesses are now taking advantage of this wider range of digitalization. What does this next generation of communication represent for industries and citizens in Ireland, and what steps has the government taken to support a fast rollout?

Eamon Ryan: Firstly, what it can do is complement the circular economy by the reduce in use. For example, it facilitates more remote working and the development of enterprise hubs in towns and villages. So it doesn't all have to be development-centric and economic development centralized in our cities. And there are benefits to that. What government can do is have a competitive market. We are observing extensive growth in broadband across the country because there's competition between some of the major suppliers: Eir Telecom, Virgin Media, and Siro. The competition between these three players is pushing us up the broadband league. However, there's a gap in the market. And in Ireland's case, about 23% of homes in the rural area have no market supplier.

So, the state intervenes and creates a seven year rollout system to deliver fibers to those homes. So, by the later part of this decade, 2027/28, we'll have fiber optic cables in every home. And when you reach that point of universal access, you can become more ambitious in how you roll out public services.

BF: Ireland's transport sector was worth €4.1 billion in 2020. As part of the National Development Plan 2021-2030, spending of €13 billion was put toward transport, the second largest area outside of housing. What kind of major projects has the government launched to update the nation's transport infrastructure and continue to decrease the sector's carbon emissions?

Eamon Ryan: Transport infrastructure takes a long time to plan and for us, it's been long. In Dublin, it'll be investing in the metro, and in Cork, it's investing in rails. So you'll see that some of the existing rail lines will connect with the new rail lines and provide regular services. That was our priority in using European Recovery and Resilience funding. It was to fund metropolitan rail in Cork, allowing it to become crucial to the growth and development of Dublin, same with Limerick. We just started reopening the rail line to Shannon, Foynes Port and Washford, where we agreed to move the railway station to the city's center to ensure housing development in that area. So these are some of the rail-based investment projects.

More locally, what we're doing in each city is rolling out Bus Connect Projects. It gives buses priority in the urban areas, allowing a switch from car dependency to a more active travel and public transport use. Those projects in the next three to four years; will be critical. Although, the rail infrastructure will take slightly longer.

BF: Is there any room for foreign participation in these projects?

Eamon Ryan: Regarding those metropolitan rail projects: we recently signed a second contract with Alstom. And these are for the new battery electric trains that are the future of rail. That's what infrastructure is in an international sense: we design the routes and contract them, and companies like Alstom, Siemens, or other large industry providers are the groups with whom we collaborate.

BF: A large component of Ireland's goals to have net-zero carbon emissions by 2050 and its Climate Action Plan is its enormous renewable energy potential – particularly in offshore wind. You also recently announced a shift in focus on solar generation. What are the country's largest developments in this segment, and what is the government doing to unlock legislation to ease the rise of renewables?

Eamon Ryan: As I mentioned earlier, we need to protect ourselves from dependence on fossil fuels, and renewables are a plausible development strategy. We have a windy country with an enormous sea area, seven times our land mass, and the way wind and solar complement each other is beneficial for us. We've done onshore wind, and recently it's been providing half the power we need. It's economical, and we're good at it. We have one of the highest percentages of renewable wind power of any country in the world, and how you manage and distribute that is a real technological learning point.

Currently, there's a limit to what you can do onshore for planning and grade reasons. So, we'll start to redevelop solar at scale and offshore winds. And in each case, we're looking to get 5 gigawatts of solar power by 2025 and 7 gigawatts of offshore wind by 2030. With the offshore wind, we're seeing several neighboring countries doing the same; the United Kingdom, Dutch, the Germans, the Danes, and Belgium, and even the United States and France are similarly inclined. Our advantage is our windy sea area, making it a strategic investment for us. We have the potential to generate up to 70 gigawatts of power and to create an energy surplus which we will share with other countries.

BF: How long do you think it'll take for these projects to reach fruition?

Eamon Ryan: Our first option system for the first tiers of seven projects is starting this month through the government and our department, DECC (Department of Environment, Climate, and Communications). We expect the projects to get through the auction system by the spring of next year and then go into the planning system. Subject to all going well, we expect those farms to deliver in 2026/27.

BF: So you have tenders for private participation?

Eamon Ryan: We have seven large projects that have been in the system for the last number of years. The first phase of projects is what we're calling relevant or legacy projects, and the second phase will be moving into the southern and western waters, and floating offshore wind.

BF: You recently attended COP27 in Egypt, which included a lot of talks of reparation between rich polluting nations and poorer ones. You were also chosen as the EU's lead on climate change talks. What were the latest issues discussed at COP27, and what kind of benefits could Irish know-how in sustainability have in helping nations around the world?

Eamon Ryan: At COP27, I was aiding the EU to negotiate on the lasting damage parts of the agreement, which was a critical part, because it was a COP which was designed and is always seen as being about delivering climate justice. It was an African COP, and the countries in Africa and all over, are seeing the impacts of climate change, making it a critical issue. And the EU helped break the deadlock. At COP27, we agreed to establish a series of different funding vehicles. In my opinion, we did a great job with Ireland's case; in pushing to target the most vulnerable countries, with a wide range of other countries and industries contributing. It won't be on the old-fashioned 1992 UN Convention view of the world, where China, Saudi Arabia, and others should be contributing.

So, we set up the transition committee to deliver that, and we do so with the strength of the 198 countries that agreed. From Ireland's perspective, we're a part of the European Union negotiating team and therefore have the strength of 27 countries. For a smaller country like Ireland, that gives us potency beyond our size. Also, we tend to bring certainty of perspective. We're one of the few countries in Europe that were colonized rather than being a colonizer, so we tend to have slightly different relationships in some ways with the developing world. Our history of working with the developing world is that it's not tied to economic, military or geopolitical interests.

BF: The US is undoubtedly one of Ireland's largest markets in terms of trade and investment. American FDI in Ireland stood at $390 billion in 2020, more than the US total for Brazil, Russia, India, China, and South Africa combined. What kind of new local opportunities are we seeing that might be of interest to US investors, and what kind of partnerships are possible between the two nations in cutting down their respective carbon footprints?

Eamon Ryan: We're a very globalized country: successful in financial services, life science, biopharma, and biomedical devices. And that's the basis of our strength, specializing in certain areas and having a good reputation in technology. Ireland is not a cheap location for housing and other elements, but it's a country where you've got the rule of law based on European treaties, an independent judiciary, and media. Someone described to me once that a foreign investor said that this is one of the few countries you can take the government to court and you have a 50/50 chance of winning, depending on the merit of your case, and not anything else. And I think that's what gives us strength.

For me, the area of interest is solar and clean energy transformation. We are at the cutting edge of integrating renewable power into the power system and learning at a scale that we've done in Ireland will impact other countries.

BF: You were appointed as Minister for Environment, Climate, Communications, and Transport in 2020, just after the pandemic and during a huge rise in green investment. What are your current top three priorities as minister, and where do you see the Irish economy in the next five to ten years?

My top priority is road and transport decarbonization. It's a switch to renewables and the promotion of extensive retrofitting programs for commercial buildings and our homes. So it's renewables, efficiency in building systems, and a transition to active travel and public transport. The focal key innovation in this government is the commitment that 10% of the transport budget will go to walking and cycling, and in the remaining budgets, it'll be 2:1 in favor of public transport versus roads. So my job as transport minister, looking at the energy side, are renewables and efficiency in transportation. Creating a better local environment for walking, cycling, and for buses to get around.