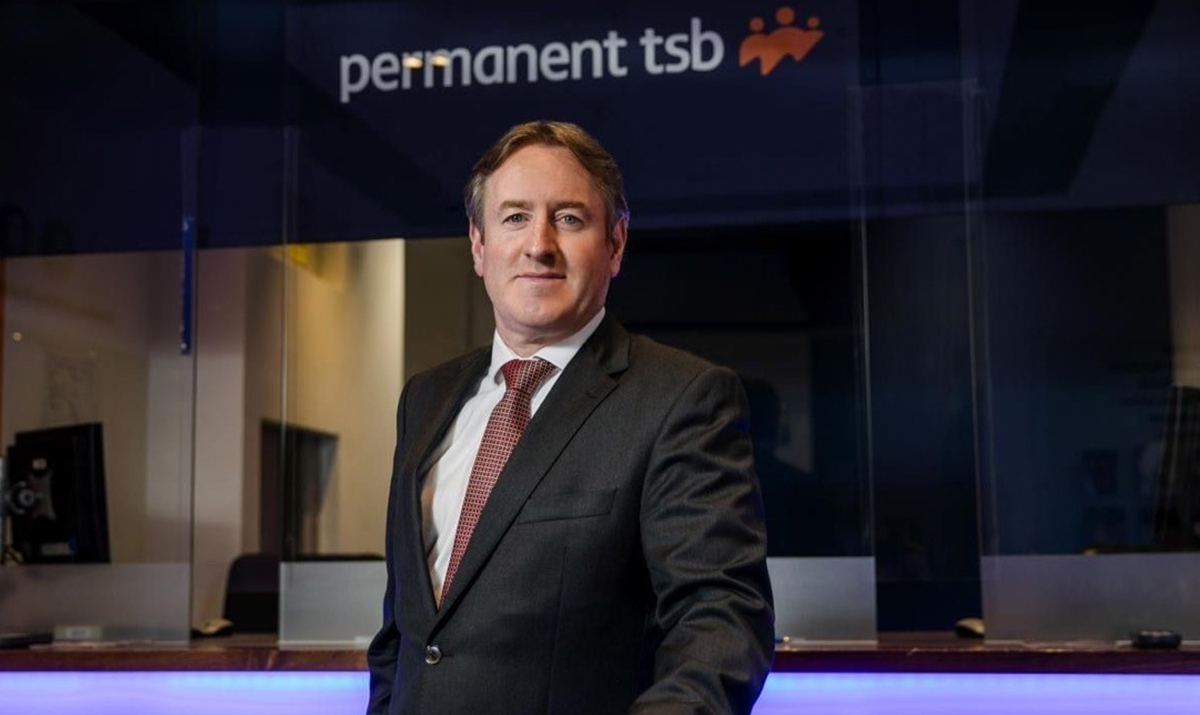 06 Dec

Interview with Eamonn Crowley, CEO and Permanent of TSB Group Holdings, Ireland

BF: Ireland's banking sector has grown considerably since the 2008 crisis and now houses 250 of the world's leading financial services firms. Some of the largest trends this year are Ulster Bank and KBC's withdrawal creating a vacuum. Why has Ireland's financial services sector been able to grow at such a fast rate, and what kind of impact are the latest shifts in the market having on the larger banking sector?

Eamonn Crowley: I think if you check the banking sector, you need to split it into two. You've got the international banking sector based in what was the International Financial Services Center, and that's where Ireland is attracting international banks to locate in Europe, using Dublin as their base to spread out into the rest of Europe. Brexit has helped in that respect because London is no longer an option from an EU perspective. Dublin is English speaking. Having those close links, particularly with US banks, makes it an attractive location for international banks. So, that's a very vibrant sector. It's growing and we've got several very large SSM banks based in Dublin.

Then if you take the domestic sector, it's different in that it's the retail banking sector, which has been shrinking since the crisis. Pre-crisis, there was something in the region of 12 retail banks operating. Because of the crisis, several closed unfortunately, or their shareholders withdrew from the Irish market, which left five players. And the domestic retail sector has been more difficult, primarily because interest rates have been low. Bad debts were high coming out of the crisis, and there was a lot of deleveraging that had to take place. What we've seen is that both NatWest's and KBC's have decided to exit the market as it is no longer a viable option for them. What we are left with is three main retail banks, including ourselves, and for the size of this country, which is growing significantly but with a population of 5 million that at this moment, it's quite an adequate retail banking structure.

BF: TSB has roots that go back more than 200 years to Irish Savings Bank. The bank most recently finalized its acquisition of Ulster Bank's mortgage business on its way to acquiring 25 of Ulster Bank's branches as well as its SME and asset finance business. Can you give us an overview of the bank's current areas of focus in the Irish banking sector, and how have recent milestones like the acquisition impacted the company's operations?

Eamonn Crowley: So, if you go back 200 years to the Trustees Savings Bank organization, which was set up in the early 1800s, it was primarily focused on mortgage lending. And indeed, our roots are around mortgage lending and assisting, particularly first-time buyers, to acquire homes. That's at the core of our business and today, 95% or 96% of our lending is in the mortgage space. Our ambition is to build on the success of our mortgage business and grow into the business banking space, particularly assisting and supporting small companies. We believe, particularly with the withdrawal of Ulster Bank, that there's an opportunity for us to assist and help more businesses. We want to expand our product offering and compete in that space. But primarily we'll always be a mortgage bank because that's where our roots come from. If you look at where growth is in the Irish market and where demand is, and indeed, unfortunately, there's a shortage of housing supply, but in due course, that'll come onstream. We want to be there to assist our customers in that area.

BF: The number of SMEs in Ireland is growing at a fast rate, but these companies are currently hitting new challenges such as a hike in energy prices. In response, Permanent TSB announced a new €1 billion SME lending fund in January. How would you assess the business climate for SMEs in Ireland at the moment, and what more can financial institutions and the public sector do to enhance their participation?

Eamonn Crowley: We announced that we would lend a billion into the Irish market over three years. Now for us, that's an enormous step forward and an enormous commitment to businesses because we're coming from such a low base. It wasn't an area where we lent money. And the reaction to that was very positive. That announcement drove a wave of inbound inquiries. Why? Because businesses are looking for options, and we believe we can offer that. There's no doubt that particularly small businesses are feeling the impact of the rising cost of living, in particular with energy prices. Many small businesses have those challenges, and the government put in place a number of supports for small businesses across the country and those supports have been really helpful for many. We, too, have a part to play in supporting small businesses. Our approach is to build long-term relationships with our business customers, getting to know them, and offering a personalized hands-on service that can help them to build sustainable growth for the future.

BF: As Ireland races to meet its 2050 net-zero target, green investment is on the rise. In April this year, Permanent TSB launched its first green mortgage product. How is Ireland's banking sector reacting to the government's sustainability targets, and what specific efforts is Permanent TSB doing in this regard?

Eamonn Crowley: Like many other businesses, sustainability is a critical area of focus for Permanent TSB. We believe we have a critical role to play in supporting the transition to a low-carbon economy, as well as integrating sustainability into all aspects of our business. We've made progress but there is no doubt that there is significantly more we need to do as an industry.  And it's clear that the ECB wants European banks and Irish ones to be at the core of driving the green transition. And as such, there's a significant level of new requirements coming from the ECB around reporting, around preparing banks to look at their existing book and understanding the impact of their operations from a climate and environmental risk perspective.  At Permanent TSB, we are already offering customers a green mortgage and we'll expand that into unsecured credit, where we will provide some green support. But as we look at growing our business offering, we'll also offer green transition products. But it's fair to say that AIB and Bank of Ireland, who have a much larger corporate book, have put forward significant funds to help the transition to their customers, but we won't be far behind them in that respect and primarily we're leading with our green mortgage and we'll have an unsecured overdraft and term loan type products to help customers as well.

BF: Digitization of Ireland's banking sector is growing at an enormous rate. TSB saw a 5% increase in digital customers and a 20% increase in contactless payments in the first half of 2022. Besides that, a lively fintech sector is growing beside Ireland's traditional banks. How has the rise of digital technologies in banks changed the playing ground for Ireland's larger financial services sector, and what kind of synergies are we seeing between growing fintech companies and banks like TSB?

Eamonn Crowley: As an industry, we've been investing significantly in both our IT capability, our digital capability, and, indeed, connections with fintech. We see fintech partnerships as a key part of our business, and a great example of this is our partnership with an Irish FinTech Credit Logic, which allows customers to apply for mortgages in a much more user-friendly way via digital channels. It allows customers to self-serve, including uploading and controlling the process rather than filling in a 40-page application form. It's extremely well-streamlined and customer feedback has been really strong. Customers love it, our colleagues love it. And it's, from a business perspective, been very successful. They're the types of collaborations we see where there's an aspect of our business, which first of all we might say, rather than us investing in that process, we look to see if there's a fintech partner that can provide that service to us, and we'll integrate them into our organization. It makes the services better and makes the experience better. We are one of three banks, but we are smaller than the other two and therefore we have to be more agile in how we provide services for our customers, and partnerships with fintech's are a great solution that works for both customers and our business.  For instance, we partner with Worldpay; we partner with Bibby Financial Services for our business customers. We partner to provide services to customers, and where we believe we can add more value, we provide the service internally, such as mortgages, such as aspects of day-to-day banking.

Payments is an area where fintech has also played an important part. In recent years, the main retail banks in Ireland have  set up a company called Synch which will allow us  provide instant settlement of payments between Irish banks and anyone else who wants to come in and participate. So, if I want to send money to you, I can send it immediately. All I need is your mobile phone number and we can split bills after a meal and things of that nature. So that's something that we will launch later in the year. It'll allow all customers in all of the retail banks, plus anybody else who wants to join to do that and to enter that service. And we believe that'll be quite competitive. There is a lot of investment and growth going on. There's no doubt that, as an industry, we have to catch up a little bit with fintech, but we believe we can.

BF: American FDI in Ireland stood at $390 billion in 2020, more than the US total for Brazil, Russia, India, China, and South Africa combined. How much of an impact have American companies had on Ireland's financial services market, and what kind of new opportunities are we seeing that potential US or foreign investors might be interested in?

Eamonn Crowley: Ireland has a long history of attracting FDI. And the industrial policy started in the 1960s when we had a manufacturing-type tax relief, which then branched into a lower tax rate for financial services companies setting up in Ireland. The industrial and financial services policy at that time has created all the jobs in that space over the last 35 years. The influence of US companies here has been enormous. Yesterday it was just announced that there are now over 300,000 people working directly for foreign companies, obviously with a concentration from US companies. The salaries that people get in the FDI sector are more than the average salary in Ireland. So again, that helps local communities and helps the various locations that those companies are in. And indeed, I see the government now changing its policies somewhat to say that 50% of all new investments should be outside urban centers. So, to try and spread that growth across the country, not just have it as a Dublin or or Cork but also in rural areas of the country.

It's been phenomenal from an Irish point of view. If we look at our corporate taxation take, we're over €20 billion this year. We're one-third of the UK corporate tax take, so that's saying something about the UK as well, by way of what's happening and by way of corporate tax in the UK. But that alone has been amazing, and it has supported the government's ability to support the wider society as well. And I think it's just the factor of our geographic location by way of the bridge between the US and Asia which helps. The fact that we're English speaking, the fact that we're part of the EU, and we're an active member of the EU, and that gives US companies who have an affiliation with Ireland, a lot of comfort around their base in Europe.

BF: You stepped up as CEO of Permanent TSB in June 2020, just after the pandemic and during a really interesting time for the financial services community. Additionally, you were appointed as president of the Banking & Payments Federation Ireland at the end of last year. What are your current top three priorities as leaders of these two entities, and what vision do you have for Ireland's financial services sector in the next five to ten years?

Eamonn Crowley: Naturally, when I became CEO not too long after that, in the autumn of that year, the Ulster Bank withdrawal started to be rumored in the market. Our chairman and I took the opportunity to approach NatWest to see if we could do something. A lot of the last two years has been focused on, first of all, trying to reach an agreement with NatWest on us supporting Ulster Bank customers who want to move to another bank, so that was one side. And also, we're taking over 25 branches. It's about trying to negotiate that transaction. And then on the other side, Ulster Bank announced that they would start closing customer accounts. So as an industry, but particularly as Permanent TSB, we had to gear ourselves up to be able to open current accounts and provide day-to-day banking services to customers at scale. This year alone, we've opened four times what we would normally open by way of current accounts. So, it's an enormous increase in activity and in providing support for customers. So that's been and continues to be the number one priority, which is how do we play our part in supporting customers who want to open new accounts and sell a new relationship, but also how do we transfer and migrate Ulster Bank customers to Permanent TSB in a way that is successful for us, but also the customer. So that has been the number one priority, and that will continue into this year.

The second one is around us. Now, as we're moving from five banks to three banks to being 103 banks in the market, how do we compete with them and how do we attract and retain our customers? Our customer base is growing and our position in business banking is growing because we're now an option for our business customers to come and talk to us.

The third one is around the evolution of the Irish market itself. There is a demand for credit to the extent that the mortgage market this year will grow by 30% to 40%. It'll grow again. We expect it'll grow another 10% next year and maybe the year after. Again, we have to be there to support customers who want to buy homes and provide them with mortgages as that is our core business, and it will always be a focus of the organization. They are the three particular areas of focus from a Permanent TSB point of view. And it's exciting for us in that respect because of the way things have evolved over the last five or six years, it's been a significant transformation. From an industry perspective, our priority is how we're supporting customers with the closure of the two banks.

Secondly, by way of digital transformation, again from an industry perspective, there are areas where we can collaborate and work together to make that experience better for customers. And indeed, Synch Payments is part of that. And then thirdly from a reputational point of view, the banking sector in Ireland has gone through a difficult time, whether that was related to the bad debts that arose from the crisis or the tracker mortgage investigation. From an industry point of view, it's about how we'll continue to rebuild that reputation and to show that, as an industry and indeed as Permanent TSB, we're there to support our customers. The evolution of Permanent TSB over the last 200 years has been a marathon, not a sprint, and that's how I think about running the business. If there's anything that the last 10 to 15 years have taught us, it's that looking after customers, colleagues and the wider community is an integral part of building a sustainable business for the future. That's where are focus is right now and where our focus will remain as we work toward our ambition of becoming Ireland's best personal and small business bank.