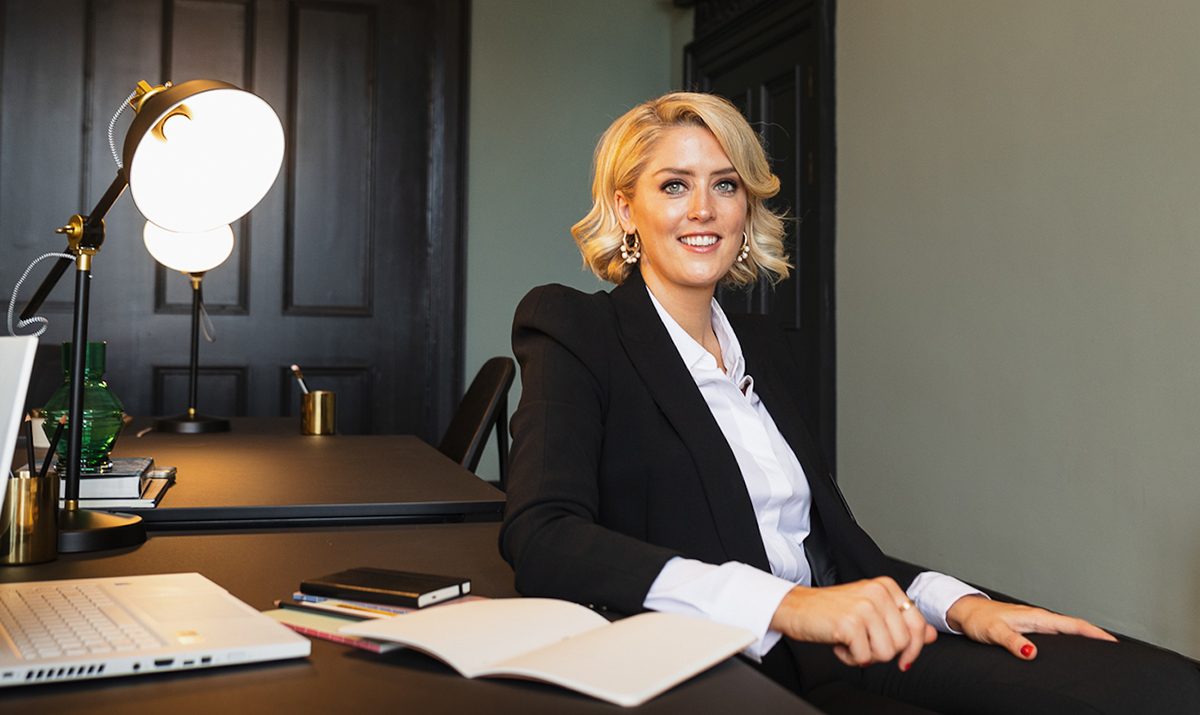 19 Jan

Interview with Emma Kennedy, Founder and CEO of Grafter, Ireland

BF: It's been a huge year for Grafter, with offices in Dublin and London opening. The company's ethos is geared toward luxury office space that bridges work with lifestyle choices. Before we get into the company's current properties, can you tell us about the company's current strategy and marketing plan? What major milestones has it passed on its journey to where it is today?

Emma Kennedy: The landscape has definitely changed in the flexible workspace since we set up Grafter in 2021. We now recognize that work isn't somewhere you go, it's something you do. We create luxurious, high-end spaces where our members will be comfortable. Many of our members are still working from home, and we wanted to create a great space for them to come in, work and collaborate. This includes other spaces, as well, where our members can come to collaborate, whether that be in a restaurant, bar or booking into hotels. It's bringing people back together again. Our ethos is putting culture back into work and creating those connections when needed while giving that ultimate flexibility. Many companies or SMEs in the market choose to go into a flexible workspace on the basis that they don't want to sign into a long-term lease. Many businesses can't predict what's happening within a year, let alone five to 10 years. They can choose to come in with us. We refine that more by letting our members book by the hour or the day or take private office spaces. We have a footprint in Dublin and London, and with that, our members are able to come back and forth to the locations in those cities.

BF: Grafter's offices look stunning! Can you describe the company's current flagship offices and what kind of unique services and lifestyles they provide for new clients?

Emma Kennedy: We're very focused on rejuvenating the properties in the area that are Georgian-period buildings. Many of our spaces were formerly houses, so it's a home away from home. We're selective of the landlords we work with, wanting those who recognize

the value of turning those buildings around and bringing them back to the market. We want our members to be able to come and go from our buildings 24/7. In-house, there's a full concierge service for items like booking couriers or taxis. We look at various different brands that we would stock in our building to elevate the experience. For example, our members have a full continental breakfast and treats throughout the week, plus inclusive offerings, from beer and wine to a full catering service. We hired Robert Scanlon as our head of hospitality. He comes in and reviews all of our houses from top to bottom. That could be anything from the catering companies we partner with and offer to our clients to the service ware. Every detail is noted, even down to the notepads and décor we use in the meeting rooms. It's making sure our members are as comfortable as possible.

BF: The COVID-19 pandemic has changed the paradigm for workplaces and Grafter seems to be stepping up to fill what is becoming the new normal. In your opinion, how has the recent crisis changed the way people are engaging with the workplace and how is Grafter working to transform new trends into opportunities?

Emma Kennedy: The flexible workspace market generally performs well when there's a degree of uncertainty. Employers trust their employees much more now and they're allowing their employees to come and go from the workplace. It's quite positive. Everyone works differently, and now there are different environments for doing focus work or collaborative work, which has been great. Our focus has shifted from company concerns to catering for the individual and their needs. The biggest components I saw when we first set up the business were collaboration and rebuilding company culture. Many people were disconnected. For us, it all comes down to giving that flexibility to allow individuals to come and go. It's also about partnerships. Any Grafter member is able to come into a Grafter house, but they also have access to discounted rates and other partnered venues. For example, our first partnership was with the Press Up Hospitality Group. They have 65 venues across Ireland, including bars, restaurants, hotels, bowling alleys, and cinemas, places our members can go to celebrate a business win or entertain visiting clients. Our team in each house are fully trained in making those bookings. It's not just the desk and private space. It's really bringing everything together, particularly for those companies coming into Ireland.

BF: Another huge factor transforming the workplace is the digital revolution. New workplace technologies are rapidly transforming how workers interact with their space. What is Grafter doing to incorporate the new digital workplace into its offerings? What key disruptive technologies is the company leveraging?

Emma Kennedy: The technology for flexible workspace has definitely improved over the last 10 years. We're currently running several projects in the background, which will make interacting with a Grafter office as seamless as possible. We've produced a Grafter app. Our members can book into any meeting room across any house that's open. Booking on the go has been great. We'll build on that and get to a point of incorporating more of a hospitality element. For example, organizing members' catering. It can be anything from pre-ordering coffees down to the simplest thing. We have large, open-plan workspaces or co-working areas, and I'd like for our members to be able to wake up every morning and decide where they want to work. They get on the app and book themselves a desk in whatever workspace they want to be in on any given day. We're solely focused on that now: offering a working experience that works for the member.

BF: SMEs account for 99.8% of active enterprises and 67.5% of all those employed in Ireland. How would you assess the support system available in Ireland for entrepreneurs in terms of access to funding and policy? What challenges did you need to overcome in setting up a company like Grafter?

Emma Kennedy: IDA has been instrumental in attracting new businesses into Ireland over the last decade. We worked very closely over the last couple of years. I definitely encourage anybody who's thinking about coming to Ireland to reach out to the IDA. Their knowledge base is fantastic when it comes to office space, tax, or setting up accounts. Several of my members over the years have come through the IDA.

I was very fortunate when I was setting up Grafter. One of our main shareholders was quite instrumental in the business. He believed in the idea from the start and was able to pinpoint different properties and help me bring them to the market. I've had to be very strategic over the last year and a half. We needed to bootstrap and keep our costs down in the initial period. It was a lot of research and listening to our members. I went to London and researched the different types of areas we'd want to go in. I pinpointed landlords who had already done the fit-out in the buildings and homed in on them. That's how I've been able to get Grafter to this point. Our partnership with these landlords keeps our overall upfront costs low. We'll continue to do that over the next few years.

Set up in just 2021, Grafter has already moved beyond Ireland to London. What were the company's reasons for branching out into several markets so early and what kind of a global footprint would you like the company to achieve?

Emma Kennedy: I lived in London for several years, so I know the city well and it's close to my heart. Our members were also influential. We've noticed a direct link between New York, London, and Dublin. Several of our members move through those cities all the time. I spoke to one of our members in Ely House and he told me we must set up in London. He was also set up in Edinburg and a couple of other cities. It's a US business with headquarters in Newark, New Jersey. We decided to work together on it. I went to look at those buildings, then reported back to him. That's how we got into London. They're now based in our Bedford House location and have the entire first floor. I was recently notified that they want to take up more space in that building. We'll definitely follow where our members go in that regard. We went to the States last summer and started doing our review in New York. We're committed to Dublin and London. I'd like to open a couple more houses in London City and potentially north of London. I'd also love for us to open in the States and grow from there.

BF: Before setting up the company you worked in different markets such as the UK and Australia before launching Grafter in Ireland. It seems like all things were leading toward what you've made today. What are your current top three priorities as CEO and what vision do you have for the company in five to ten years?

Emma Kennedy: It's all about service and catering to our members' needs. My aim is to have Grafter known as the best service provider in Ireland and the UK. The service our members receive is the most important as well as giving them options to thrive both inside and outside the office. I'd like us to home in on the hospitality element and see whom we can partner with and the service offerings we can give. We'll also focus on growth across Europe, the UK, and the US.

BF: Any final message to the readers of USA Today?

Emma Kennedy: We're always here to point people in the right direction for anybody thinking of moving to Ireland. The IDA is also fantastic in regard to HR, recruitment, and housing.