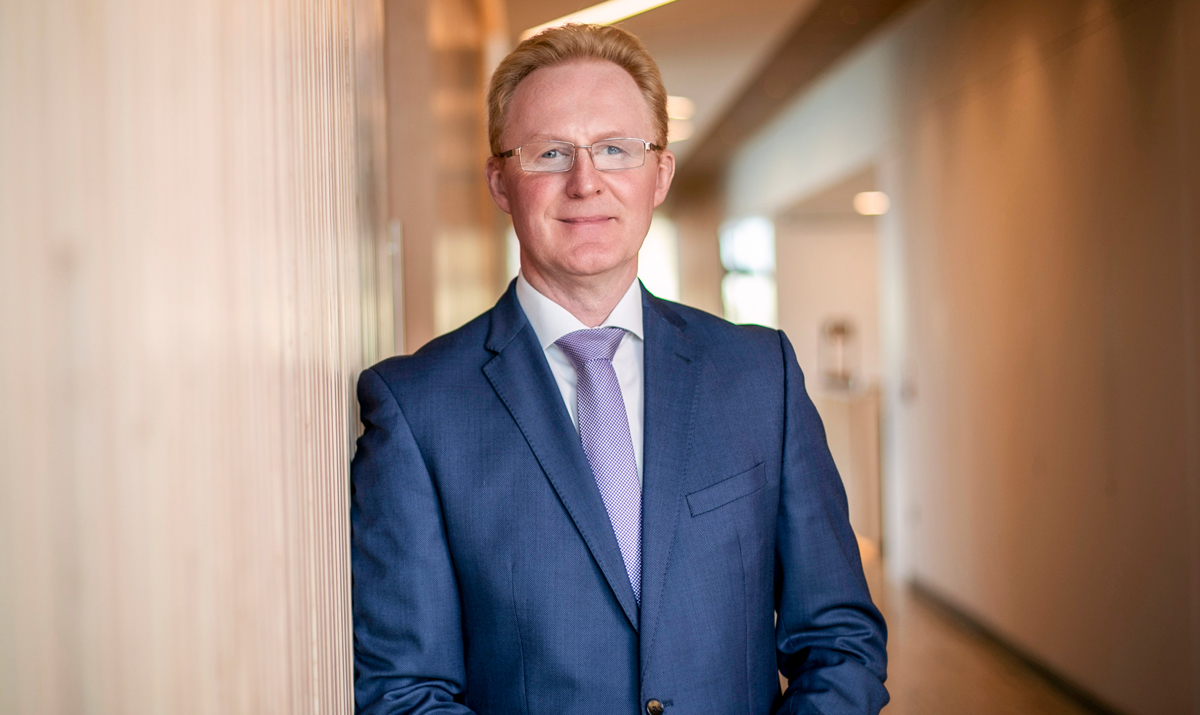 19 Jan

Interview with Frank O'Connor, Chief Executive of the National Treasury Management Agency, Ireland

BF: The National Treasury Management Agency (NTMA) is in charge of the Irish government's asset and liability management. It has been a key instrument in balancing the country's economy and progressing the government's economic programs since it was established in 1990. To begin this interview, could you give our readers an overview of the agency's main responsibilities?

Frank O'Connor: Most people know us as the sovereign borrower that manages the sovereign debt for the state but, over the years, our role has evolved and expanded significantly. In 1990, our core responsibility was funding and debt management, but we are now also responsible for investment, corporate finance, project finance, as well as claims and risk management across a number of mandates.

These include the Ireland Strategic Investment Fund (ISIF), which is a sovereign development fund with a unique mandate to invest back into the Irish economy on a commercial basis in order to support economic activity and employment in Ireland. ISIF's predecessor was the National Pension Reserve Fund, through which Ireland put money aside for future pension liabilities in the years preceding the global financial crisis.

The National Development Finance Agency (NDFA) provides financial advisory, procurement and project delivery services to state authorities on public infrastructure projects, which can involve public-private partnerships (PPPs). Over recent years, NDFA's activities have expanded into primary care centers, social housing and higher education facilities as we look to contribute toward meeting the state's infrastructure needs.

Also part of our portfolio is the New Economy and Recovery Authority (NewERA), which gives financial and commercial advice to government ministers and departments in relation to state-owned companies across a range of sectors. These companies are either designated to NewERA under legislation, or NewERA provides advice to the relevant ministers and departments by agreement. Finally, NTMA is responsible for the State Claims Agency (SCA) that resolves personal injury and third-party damage claims against state authorities. It also supplies risk management services, advising and assisting state authorities on preventing future incidents and claims, and manages third-party legal-cost claims against authorities.

Today, Funding and Debt Management, ISIF, NDFA, NewERA and SCA are NTMA's core mandates but additionally, we provide corporate services to three affiliated organizations: the National Asset Management Agency (NAMA), the Strategic Banking Corporation of Ireland (SBCI) and Home Building Finance Ireland (HBFI). NAMA was established by the government in 2009 to address a serious crisis in Irish banking at that time by taking some property loans off the books of financial institutions. SBCI utilizes national and international funding to make low-cost credit available to Irish small and medium-sized enterprises (SMEs) via on-lending partners. It was set up after the global financial crisis when banks' risk appetites were low, as they were repairing their balance sheets, and there was a gap in the market to help SMEs. Finally, HBFI offers funding at market rates to commercially viable residential developments in the country. It was established as part of a wider government response to Ireland's housing supply shortage as, over recent years, we have seen supply falling short of estimated demand.

NTMA's model is possibly unique globally, and a key aspect is that we have core expertise in investment, funding, corporate finance, project delivery and claims management, all under the one agency. When the government directs us to take on a new mandate, our model allows us to recruit external market specialists, which has built up that expertise and helped us to create a link between Ireland's public and private sectors.

BF: How has the agency's strategy shifted within some of its core areas of activity and what milestones has it achieved in recent years?

Frank O'Connor: I'll start with funding. After the global financial crisis, Ireland went from having low debt of about €50 billion to having debt of over €200 billion. As the state recapitalized Irish banks and went through a period of fiscal consolidation, NTMA's strategy in recent years has been in managing the debt. This has meant working to replace expensive debt in Ireland's portfolio with borrowing at a lower fixed rate over a longer period. We issued our first 30-year bond in 2015 and, today, our debt portfolio has one of the longest average maturity dates in Europe. That leaves Ireland well placed in this era of rising interest rates.

A second deliberate strategy was to pre-fund: while interest rates were lower, we borrowed more money than was necessary for future needs. We took advantage of the period of low-interest rates to get ahead of the game, which means we now have a substantial cash buffer of about €30 billion. If you compare the size of the Irish economy with America's, that would be the equivalent of the US Treasury having $3 trillion in pre-funding.

The fact that Ireland's debt portfolio has one of the longest average maturity profiles in Europe and that we're heavily pre-funded, gives us strong flexibility when deciding to issue bonds in the market. When COVID arrived, for example, we were able to step back during the initial market volatility, which has stood us in good stead. In addition, although global interest rates are rising, it will take some time before we see a change in the interest bill that the government and state have to pay. This is a result of creating a smoother debt-maturity profile and having locked in lower fixed rate debt, and we're quite proud of that achievement.

NTMA's funding plan for this year is a milestone: we have announced that we will borrow between €7 and €11 billion, which is small in comparison with previous years where we had to borrow €20 billion. We are actually sufficiently pre-funded to stay out of the bond market this year — however, we don't like to get complacent, we want to maintain a presence and liquidity in the market. Ireland is a very open economy: 90% of the people who buy our bonds are overseas investors, while international capital is prominent in ISIF and in funding PPPs in NDFA.

In addition, thanks in part to our execution of our debt strategy, Ireland's credit ratings have all recovered. During the global financial crisis, Ireland's ratings went down to the BBB category, but the majority have gone back to the AA category. That means we can now borrow more cheaply than France and Belgium, for example, and are trading closer to Germany. NTMA's most recent milestone in funding is that we have just launched our second green bond.

I'd also like to talk about our recent achievements with ISIF, our €9-billion sovereign wealth fund that was established in 2014, which partners with national and international entities to invest in Ireland. ISIF has a unique double bottom line: it must invest for a commercial return and for economic impact in Ireland. A key strategic success of ISIF is that we co-invest and, for every euro we have invested so far, the Irish economy has gained by another €1.6. To date, ISIF has made commitments of over €6 billion and more than €9.5 billion has been committed by other investors alongside that. Injecting over €15 billion into the Irish economy is impactful.

2022 was a busy year for ISIF and we invested in many sectors. Its investment strategy is constantly evolving in line with the country's priorities and is currently focused on four broad themes: housing and enabling infrastructure, climate, food and agriculture, and scaling indigenous businesses. We invest throughout the whole capital stack, from partnering with venture capital, private equity or investment fund investors, to senior debt facilities. We're also a patient capital investor: we understand that many of our investments will take time to give a return and we stay the course. That's very important. Additionally, by partnering with international investors and facilitating connections through our funds and other activities, NTMA is creating an ecosystem that brings knowledge and knowhow into the country, and we get a multiplier effect from that. Outside of just pure commercial returns, jobs are being created within the economy. Although ISIF is a sovereign wealth fund with a domestic focus, its significant impact has led international and multinational entities to engage with us in order to understand our model and how it can be implemented in other countries.

The COVID pandemic marked an important milestone for ISIF. Some Irish businesses in sectors like transportation and tourism were under pressure, so we rapidly set up the Pandemic Stabilization and Recovery Fund (PSRF) for medium-sized companies that, despite being strong and well run, needed to weather the storm of the crisis. The government dedicated €2 billion to PSRF and, although many of the companies that came to talk to us about it ended up not needing to draw down from the fund, they knew we were there as a support mechanism for them. Positive tools like this gave the government flexibility in its response to COVID and the initiative worked so well that we have reverted back to business as usual while retaining the flexibility to respond to any future unforeseen macroeconomic events, such as the shock triggered by COVID.

In terms of our National Development Finance Agency (NDFA), the milestone in recent years has been the greater number of PPP projects being delivered in primary care, social housing and higher education. Through PPPs, we can create infrastructure projects at scale, with international investors investing in the asset, delivering them and managing them for 25 years, before returning the asset to the state. The state ultimately retains ownership.

What NTMA is aiming to do now and in the future is ensure that we have a wide range of funding and investment channels that we can ramp up or ramp down depending on circumstances. Our work already has an immediate impact, but we're building longer-term resilience into our model by opening up as many channels for infrastructure as possible.

BF: NTMA recently raised €3.5 billion from the issue of a 20-year green bond. Green bonds now account for 7% of the country's total benchmark bonds and are part of the government's larger plan to drive down carbon emissions. What is this bond being used for and how else is the NTMA pushing for a more sustainable future in Ireland?

Frank O'Connor: As I mentioned earlier, this green bond represents a milestone as it is our second, while other countries have only just come to the market for the first time. We produced our first in 2018 and were among the first countries in Europe to issue a benchmark green bond, after France and Belgium. We have added a bit more supply to it, taking its value to almost €7 billion. Funds from it go to eligible green projects selected by a working group. These projects have to meet the International Capital Market Association's Green Bond Principles, plus they are audited and reviewed by the external provider Sustainalytics. A working group was established by government, and we publish annual allocation and impact reports.

The launch of this second green bond gives us another point on our yield curve. The bond had almost 300 investors and, although it was a €3.5-billion deal, we had demand for in excess of €35 billion. Investors who bought our previous green bond have come back while we also have some new investors, which reflects both the growing interest in environmental, social and governance (ESG) issues and Ireland's success story. We're very proud of that and will continue to ensure that the money goes to eligible green projects. Combined with the Irish government's momentum toward sustainability that includes its recent climate action plan plus various environment-focused measures and legislation that it has introduced, our green borrowing strategy is an important signal to investors in Ireland.

However, it is worth noting that the government is spending more money on sustainable projects than just the funds it is raising from green bonds. For instance, ISIF is recognized as a global leader among public and private sovereign wealth funds for sustainable investments. It considers ESG impact in every investment decision it takes and is targeting €1 billion in specifically climate-related investments across the capital stack. Those could be in the form of venture capital or in early startups, as we are trying to advance new sustainable technologies and ideas. ISIF has also divested its portfolio from fossil fuels as well. In addition, NDFA includes strict green criteria in its PPP tender processes. NTMA as a whole aims to be a net-zero emissions organization by 2030.

BF: Recent events have had a major impact on international value chains. What new investment opportunities have opened up in Ireland as a result and how is NTMA positioning itself to help the country realize its potential?

Frank O'Connor: NTMA is agile, adaptable and able to respond quickly as trends evolve or new events take place. The agency is in permanent contingency, and we have processes and systems in place which allow us to respond to changing circumstances. For example, in the case of the recent global energy shock; while Ireland was already on its journey toward investing in renewables, we can still do more. Our geographical location as an island means that there is huge potential for onshore and offshore wind power and the ISIF climate strategy will support potential such as this.

Another area of opportunity is our fintech sector, which has evolved in the last few years. While some tech companies in Ireland and across the globe announced job losses this year, it is now balancing out and many firms will still have more employees by the end of this year than they had 18 months ago. Through ISIF, NTMA has been able to partner with venture capital firms, fintech startups and investment funds that have lots of expertise in technology.

Overall, NTMA studies major economic trends but, more importantly, we have the toolkit to step in as markets evolve, events happen or are in reaction to government policy. One illustration of that is how ISIF is investing in scaling Irish businesses that are outward-investment focused. For instance, we've supported an initially small Irish engineering firm that has now bought subsidiaries in Germany and other parts of Europe. Through ISIF, we're working to leverage global trends by tapping into the natural competitive advantages that we have as an economy and as a country, and a really good example of that is our support of agtech.

BF: What are your top priorities as chief executive of NTMA?

 

Frank O'Connor: One of my overarching priorities is to continue to enhance the agency's strong reputation as a provider of specialist asset and liability management services, working for the state, in the national interest, delivering for Irish citizens and executing government policy that links the public and private sectors.

NTMA has an incredible relationship with all stakeholders — not just with the government, our employees (numbering almost 800) or our boards — but with our counterparts and investors that we interact with internationally. As I noted earlier, we're a very open economy: 90% of our sovereign bond funding comes from overseas investors, most of the €9.5 billion external investment that ISIF has generated is international capital and many of NDFA's PPPs involve international investors as well. NTMA works hard to build connections and relationships with those people and representing Ireland on behalf of the state is a very important part of our role. It's an absolute honor to serve the state and is something that all of us at NTMA value.

BF: What would be your final message for the readers of USA Today?

Frank O'Connor: NTMA's mandates now extend beyond its original purpose as a sovereign borrower, and we are on both sides of the balance sheet having added investment (ISIF), corporate finance (NewERA) and project finance (NDFA), as well as claims and risk management (SCA) to the portfolio. Ireland has come through the global financial crisis and COVID showing resilience as well as the determination of its policy makers and society, and this has been recognized by international investors.  Across all our mandates, we demonstrate agility and a forward-looking strategy, and that's symbolic of Ireland as a whole.