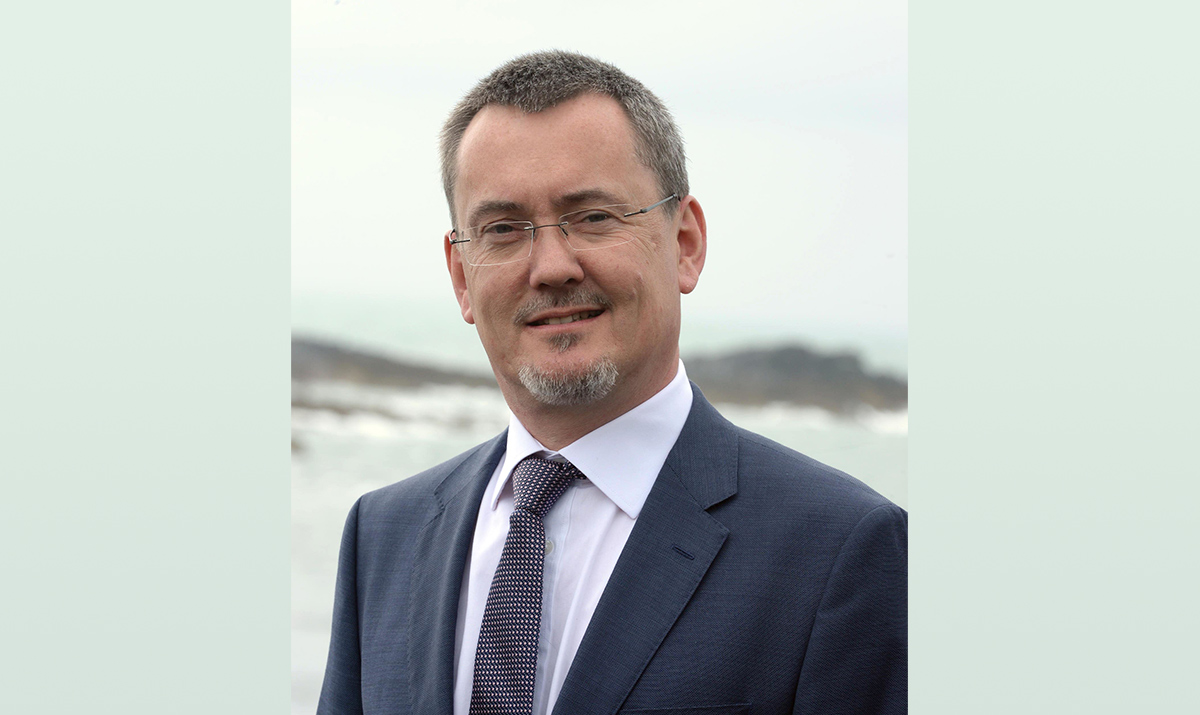 19 Jan

Interview with Jim O'Toole, CEO of Bord Bia, Ireland

BF: The agri-food sector is at the top of its game. The segment reached an annual turnover of around €29 billion and now accounts for 50% of direct expenditure in the entire local manufacturing sector. What factors have led to the agri-food sector to be so significant?

Jim O'Toole: The agri-food sector is truly an indigenous industry in Ireland, as primary production from our farms to processing is very much part of the cultural makeup of Ireland. We export 90% of what we produce. There is a sense in Ireland that agriculture and food touch every part of life here and are embedded in the community. This is why it's so important. It's also a sector that has responded to the challenges and changes that have happened in the global economy and the marketplace. At Bord Bia, we're very focused on bringing consumer insight to the food sector so that they can adapt and change. We recently announced our export performance figures for 2022 and we had the highest level of food, drink and horticulture exports from Ireland ever recorded at €16.7 billion, with a €3 billion increase on the previous year, which was a very significant achievement. We export to 187 countries around the globe, which is quite impressive given the size of Ireland. What sets the Irish agri-food sector apart is its outward-looking perspective, which has always been a necessity.

Therefore, companies that are relatively small compared to some of their competitors have a keen understanding of market conditions in continental Europe, the United Kingdom and international markets. Irish food and drink companies are exposed to these markets, which translates to primary production. It's important to maintain focus on all of these marketplaces, given the layers of complexity involved, including the type of channel we're operating in and the type of consumers we're targeting. Bord Bia plays an important role in understanding and deciphering all of this data and distilling it into insights that we can deliver to our companies and clients. This helps them respond effectively to the changing market conditions. The evidence of this is last year's export performance figures, which saw a resurgence in food service in certain markets despite the huge disruption caused by the pandemic. The rise in prices due to inflation has also influenced the sector, given the increase in input costs around the world as well as some volume growth. There were several factors driving demand and finding higher growth opportunities was part of the mix as well.

BF: You play an integral part of Ireland's agri-food sector as a promoter and watchdog for excellent food and beverage practices. What recent milestones has the organization passed and what current programs and strategies are at the top of its list?

Jim O'Toole: Just over a year ago, we launched our three-year strategy called "Nurturing a Thriving Future." This strategy statement not only spans the next three years, but also has a 10-year horizon. Given the level of change and turbulence we've experienced, it was important for us to set a short timeframe for our corporate strategy while looking ahead to the 10-year horizon, which is linked to the national agri-food strategy, Food Vision 2030. One of the big milestones we achieved last year was the 10th anniversary of our Origin Green Program, which is a unique model that's very highly regarded by our international competitors. This program involves working with primary producers, farmers, and food companies to develop their response to the sustainability challenge. We have been working on this program for 10 years, linking the food industry with the farming sector as well as all the actors involved in food safety, environmental protection, and technical support available through our research and advisory organization, Teagasc. We have built a huge national coalition where we identify and quantify how each participating farm and food business can set goals to improve their sustainability performance. We recognize that this is a long-term project, which is why we started it 10 years ago.

We appreciate the urgency to deliver on this project is becoming ever greater. We are proud to have over 55,000 farms and over 300 companies involved in this program. The output from these farms and food and drink manufacturers accounts for 90% of our exports. Through this program, we're covering the vast majority of what we produce for the export market, with specific targets set under different headings. Each company's plans are set over a number of years and are independently evaluated with the results reported publicly. We are going about this in a scientific and transparent way, demonstrating the progress we're making. We understand that there's a huge amount of progress that has been made and further progress to be made. We're absolutely committed to this effort and have developed this coalition across the Irish food and drink industry. Our strategic partners and key customers around the world recognize the journey we're on and are very supportive of us.

One of the ways that we communicate this message to customers is through our talent development program, Origin Green Ambassadors. This program consists of a cohort of graduate students pursuing a master's degree at the Michael Smurfit Graduate School of Business. In addition to the classroom instruction, students have the opportunity to work at companies around the world. Some of our Origin Green Ambassadors are placed with our key customers globally, explaining what we're doing and learning what their challenges are to achieve net zero. This exchange of ideas reinforces our work and emphasizes that achieving sustainability is a collaborative effort. Our Origin Green strategy, which predates our corporate strategy, is called Powered by Partnership and is the essence of this story. We have long recognized the competition for talent is great and seek to attract the best and brightest through our talent development initiatives. The Origin Green Ambassadors are a cohort of future leaders. However, the entry requirements are that candidates must have some experience. It's not a graduate entry, even though it's a graduate program. We completed a Leaders Sustainability Accelerator Program last year where we encouraged the leaders of the food and drink industry in Ireland to upskill and build their capability, so they can have the type of conversations they need to have with their customers and talk about the initiatives they're engaging in. This helps reinforce our position in this space.

BF: The agri-food sector is also a huge supporter of SMEs and regional employment, with more than 230,000 workers spread across the country. How would you assess the support for small businesses in Ireland's agri-foods industry? What more is Bord Bia doing to assist regional entities?

Jim O'Toole: We provide a range of support for smaller businesses that work with us. These are businesses with a turnover ranging from €100,000 to less than €3.5 million, so they are very small companies. We have a marketing grant program in place to assist those that qualify. For example, we're constantly developing a learning zone to make information readily available and help them upskill. We have several programs where we work with some retailers in Ireland, allowing smaller businesses to work with them. Three of the retail groups in Ireland have programs where they work with us specifically, so they can offer small companies the opportunity to sell their products to Irish consumers. We have a program called FoodWorks, which is an accelerator program in collaboration with Enterprise Ireland and Teagasc, to build scalability. In addition, we have our trade show program and the resources available at our innovation hub, The Thinking House, as well as our food and gardening festival called Bloom. These are all opportunities for smaller businesses to showcase themselves and take their businesses to the next level. We have quite an array of programs that we can offer every company, regardless of their size, to help them achieve their goals.

BF: Under the Food Vision 2030 Initiative, Ireland plans to become the world leader in sustainable food systems. We briefly touched that you started 10 years ago, but what has Bord Bia done to cut carbon emissions and how are you creating more circular practices in the country's agri-food sector? What more needs to be done for the company to achieve these ambitious goals?

Jim O'Toole: A new climate action plan with a legislative basis has recently been launched and it's very demanding. We are working with all stakeholders to help them achieve those targets. We have moved from setting ambitious targets to the phase of achieving them in a short timeframe. We are working closely with other stakeholders to assist individual farms in identifying their emissions and how they can mitigate them. Through our Origin Green Program, we have been providing feedback reports to each farmer for several years. As part of our sustainable assurance scheme, we conduct on-farm inspections, gather information, assess, and use an accredited model to calculate the carbon emissions. The information we provide to producers through our feedback reports includes practical explanations of how certain management practices can impact their emissions and how making small or large changes can have an effect. We are currently working with Teagasc and the Irish Cattle Breeding Federation to develop an online tool that will allow farmers to assess their emissions performance with greater sophistication. With this tool, farmers will be able to create a plan and monitor their progress toward achieving their targets.

BF: Ireland is now positioning itself to take a huge slice of the global agro tech boom, which is expected to grow in value from €18 billion in 2019 to €42 billion by 2027. What is Bord Bia doing to support the growth of tech innovation in Ireland and what kind of new local technologies are we seeing put to use?

Jim O'Toole: We are working on digitizing the process of collecting information on farms. We have a very sophisticated database where we store all the information. Our aim now is to enable individual producers to access their data and plan using technology. We are partnering with organizations to develop more sophisticated methods of monitoring emissions and to better understand the impact of agricultural practices on the environment in Ireland. This involves refining the default values to more accurately reflect the specific conditions of Irish agriculture, soil and climate. With this more granular data, we will be able to make more impactful interventions to reduce emissions. Our approach is science based, and we work with our companies to set science-based targets. Technology enables us to share best practices and to support our farmers in achieving their sustainability goals.

BF: In 2019, the U.S. market rose to become Ireland's second largest market for agri-food exports, an increase of 203% since 2010. What are the reasons for the U.S. being a significant market for Ireland and what kind of synergies are we seeing in terms of R&D and investment into Ireland's agri-food sector?

Jim O'Toole: We have a very strong foothold in the U.S., which is the most important export market for us. In 2022, our exports to the U.S. were valued at €1.75 billion, representing a 40% increase from 2021. This growth can be attributed to two major factors: alcoholic beverages and dairy exports. Last year, we exported alcoholic beverages worth just under €1 billion to the U.S., with the whiskey sector experiencing significant growth in recent years. The recovery in the market post-pandemic also helped bring on-sales back to full strength. Additionally, the high-value dairy ingredients that we export to the U.S. market have been an area of growth for us, thanks to our brand presence and efforts to expand our market share.

BF: You recently stepped up as head of Bord Bia in November. Previously, you worked as the CEO of the Ireland Seafood Development Agency. You spent a quarter of a decade working on promoting Irish agri-food exports and you are obviously a perfect fit for the job. What are your current top three priorities as CEO of Bord Bia and what vision do you have for the agri-food sector as we move into 2023 and beyond?

Jim O'Toole: The strategy that we have outlined is focused on enabling the growth of the food and drink sector in Ireland by increasing the value of its export activity and to demonstrate that this growth is achieved in a sustainable manner. Both of these objectives are equally important and must be pursued together. To achieve this, we are working to provide our companies with the necessary insights, talent and resources they need to realize their potential while also prioritizing sustainable practices to combat the challenges of climate change.

BF: What is your final message for the readers of USA Today?

Jim O'Toole: We have been through a very turbulent time recently, including adapting to the impact of Brexit followed by the pandemic and the ongoing war in Ukraine that has affected the global economy. Consumer demand is also under pressure, which adds to the difficulties. Despite all of these challenges, there is still optimism. The agri-food sector has shown great resilience and we have a larger strategic goal of bringing sustainable food to consumers in the United States.