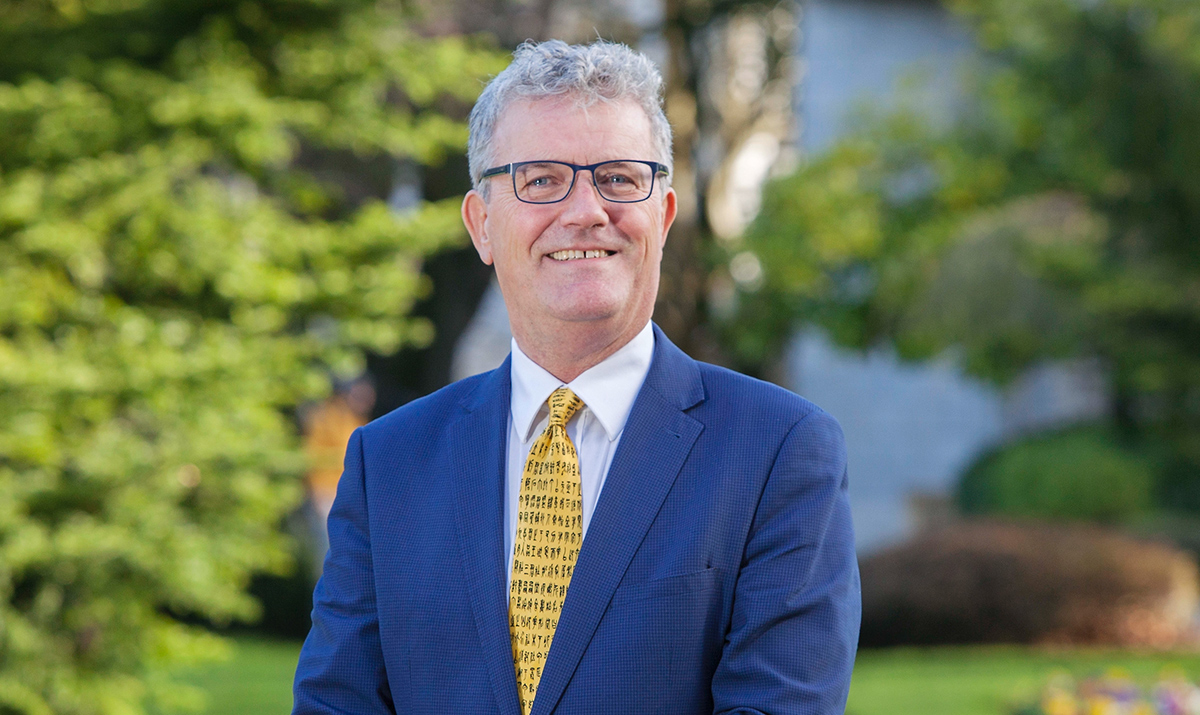 19 Jan

Interview with John O'Halloran, President of University College Cork (UCC)

BF: Ireland has always placed education as a top priority. The state allocated €6.9 billion in spending toward education as part of its National Development Plan 2021-2030. Not surprisingly, the country ranked third in the highest level of education among OECD members in 2022. To begin the interview, can you tell us about the key factors that have led to Ireland having such a competitive education and research sector?

John O'Halloran: Ireland is a natural touchpoint between the US and Europe and there is a strong, deep emphasis on a good quality education here. A highly skilled educated workforce has been the cornerstone of Ireland's economic success, and universities have been at the foundation of that success.

High quality education and a research landscape that can compete internationally are factors in the significant foreign direct investment here. Tribute has to be paid also to Science Foundation Ireland, who have been significant supporters of research in Ireland and have supported the groundbreaking research we are conducting here at UCC with Professor Seamus Davis on quantum physics.

Relative to the US, education in Ireland is less expensive. We still have work to do to make higher education more accessible in Ireland and we have a whole range of pathways to enable students to participate, which enables talent to grow. This provides a great platform for research, because once you have the baseline of talented people that are inspired by education, then you have a real opportunity to build research capacity. And that's what we have done here at the University of College Cork. We are a research intensive university that competes globally across a number of important fields.

On a regional basis, then, you have Cork, which is one of Europe's major manufacturing hubs for global pharma, biopharma and MedTech. Cork has an enviable track record in investment attraction. With some 170 investors already located here — including leading industry players like Apple, Dell EMC, Pfizer, Qualcomm and Johnson Controls — investors have made a long-term commitment to Cork, evidenced through multiple expansions over decades. The results of the Financial Times European Cities and Regions of the Future awards 2023 were recently published, and for the second year in a row, Cork was voted as the number one small European city for Economic potential, second overall and fourth for business friendliness.

Cork is one of the fastest growing cities and regions in Ireland because of such investment, but also because it is one of the most beautiful places to live, study or research in in Ireland.

BF: The university ranked 303 in the Q3 World University Rankings, putting it in the top 2% of global upper education institutions. The school is constantly transforming, including recently lodging a request to build a new €106 million business school. How has UCC's current ethos and leadership in sustainability helped to raise it up as one of the top schools in the world, and what recent large milestones has it passed that have contributed to its current ranking?

John O'Halloran: What has contributed to our growing reputation are our staff and students. We are ranked as a leading university, not just in Ireland but globally, and we are regarded as an educational institution that is working toward the creation of a sustainable world.

Take just one strand of our research. UCC is Ireland's scientific leader in energy systems modelling, with a strong research base and detailed modelling tools developed over 20 years. To date, UCC researchers have provided energy modelling to support landmark Irish climate policy, including Ireland's first low carbon roadmap in 2013, Ireland's Energy White Paper in 2015, the first Climate Action Plan in 2019, and Ireland's first carbon budgets in 2022. That is real impact. We have over 220 researchers working on global challenges, such as energy transition, climate action and the blue economy.

Then look at research institutes at UCC: our Tyndall National Institute is a global leading deep-tech research center working on integrated Information and communications technology.  We are also home to APC Microbiome Ireland, which is working in one of the fastest moving areas of biology, with relevance to all branches of human medicine and veterinary science and is of growing importance to the welfare of society and improving health and well being.

In the humanities area, the law school at UCC is ranked number one in Ireland and 75th in the world, and our nursing school is ranked 41st in the world. In total, nine subjects at UCC are ranked in the top 200 in the world.

This quality of teaching and research makes UCC an attractive destination for international students. We are a global university, with close to 30% of our faculty being international.

When you add all of this together, excellence across learning, teaching and research in the most beautiful campus in Ireland, with a strong emphasis on sustainability and climate action, then you can see why our reputation is growing and how UCC is seizing its potential.

BF: Can you explain the UI GreenMetric Global University ranking?

John O'Halloran: The UI GreenMetric World University Rankings were initiated over 10 years ago at the University of Indonesia, and UCC has been participating since the beginning. We have been ranked in the top 10 every year among more than a thousand participating universities and have climbed to the seventh position in the world in that time. From our point of view, that's important because it reflects our deep commitment to a green campus and environmental sustainability as a university and as a nation. The green agenda at UCC is student led, research informed and practice focused. And why do we do that? We have over 24,000 students who come into this institution every year who are the driving force behind the whole institutional approach to embed sustainability across teaching, research, and operations. The world is changing very rapidly, and they are driving us as an institution to make the world a better place.

Another important organization ensuring that higher education is leading the sustainability movement is the Association for the Advancement of Sustainability in Higher Education (AASHE), which comes out of North America. It's recognized as the best measure of sustainability in higher education globally. We were the first university outside of North America to get a Gold Star award from AASHE for sustainability. We were also the first Green Flag Campus in the world in 2010. This is where our students came in and said, we've got to change the world. We talk about bottom up, which is our student driven agenda, and we talk about top down, which provides the framework for this work. But most important for me is the piece in the middle: what we call the middle out. And this is made possible by our fantastic colleagues, such as our energy ambassadors, who drive the agenda forward. So, our students are fantastic regarding that.

BF: UCC is the world's first Green Flag campus and ranked seventh globally for sustainability by the UI GreenMetric Global university ranking. The university has also pledged to become plastic-free this year. What kind of programs has the university put into action that has made it one of the greenest schools in the world, and what more needs to be done to cut down on its carbon footprint and teach the idea of sustainability to its students?

John O'Halloran: Despite all our accolades, we're a learning environment. This is a university. We are not going to sit on our laurels. We can't afford to do that. There are a lot of things we at UCC need to do better.

The Sustainability Tracking, Assessment & Rating System (STARS) is a transparent, self-reporting framework for higher education institutions to measure their sustainability performance. And when you look at the STARS' website, it highlights areas where our performance is very good, but you can also see areas where we can improve. And there is a whole range of areas that all of us as a society, and as universities, must tackle. We're tackling that in the curriculum by making sure that every student who comes into UCC is exposed to and aware of and engaged in the Sustainable Development Goals (SDG).

UCC's new strategic plan was launched recently by Professor Jeffrey Sachs. Jeffrey Sachs reports directly to the Secretary General of the United Nations on the Sustainable Development Goals. He believes that what UCC is doing is having a global impact, so it's about actually calling out the SDGs where we can through our students, and then through research, so that we can make those contributions to make the world a better place.

What's interesting about this university is that we have two big energy saving projects running now. In Ireland, a significant proportion of our public buildings are old buildings. So how do you get a building like this, or any other building in the public sector, to deliver a climate-neutral impact? The Irish government, together with our university, have invested in what we call Pathfinder projects. Pathfinder projects are projects that enable the government and universities to explore the possibilities in using the best available technologies and behaviors to reduce our carbon footprint.

The great thing about a university is that it acts like a laboratory. When you have 30,000 people coming through the doors, every day you can try things and test new ideas to gather evidence on new innovations. What we did with one of our buildings here at UCC, called the 'O'Rahilly Building, is we secured the building from a ventilation point of view and then, by putting in heat pumps, we saved 50% on our carbon emissions. Another area that we are working on is deep retrofitting. This is where you ensure that the building is fully insulated, glazed appropriately, and all energy systems are optimized to reduce carbon, while at the same time maintaining a studied and working environment. The question is, then, how can we best deploy limited financial resources to get the best outcome from a climate point of view?

These are some of the technological advances that we have made, but our behaviors are also important. How we use our heat, how we set our expectations. It's also the seemingly simple things. In UCC we have over 130 buildings, and these can be managed by systems and supported by energy ambassadors. We monitor energy consumption and enable local management, and when benefits accrue from energy savings, they are kept by the building occupiers; the energy saver saves, and the polluters pay. One such example is our library, which has the biggest footfall of all these buildings. It is called the Boole Library; named after George Boole, the very first professor of mathematics, who came up with the basis of computing in the 1800s, in this institution.

The Boole Library has taken control of its energy and waste, and last year it saved €60,000 in its energy consumption. Then we can invest this money in what we think is important. So, while money's important, behavioral change is just as important.

The most recent important sustainability project is the plastic-free policy at UCC. We're the first university to insist on single-use plastic, and then we're moving toward plastic-free. Our students drove that agenda, and the library embraced that because they could see the benefits that could come. It's also about listening to the student voice. One of the big transformations for me as a leader of an academic institution is the transformation through collaboration and co-construction of solutions with our students and staff. In the past universities 'poured knowledge into people,' but in the modern university today we listen to our students, work with our students and our staff, and we co-construct our teaching, research and operations. Because knowledge sits in so many places, and we can learn so much form sharing ideas and practices with each other, our students inform us, work with us, and challenge us. The world's environmental challenge rests on all our shoulders, and universities must step up to the plate.

BF: Ireland's education sector has also greatly benefited from Brexit, with applications from EU states tripling between the 2016 referendum and the 2022 school year. According to QS, around 28% of UCC students are from abroad. For what reason are students from outside Ireland choosing the country as a destination to advance their studies, and how is UCC competing with other local institutions to attract these international learners?

John O'Halloran: There are a few parts to that. First of all is UCC's attractiveness. The first thing that attracts people to the university is our faculty and the environment that they're in. People know that our faculty are true world leaders, whether it's in food microbiome, health, sustainability, humanities, quantum and photonics, or classics, where people are looking at ancient manuscripts. And now with the web, when students find us, they will find us from wherever they are in the world.

Secondly, Cork is a small city and Ireland is relatively small. It's safe, it's English speaking, and, unlike other parts of Ireland, our accommodation situation is different. By the end of this year, there'll be about seven and a half thousand beds in the system here in Cork. Now the pricing structure will be a challenge, but at the same time, there are beds available today in our city.

Certainly, if you are a parent you need to make sure that your child is cared for and looked after, and we've got 50 support services across the organization to support students during the transition into our university. But also, when they're here it is important to make sure that their mental health and wellbeing are safe guarded. Life wide learning is the other dimension that our students learn to help them be a good leader, good communicator and team player, and we develop those skills with those supports around them in the institution, in the curriculum, and beyond the curriculum.

BF: The university hosts many research centers, including the Tyndall National Institute, APC Microbiome Ireland, the Environmental Research Institute and MaREI. What key areas does UCC excel at in terms of its research capabilities, and how do these centers benefit Ireland's wider industry and community?

John O'Halloran: We've talked about George Boole, the father of computing who was our first professor of mathematics. Our Tyndall National Institute is a global leader in the ICT space; all of the talents, all of the knowledge that's coming out of there today, would have originally come from what was previously called the National Microelectronics Research Centre. This institute is 40 years old and is creating new knowledge and products. But what's more important for the industry is the talent that it produces. Talent is the biggest challenge in advancing knowledge. Growing talent and supporting the development of a workforce who are smart and agile, and who also bring new ideas, is critical in securing our future. We support a knowledge and innovation ecosystem, because of the connectivity and interdependencies between us and the industry.

BF: The university recently ran an event to inspire female entrepreneurs and has consistently aided students in creating new SMEs and business entities in Cork and beyond. What measures does the university take in supporting the creation of new startups, and what kind of notable new entities have come from the university?

John O'Halloran: Gateway UCC, a sprint accelerator program, supports researchers to create spinout companies. It's an incubation facility, so for offices and labs and the people that are mentoring and supporting early stage ideas for commercial spin outs. This program has supported about 70 companies in the last 10 years and created more than 550 jobs. That's a fairly significant impact.

Through UCC Innovation, we have a program called IGNITE, which is a full-time incubation program for graduate founders working full-time on their startups and laboratories —  evening programs of 12 hours of multidisciplinary programs, and hackathons, and all the kinds of activities  that have supported the development of 188 founders and 157 businesses creating close to 160 jobs and raising about €23 million in investments.

There's a significant amount of social innovation going on that speaks to our values as an organization. Yes, the economy, jobs, and spinouts are critical, but, equally, we need social innovation.

One of the steps we have taken to attract talented students, including innovation students, is through our Quercus Talents Student's program. So, what's Quercus? Quercus is the Latin for oak. The oak represents our talented student program in that we grow our students from acorns to mighty oaks. The idea of this is sponsored by the Bank of Ireland and originally sponsored by Ford Motor Company. It's a talented student program to support students and promote excellence in academia, sport, creative and performing arts, as well as active citizenship and innovation/entrepreneurship.

Through this support in this institution today there is an Olympic gold medal winner plus three bronze medal winners in rowing. We also have globally successful entrepreneurs and innovators who we hope will go on to have global impact.

The university is more than just about the economy. We also have a social responsibility. So, the next part of that agenda will be to have a social entrepreneur in residence too, which will enable us to drive further in that ecosystem.

BF: You officially stepped up as president of the university in August 2021, after being interim president for about a year before. You've worked tirelessly on research toward combatting climate change and have served as an advisor to the European Environment Agency. You've had a really inspiring career! As the President of UCC, what are your current three top priorities, and what vision do you have for the university in the next five to ten years?

John O'Halloran: My priorities are people and the planet, and that is the vision set out in our new strategic plan. People are critical, whether it's our students or staff, perhaps our communities: we can't do anything without our people. I don't say that lightly. We recently launched a strategic plan for the next five years and what I've tried to do is draw on the strengths of my own discipline. I'm a professor of zoology with a specialty in ornithology, and I'm fascinated by bird behavior, with an emphasis on starlings. What's interesting about starlings is that they form murmurations, and I believe the university is like a murmuration where people operate as individuals, but they also work in the collective. The idea here is that people can be both leaders and followers, and there's an opportunity in that. Today you can be a leader, but tomorrow you might be a follower. The way the birds function in a collective is the same way we do as a university: there's a function in the collective in providing services for our community, intellectual discourse, cultural amd ethical knowledge transfer, and for knowledge generation.

But when you look at the starlings, you'll see their plumage is speckled, but this is not how one starling sees another. They don't see the same as you and I see because they see in the UV spectrum. So what does that mean? That means that they see colors differently than you and I. And for me, that's a really important metaphor for us, not only as a society, but also as individuals. That when we meet people for the first time, we might be tempted to make judgments very quickly. But you need to take the time to get a deeper understanding of people. This speaks to our commitment equality, diversity and inclusion values here at UCC.

So, there are several metaphors in there that we think are important to the University College Cork. Ultimately, it's about people and the planet, and the vision and elements are set out in the strategy. We will work hard as a team to implement these. We have a fantastic team of people who are committed every day to try and make this world a better place, and that's what we're interested in doing.

BF: Do you have any final message to the readers of USA Today?

John O'Halloran: Come study and live here! This is a stunning university, in one of the most beautiful regions of Ireland, surrounded by culture and history with a fantastic teaching and research landscape.

We have about 800 US students who come to UCC every year on first semester year abroad programs. We want to increase that. Our ambition is to have a deeper relationship with North America. We have a strategic relationship with the University of Massachusetts, which is important to us. We will continue to develop further relationships right across the United States. But certainly, to enrichment and diversity. This brings me to my vision, which has its foundations in my own discipline of ecology, where a central axiom is that diversity begets stability. So the more diversity you have, coming from the United States and everywhere else, the more stability this brings to our community and society.