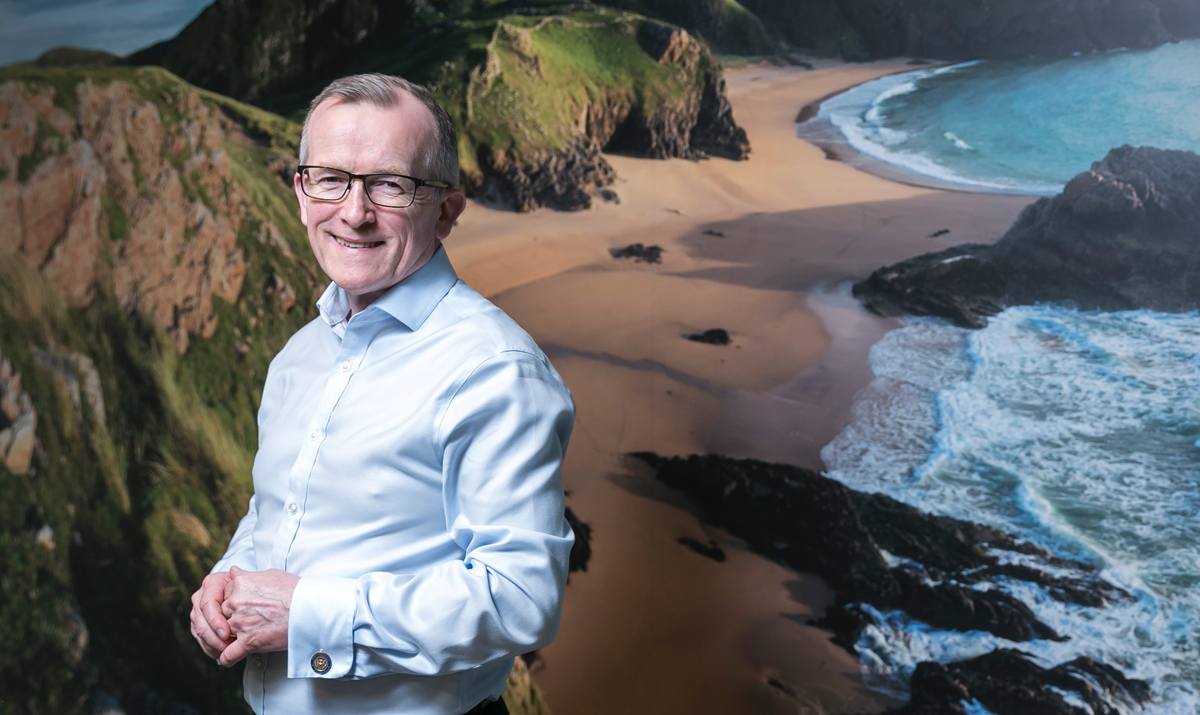 19 Jan

Interview with Niall Gibbons, Chief Executive of Tourism Ireland

BF: As COVID restrictions are now in the past, tourism in Ireland is seeing a return to its previous numbers. According to ITIC's November dashboard, visitors entering the country were at 96% of where they were in the same month pre-pandemic. What factors have led to the robust recovery of Ireland's tourism sector and what outcomes are you expecting in 2023 and beyond?

 

Niall Gibbons: In 2022, we saw a strong rebound in tourism, stronger than we had expected. Pent-up demand for travel, deferred bookings and accumulated savings caused a surge in travel to the island of Ireland and elsewhere around the world.

To put the economic performance of tourism in perspective, in 2019, pre-COVID, we welcomed 11.3 million overseas visitors to the island of Ireland, who spent €6 billion during their time here; and tourism accounted for 10% of total jobs in the country. That 6 billion euro spend wasn't just in big urban centers like Dublin, it was in every small town across the island, supporting around 20,000 mom-and-pop size enterprises. So, a really important contributor to the regional economy in Ireland. For an island with a population of about 6.7 million people, to welcome 11.3 million visitors is pretty phenomenal.

Tourism has also been an important contributor to the peace process. Tourism Ireland was born out of the Good Friday Agreement, which celebrates its 25th anniversary this year. In Northern Ireland, after 30 years of conflict, we have now seen 25 years of growth in overseas tourism, which is fantastic.

We know what happened with travel during the pandemic; and what happened here in Ireland was no different to elsewhere. We saw a major clampdown on international travel for two years and a lot of 'stop start' efforts. However, we saw great support among Irish people for domestic holidays during those years. We also had huge support from government. If the government hadn't provided such levels of support, it is likely that the sector would have collapsed.

In terms of restarting overseas tourism, there were three major elements over the last number of years. Firstly, Tourism Ireland engaged in a major research program which looked at people's attitude to travel throughout the pandemic, how their mindset was and what their attitude was regarding a return to travel. We interviewed 30,000 people over 10 waves of research in our top tourism markets. We found that people really wanted to travel again as soon as possible after Covid. They were keen to visit their friends and family and also keen to stay in destinations closer to home, where they felt a bit safer. Emotional reconnection was a big theme that emerged and that worked well for us as we began to emerge from the pandemic, as people began to come here again to visit friends and family, to celebrate births, marriages and other important occasions; all the things we want to celebrate are now really important.

The second element was about aviation: 90% of people who come to Ireland arrive by air and 10% by sea. Aviation suffered a dramatic collapse as a result of the pandemic, and Ireland's international connectivity was decimated. This loss of air connectivity was a major concern. However, I am happy to say that it returned at a far stronger rate than expected; we had thought it would take years to restore. We're in a situation now where, in the summer of 2023, we will see capacity at around 102% of 2019 capacity. Our big airlines account for about 80% of all seats to Ireland. But we have great support from other airlines as well. We have new services coming here from the United States this year, such as the first ever Aer Lingus flight from Cleveland, Ohio to Dublin Airport. This will be the only non-stop flight between Europe and Cleveland. We've also seen the re-introduction of services from Chicago to Shannon Airport, which is good news for people who want to visit the Wild Atlantic Way. We've also seen the restoration of flights from places like Seattle, San Francisco and Los Angeles.

The third element during Covid was about 'keeping the lights on' for Ireland. We worked really hard to make sure that Ireland remained 'top of mind' with prospective international visitors, until the time was right for them to visit, and also to make sure that all the tourism operators here in Ireland could maintain their relationships with international travel buyers. A lot of other destinations didn't do that. We found that, during 2022, we walked right back onto the stage, having been careful to maintain those important relationships. I know technology is hugely important but ultimately this is very much a people business.

As I mentioned, international travel rebounded more quickly than anticipated, with 2022 finishing at around 75% of 2019 business. But bear in mind that the first quarter was pretty much a write-off because of the Omicron variant. In 2023, we're optimistic that we'll see further incremental growth. We expect travel from the United States will be exceptionally strong, probably even better than 2019. Regarding the British market, it depends on what happens with the economy there. But it's next door to Ireland, so there will still be lots of British people travelling here. And regarding travel from mainland Europe, air capacity is quite strong. We don't know about prospects for travel from China yet, because we're not too sure what is going to happen there.

BF: The government released its Budget 2023 in September 2022, which included €15 million for marketing Ireland as a destination overseas and another €15 million for programs related to the industry, such as training and events. How would you assess the level of support the government is giving to its tourism sector and what more could be done to kick tourism back into high gear?

Niall Gibbons: The figures you have quoted are the additional funds that were allocated to tourism. My job is on the marketing side. In 2023, we will have a marketing budget of €78 million (not including our pay and operating costs) and a total budget of around €104 million, which is well in excess of our 2019 budget. This will allow us to maintain our 'share of voice' in the very competitive international marketplace; a lot of destinations are out there competing for business.

During the pandemic, I was a member of the various taskforces which were set up in response to the crisis: the Tourism Recovery Taskforce and the Aviation Recovery Taskforce in Ireland and the Tourism Recovery Steering Group in Northern Ireland. There was a systematic set of supports: around 80% were wage supports and 20% were other supports, including the reduction of VAT, or sales tax, in Ireland. All of those underpinned the industry. The learning from the global financial crisis was that when there was no credit available, things began to teeter, but at least during Covid, small businesses were able to survive and now they can look forward with confidence beyond 2022.

BF: Aer Lingus recently announced it had increased its flights from the US to Ireland by 236%, between November 2021 and November 2022, with 15 planned transatlantic flights between the two countries in 2023. Lufthansa also recently opened a flight between Frankfurt and Belfast. How has the rise in connectivity helped to underpin tourism in Ireland, and what is being done to grow the number of connections worldwide to meet the expected demand?

Niall Gibbons: Around 90% of our overseas visitors arrive here by air, so connectivity is hugely important for our business. You can't swim here, so air and sea access are key. Ryanair is important on our short-haul routes, while Aer Lingus is really important on the transatlantic routes, as well as across mainland Europe and Great Britain. About 20% of total air services are provided by other carriers. Aer Lingus will be the major carrier on services from the United States this year, but American Airlines and United also offer flights to Ireland.

In the US, the Ireland brand remains very strong; we can see that from our research. It's not just a diaspora market. Ten years ago, around 70% of our American visitors were coming to Ireland to visit their family or friends. Now, it's about 30%. Our growth areas within the US are the southern states, which typically are places with no ancestral links. And, what Americans say about Ireland sounds a bit cheesy, but it's very true: "Ireland is a destination that I've got to go and see before I die." I think there's a 'glow' at the moment that is working in our favor.

In relation to our longer-haul markets, we have great connectivity with Asia, which is important as people there begin to consider travelling again. Qatar Airways operates direct flights to Dublin from Doha, Etihad has restored its 10 flights a week from Abu Dhabi and Emirates flies twice daily from Dubai. Sea access is also very interesting. We're seeing an increase in capacity from France by Brittany Ferries, Irish Ferries and Stena Line; all of them have invested significantly on their services from France to Ireland. Capacity will increase by around 400% from France to Ireland this year. This is good news, for places like Rosslare, in the southeast of Ireland, where many of the ships arrive; the ability for French holidaymakers to bring their car to Ireland will be easier than ever before this year.

BF: That's diversifying tourism into regional areas.

Niall Gibbons: Correct. Visitors who bring a car on holidays tend to stay longer, spend more and are more likely to visit more than one region.

BF: According to Ireland's national tourism authority, a major boost in tourism will come from the hosting of sporting events, such as American college football that started up again in August. What large events are expected to attract US and other overseas tourists in 2023 and beyond and how involved is Tourism Ireland in managing and promoting them?

Niall Gibbons: We're heavily involved in the promotion of major events. We work in conjunction with our colleagues in Fáilte Ireland, the National Tourism Development Authority. The Irish Tourism Minister, Catherine Martin, came with me to the United States and her program included a visit to Notre Dame. Following that visit, she put in place a funding package for five years, which ensures a college football game will take place in Dublin every year until 2026. The Northwestern vs Nebraska game took place in 2022 and that was a real success. This year, Notre Dame will take on Navy in Dublin, which will be a huge game. We expect 40,000 people to travel from the US for that game alone, particularly given Notre Dame's connection with Ireland. Then, there will be three other games in the coming years.

Golf is really important for Ireland as well. We've got more golf courses per head of population than any other country in the world. The Ryder Cup will return to Ireland in 2027 and The Open Championship will take place once again in Northern Ireland in 2025. That's really positive.

Also, our Northern and Southern tourism ministers have announced an expression of interest to host the opening stages of a future Tour de France on the island of Ireland, in 2026 or 2027.

BF: The country has pledged to become net zero by 2050 and has set a legally binding emission reduction target of 51% by 2030 through fixed sectoral emissions ceilings. What will be required by Ireland's tourism sector to meet the new threshold, and how has the rise in sustainable tourism benefitted the marketing of Ireland to the world?

Niall Gibbons: In terms of sustainability, the perception in consumers' minds is one of a 'green clean Ireland.' So, we already have that marketing advantage, before we even begin to discuss targets; and certainly, targets have to be met. The minister is working on a new, revised climate strategy for 2023.

When we launched our 2023 marketing plans, we said that, from a sustainability perspective for tourism, there are three dimensions. Firstly, there's economic sustainability: how we ensure that the 20,000 mom-and-pop sized enterprises can sustain a living from tourism in the future. Secondly, there is social sustainability — the benefit that communities across the island of Ireland experience from overseas tourism. And, of course, there's environmental sustainability. We recently joined Leave No Trace. Ireland already has a good reputation in this area, but it will be important that we achieve the targets required by 2030 and we will all make our contribution to that.

BF: How significant is the US market to Tourism Ireland's overall focus and what kind of strategies is the organization deploying to attract visitors from the US?

Niall Gibbons: The US market is extremely important. Pre-Covid, we welcomed 1.7 million American visitors, who spent nearly $2 billion during their time in Ireland. That's extremely important for our economy. More importantly, those visitors bring huge investment to rural Ireland. Direct flights from the US to Shannon Airport, in the west of Ireland, are very important. Both Aer Lingus and United fly to Shannon from Chicago, New York and Boston, some of them all year round. When we talk about sustainability, as we look to the future and rebuild overseas tourism, our aim is to attract visitors who stay longer and spend more, so that we become less reliant on volume and value becomes more important.

BF: You joined Tourism Ireland as Director of Corporate Services in 2002 and jumped up to the lead seat of chief executive in 2009. Since then, you've successfully led the industry through the COVID-19 crisis and were awarded 'most influential Irish CEO' by LinkedIn in 2021. As chief executive of Tourism Ireland, what are your top priorities for 2023 and what kind of vision do you have for Ireland's tourism sector in the next five to ten years?

Niall Gibbons: We have a new three-year strategy, put together in consultation with all of our stakeholders, which has sustainability at its core. It's all about about building a long-term sustainable tourism industry. 2022 was about restarting overseas tourism. 2023 is about rebuilding our industry. We're launching a brand new global campaign around St Patrick's Day, which is really exciting, particularly as we've got a few well-known personalities involved. During Covid, we developed a campaign called 'Press the Green Button,' which was about encouraging people to come back to Ireland and book now. Our new campaign is more about the softer side of Ireland — the dream, the romanticism. That's the emotion we're going to tap into, that we believe people everywhere are looking for right now. A lot of people in our industry have had a tough time over the last few years. While they rebounded well in 2022, people are getting used to a new way of living, so the sustainability of our people will also be really important.

BF: Is there anything else you would like to add?

Niall Gibbons: Our work in the United States has been something of a remarkable journey. Ten years ago, I traveled to the US with our Prime Minister Leo Varadkar — he was our Tourism Minister at that time — and we spoke about the importance of US visitors spending $1 billion each year in Ireland. Then, the annual spend grew to an incredible $2 billion! The Ireland brand in the United States remains really strong. A lot of the appeal comes down to the Irish people. And it's really about dazzling your customers. We can't change things like interest rates or government policies. Those are big issues that are challenges certainly, but we can't change them. But what we can do is really emotionally impact our visitors' experience when they're here, and that's what Irish people do really well.