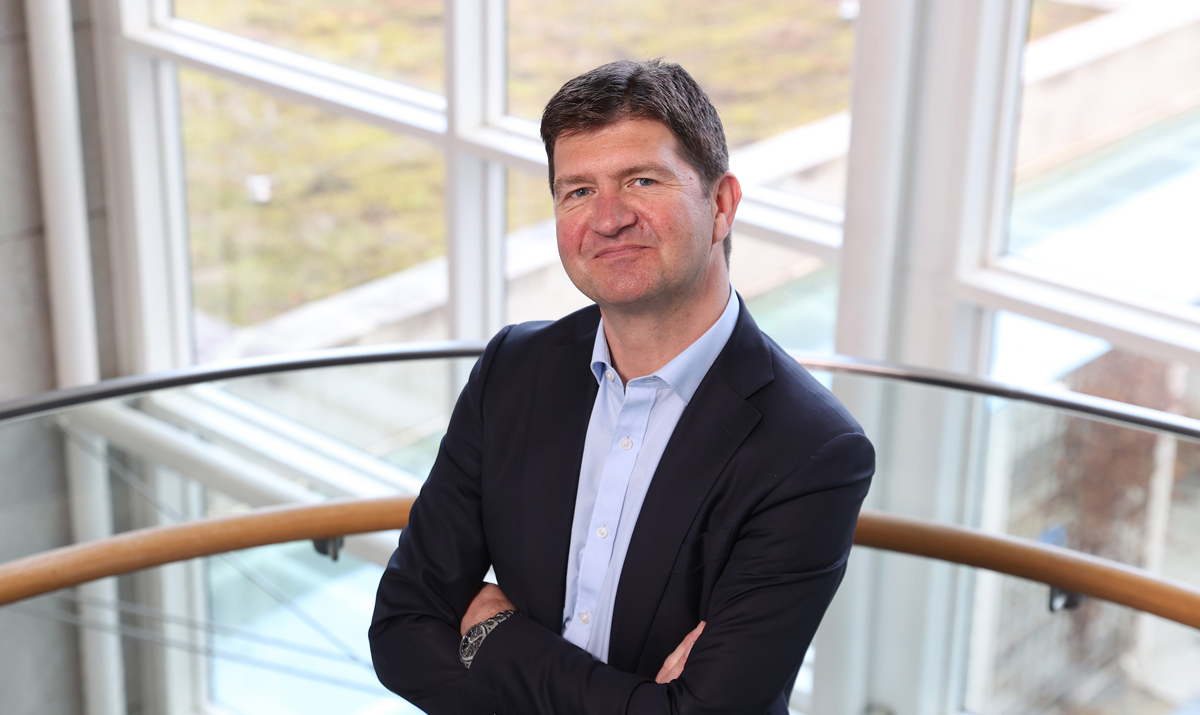 19 Jan

Interview with Oliver Loomes, CEO of eir Ireland

Business Focus: Ireland has done extremely well over the pandemic, being the only economy in the EU to grow in 2020 and having GDP growth of 13.6% in 2021 and an estimated 12.2% in 2022. To begin the interview, I'd like to talk about Ireland's economy as a whole. What are the key factors behind Ireland's recent economic success, and how has it been aided by the country's high level of digitization?

Oliver Loomes: I agree, it's great to see our country performing well. Ireland may be small, but we have in place an open economy, with all the conditions for a stable, pro-business environment with strong GDP growth. These conditions include being a committed member of the European Union and our geographical position means Ireland is a natural US gateway into Europe. Another key component in our success is having a highly educated, English-speaking workforce, which is essential for many international companies looking for a European base.

US companies have played an enormous role in Ireland's success, bringing jobs, investment and development to all parts of Ireland. The approximately 900 US companies currently operating in Ireland are major employers both directly and indirectly and I like to think Irish and American people share a strong relationship.

One of the first industries people think about when considering Ireland is our green agricultural heritage. Today, our economy has diversified and grown into a hub for tech, financial services, life sciences and pharmaceuticals, but our food, beverage and agriculture sectors continue to thrive.

Before joining eir I was managing director of Diageo Ireland and working with brands like Guinness and Bailey's, two Irish brands that are phenomenally successful across the Atlantic and indeed worldwide. Behind those brands is a huge connection to our agriculture industry here in Ireland. In my time in Diageo, about 13% of the national Irish barley crop went into making beers that were exported all over the world. 5% of our milk production in Ireland went into making Bailey's which went all over the world. All together, it's more than a billion euros of exports.

That's a good representation of why Ireland is thriving. They are just a couple of examples. As a country Ireland is embedded into the global community, and our exports show that.

Today I am the CEO of eir, Ireland's largest telecommunications company. This sector has played another key role in Ireland's economic success. Being an island nation, our telecommunications infrastructure is critically important for the economy. The telecom sector here employs around 25,000 people, and nearly €2.75 billion has been invested in Ireland's telecommunications network over the last five years.

Our business, eir alone, has invested over €1 billion on communications infrastructure over the last four years and we continue to invest €250 million annually to deliver world class fiber broadband and 5G mobile connectivity. For companies considering investing in Ireland, a reliable and high-speed communications network is critical, and the role eir plays in supporting foreign indirect investment is something we're really proud of. Businesses need good communications infrastructure, but also people living and working here need to be able to communicate with friends and family all over the world.

We will complete our gigabit fiber-to-the-home (FTTH) rollout in 2026; it will cover 84% of the country. When you add this to other rural focused fiber infrastructure roll outs, Ireland will shortly be one of the best fiber-connected countries in Europe. Enabling our people to connect, to live, and work wherever they wish across the country and enabling businesses to set up anywhere, with world class connectivity where they need it. Our communications network is a key enabler of economic success.

BF: eir's 2022 third quarter results showed healthy financial results year-on-year due to continued investment in building up its network. In July the company sold off just less than half its fiber network to InfraVia. What recent milestones has the company passed that best showcase its success, and what impact have they had on the business?

Oliver Loomes: Our purpose is to connect for a better Ireland, and we do that by connecting the people of Ireland, so let's start with fiber. We have big targets and big ambitions for Ireland. As I said, eir is investing €250 million every year to build leading infrastructure networks across Ireland.

Through our partnership with InfraVia we were able to speed up our fiber build, we have now passed more than one million homes and businesses with a fiber network capable of gigabit speeds. This continued acceleration means we can reach our target of 1.9 million homes and businesses by the end of 2026 instead of 2027, so businesses and consumers across Ireland will have better fiber broadband get fibered faster. This is critically important for our economy.

This is, and will continue to be, Ireland's largest fiber network, covering 84% of homes and businesses in the next three years, by 2026. We'll do that through ongoing, ambitious investment. We're committed to investing another €1 billion over the next four years.

Through sustained investment over the last four plus years, we have transformed our mobile network and built Ireland's largest and best available 5G network. Independently verified by external companies, with ultrafast data speeds in almost 600 towns and cities across Ireland.

Business Focus: eir is also investing in the promotion of training and education to support the growth of its widening network, including its own apprenticeship program. How would you assess the country's current knowhow in the telecommunications sector, and what more is the company doing to create the next generation of leaders in the sector?

Oliver Loomes: It's a great question. Investment in talent, in people, is a critical enabler for our success into the future, and Ireland has a globally recognized reputation for education. The macro view at the moment in Ireland is, more or less, a full employment economy. Although there are challenges in the tech sector which have a knock-on effect here, there are still challenges in the availability of talent; it is an issue across every sector. Businesses need to be smart and find new ways to access talent.

At eir we believe in great careers for life. One of the ways in which we develop our people is via our apprenticeship program, which we developed to ensure that we will have a pipeline of talent coming through our business for the future. The open eir apprentice program, provides our apprentices with on-the-job learning, one-to-one coaching and formal classroom training, supported by experienced technicians. Not all people want to follow an academic path to their chosen career, and this program provides both a college experience and on the job learning. It is always heavily oversubscribed, with often seven or eight times more people applying for it than we have places.

The men and women coming through have had the learning and support to enable them to access permanent jobs and hopefully have long and successful careers. I think it's interesting that there is so much interest in our program despite it being a time of increased uncertainty around the tech sector. The telecom sector is perhaps a little more certain, and when you look at our investment and infrastructure plans over the next few years, we have big plans to sustain jobs long into the future.

We always have a challenge in attracting female applicants to our apprenticeship program, and it is something we're trying to resolve. Women continue to be generally underrepresented in STEM education and jobs, so as well as providing a pipeline of talent, we want the program to also enable a pipeline of diverse talent.

Telecommunications is traditionally a male dominated industry. At eir we're actively working to build a diverse workforce. In my senior leadership team, I have an equal gender split, which is fantastic and provides diversity of thought and opinion, plus that diversity is more reflective of our customer base. This means we're more in tune with what our customers want and expect. We have been making a lot of progress and recently reported a reduction in our gender pay gap from 11.2% in 2021 to 7.18% in 2022. Reducing this number further is a priority of mine and I'm delighted that eir was one of the first companies in Ireland to put in place policies that exceed legislative requirements, including fertility loss and pregnancy loss policies, as well as support for employees relating to menopause and domestic violence.

I'm a firm believer that better balance makes good business sense. It means you have a broader, richer breadth of perspectives, which means better debates and better decisions, ultimately translating into better performance. I wouldn't be too complacent, however. This industry is predominantly male, especially in civil engineering; and the people out there laying ducts and holes, it's typically and historically quite male, so we're trying to make it more attractive to more women to help gender diversity. Our business has many roles and we're actively hiring at the moment to support our network build and growth ambitions.

BF: The digital revolution has had a huge impact on how we run businesses and interact as individuals, and the telecommunications sector has played a huge part. What kind of new disruptive technologies is eir using that have changed the playing field in terms of its operations and roll out?

Oliver Loomes: eir is interesting in this regard, as a legacy business with a history of more than 100 years; we have transformed radically in recent years. We employ innovation to ensure we are leveraging the best technology to improve our business and the services we provide for our customers. Through thinking digital first, we are working to transform our business to ensure that eir is easy to work with.

We know the majority of customers are looking for a streamlined digital experience in the brands they interact with, so I understand our customers will expect the same from us. Customers want to use technology, but some don't necessarily want to have to pick up the phone and talk to people, they want to be able to operate in an omnichannel environment. That is the world we are in, and businesses must provide both traditional and digitally driven solutions for customers.

To give you some examples of some of the technologies, we have omnichannel solutions including social media, chat, e-mail, messaging apps, voice, self-serve, and more options to connect with customers on a channel that works best for them.

We've been using bot technologies for service automation capabilities for people who want to self-serve, which many customers prefer. In-house we created, developed, and built a truly innovative product called GoMo mobile. It was a complete first at the time: a digital only mobile proposition, created with customer wants and needs at its core. Since its launch, it has been hugely successful and is powered entirely through a digital interface. It has changed the mobile connectivity landscape in Ireland.

Internally we are using workforce management capabilities to ensure that all our workforce is deployed to where they are needed the most, for roll out of infrastructure, or repairs, or wherever we need resources at a given time. We're also progressing a number of critical IT transformation programs which, among other things, will consolidate the number of systems we use to provide care.

We began in-sourcing our care function back to Ireland in late 2018, building new care hubs and teams across Ireland. We have had to build the systems required to bring everything together. Today we're working to integrate all the screens and all the systems that our care center staff are using and to make it really simple for them to navigate different systems. There are a lot of other technologies we adapted to very quickly, like cloud technology, which allows us more scalability and resilience, so we can roll out new features and functionality quickly.

BF: The US is undoubtedly one of Ireland's largest markets in terms of trade and investment. American FDI in Ireland stood at $390 billion in 2020, more than the US total for Brazil, Russia, India, China, and South Africa combined. What kind of new opportunities are we seeing in Ireland's telecommunications sector that might be of interest to US investors, and what kind of synergies are possible given the two nations' close ties?

Oliver Loomes: Ireland is home to many large American companies; pharma and tech companies, companies like Google, Amazon, Hewlett-Packard, etc. They all have significant bases in Ireland, and they all rely on fast broadband and advanced mobile networks. This connectivity is a key consideration for American companies investing in Ireland and our goal is to support infrastructure that enables them to be successful.

Our business-to-business division within eir is called eir Evo, and we have very strong relationships with American companies through our strategic partnerships with businesses like Dell, Apple, Cisco, HP, and Microsoft.

We have a very strong partnership with Microsoft, for example, and they named us as their country partner of the year in Ireland for 2022. We are very proud of that. In general, we're open to collaborations with products and services that can enhance our offerings. We also work hand in glove with Apple, a huge, well recognized, and successful American company, and we're delighted to be considered one of its trusted partners.

As well as providing mobile network and broadband services, we also have a TV offering. Our TV offering is provided on the Apple TV platform in Ireland as well. Many of those other companies I have mentioned, like Dell and Hewlett-Packard, consider us to be platinum or key partners.

In summary, eir's relationship with multinational companies is all about providing the critical connectivity infrastructure they will need to succeed here, and then, when they are here, we embrace them and build a relationship to help them to be successful, to partner with them, and to explore new opportunities together, whether they be in the business or consumer space.

BF: You stepped up as CEO of eir at the beginning of 2022, which is an exciting time in the company's history. Previously as you mentioned, you worked as the managing director of Diageo Ireland. What are your current top three priorities as CEO, and where do you see the company in the next five to ten years?

Oliver Loomes: It's been an interesting move for me from the world of Diageo into a whole new sector. I have really enjoyed the shift into a dynamic and innovative, future-facing industry that's a key enabler to investment and to the success of the country, and, just over 12 months in, I am really enjoying the change and the challenge.

My overarching ambition and priority is that, while eir is the biggest investor in telco in Ireland, I want it to be the best telco company in Ireland as well. I want it to be flourishing, thriving, growing, a great place to work, a great place to build a career, a great place to learn for our people. I always start with purpose.

Our purpose is to connect for a better Ireland, and I think that is a powerful place to start because we're making a difference to people and businesses every single day. If we weren't investing that money, if we weren't out there doing those jobs, people wouldn't be able to pick up the phone and connect as easily. We make a difference; it has national significance for consumers and businesses. Our number one priority as a business is the build of our fiber network across the country.  It's a massive project, it's really important, it's very complex, it's supported with a €250 million investment each year, and we're building the best 5G network.

Behind all that build is our people who make it all possible. Making sure that we are continuing to invest in talent is important; and not just recruiting people because you have to recruit them, but then to invest in them, grow them, retain them. It's a war for talent out there, and that's why programs like our open eir apprentice program exists; it's a top priority investing in building, growing, and nurturing the very best talent.

We spoke about technology: investing in the latest innovation and staying ahead of digital disruption is also key. We are transforming and simplifying our systems and processes, enabling employees to do their jobs easily. Simplifying our IT systems to be at the forefront of technology and IT, and doing the same for our customers, is key to having an effortless experience with eir.

Corporate citizenship is also really important to me as a leader and to eir as a business. Our role as a responsible sustainable business is about more than building infrastructure and providing great jobs for life. All elements of environmental, social and governance (ESG) strategy are important and of interest to us. eir has served the people of Ireland for one hundred years and I want eir to serve the people of Ireland for one hundred more years.

I have mentioned diversity and our gender pay gap, but there are other things that I am very proud of that we're doing as part of our ESG ambitions. I will give you a great example. Going back in time, eir was known as Telecom Eireann and had a whole national network of telephone kiosks at the side of roads, on streets all over the country, thousands of them. People of course aren't using land line telephones at kiosks on roadsides anymore, so we came up with the idea of re-imagining them, using the fact that they have electricity to transition them to electric vehicle charging points. We went to all the county councils around the country and said, "Right, this county has 50 telephone kiosks, and we want to change them." We're in this partnership with an electric vehicle charging company called EasyGo. We now have county councils across the country coming on board with the project, and while it's in its early stages, we expect more and more to follow their lead this year. That's what I love about eir: its innovation and its ability to transform for the future.

When Ireland opened its doors to thousands of Ukrainian refugees escaping the war early in 2022, we realized there was a practical way eir could provide support to Ukrainian people who had fled to Ireland. We sent teams of our people to the airport with SIM cards so that they could put an Irish SIM into their phone and immediately connect with their family and friends back in Ukraine. To date we have distributed more than 14,000 SIMS to Ukrainian refugees, and we've covered all call, text, data costs for the first three months in the country. It's a simple support but it's important to help people navigate their new home.

I think potential employees, potential consumers, look at that kind of behavior and say, "There is a company or a brand that I feel good about and I would like to be connected to." That for me is what ESG is.

As well, fiber itself is a more environmentally friendly technology, copper is more energy intense, electricity intense and technologically intense, so it's many times more environmentally friendly. It is also a more durable technology, less susceptible to environmental damage, therefore requiring less repair work and maintenance. All of that equates to less truck rolls. 5G is the same. There are fewer repairs, fewer trucks, and less fuel being used.

To answer your question about how eir as a business achieves our priorities to serve the country, to better connect Ireland, whether that's businesses like American businesses or consumers: by investing in the network, investing in talent, making sure that we're pivoting ourselves toward the future and underpinning it all with a simple and effortless IT infrastructure makes interactivity simple and easy for everyone.

That is at the heart of what we do and what we will continue to do. It's a changing world. Things are moving so fast on so many fronts, whether it's geopolitical or economic instability, or any other disruption, a CEO needs to be really tuned into what's happening in the world, to be agile, have a responsive organization, and not have something that can't adjust or move. You need to have strategic clarity and certainty, but you also have to be able to evolve.

What we're talking about today all starts with Ireland. It started with Ireland doing well economically, which in turn enabled by what we're doing and how much we're investing in telco infrastructure. Ireland is a very attractive choice for foreign direct investment, and we want to support that, to keep it going. Ireland is very much open for business and known for doing good business. And much of that business is enabled by and empowered by eir. For me as CEO, I want to keep investing so that our customers, our businesses, and economy is supported by the best in class mobile and broadband network.  Ireland is a fabulous place to come and live and work.