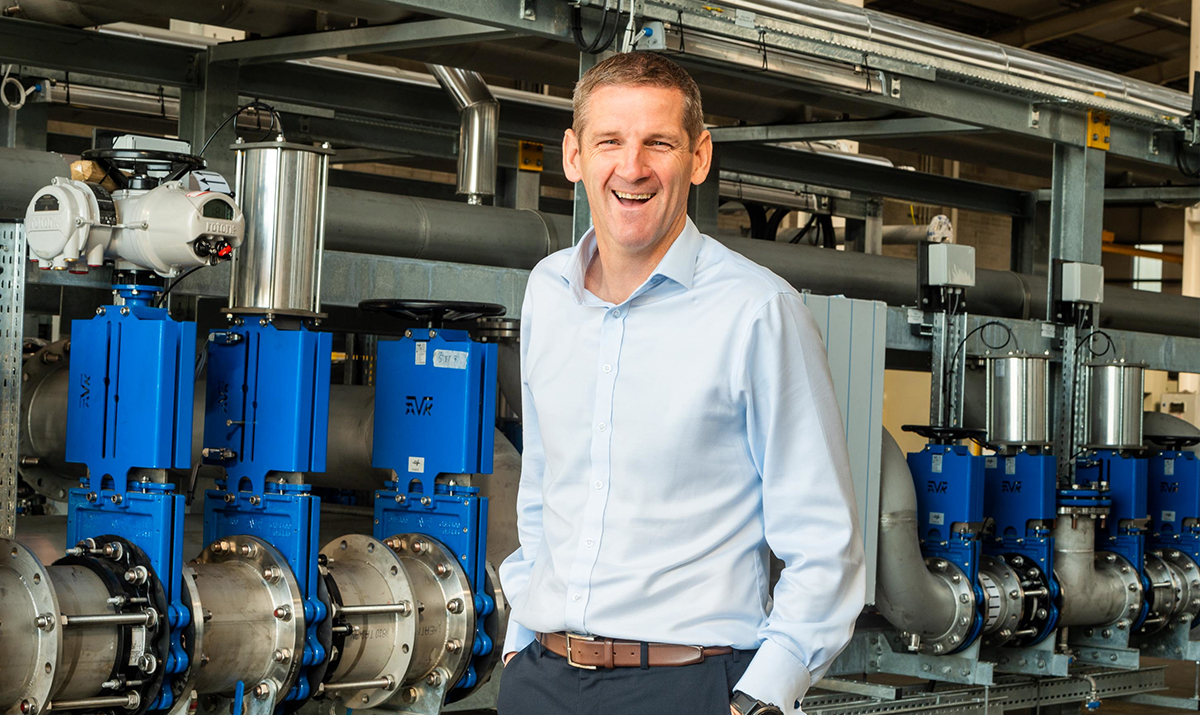 13 Jan

Interview with Patrick Buckley, Managing Director of EPS Group, Ireland

BF: Ireland's water sector has gone through some interesting changes since EPS Group started, with new innovations in the last decade changing how the entire business is run. Before we talk about the company and its operations, I'd like to talk more broadly about the overall water sector. What trends have recently changed the water business in Ireland and abroad, and how does the sector differentiate from other sectors in Europe?

Patrick Buckley: The key trends we've seen over the last fifteen to twenty years in Ireland are European Water Framework directives, phosphorus regulations, nitrate directives and bathing water and shellfish water directives, resulting in massive improvements in potable drinking water, with an emphasis on disinfection and source protection. This environmental focus has ensured that the government has had to invest in water and wastewater infrastructure across the country, in turn creating increased awareness in people, companies and communities regarding water, its protection, micropollutants, poly-fluorinated substances, and how they all link back to our environment.

The creation of Irish Water as a new utility saw us transform our water sector in terms of public infrastructure, from 34 individual water authorities into one public utility in 2013. That brought increased focus and centralization of certain services and, with it, a lot of confidence from the state, especially from the Minister for Finance and the Minister for Public Expenditure, as they can now invest in the infrastructure because there is only one entity, which decreases complexity.

Before Irish Water, over the previous 25-30 years, the government invested about €220-340m per year in water and wastewater infrastructure capital building, so what really stands out now is the investment in essential infrastructure; most significantly over the past five years and out to 2030, it will be at a minimum €1.3bn per year.

We are a country of only 5.5 million people, but it's vitally important for protecting our environment and health and for tourism and industry. Collectively, our industry looks after more than 800 water treatment works, over 1,400 wastewater treatment works, with more than 500,000 on-site wastewater treatment plants with over 200,000 individual wells and water supplies.

Over the past 10-12 years, we've introduced the most modern technology to the sector: plants which are designed, built and operated by highly skilled, competent and a qualified supply chain in partnership with local authorities and, more recently, with a single water utility, Irish Water. Our water and wastewater infrastructure is publicly owned, so they are public assets, not private.

We've had a huge investment in FDI since the 1960s and 1970s, driven by the IDA and for Irish companies supported by Enterprise Ireland. Lots of North American multinationals in various sectors have set up bases here, and water and wastewater are key for them. The issues around energy and water are important, so the government is looking to focus on energy and carbon reduction and getting to net zero. EPS has been measuring and monitoring its carbon since 2010, across scopes 1, 2 and 3, long before the majority of companies, so we recognized that need many years ago. But it is encouraging in recent years that larger companies, SMEs and state agencies, are now focusing on this as well.

BF: One of the company's major commitments is sustainability. The company has majorly cut down on its carbon emissions through a wide variety of initiatives, including solar panels and electric vehicles. Can you give us an overview of the company's sustainability goals and initiatives? How will the company be able to reach its future targets?

Patrick Buckley: The purpose of our business is to safely deliver sustainable water and wastewater resources for our customers and their communities. We do that while fostering and promoting ethical standards and with the highest integrity. Our focus on sustainability has been in place since the 1970s. The business was first involved in providing water services in rural areas that didn't have water and had to use hand pumps. For more than 50 years we've been focused on water and how to maintain it, recycle it, reuse it, and minimize use. We've pushed hard on waste minimization and lean toward continuous improvement and making profits to support a sustainable business. It's not always about increasing revenue but making the maximum margin in a sustainable way. Five years ago, we started to align with the UN's Sustainable Development Goals. We picked seven, including no poverty, zero hunger, good health and wellbeing, quality education, clean water and sanitation, responsible consumption and production, and climate action to specifically focus on. These don't always affect Ireland as much, so we look at supporting communities in Africa and Kosovo as a way of giving back. In some cases, it's through charitable donations, and in others, we provide equipment or people for project teams to develop infrastructure. We recently had a project in Sierra Leone where we and other Irish companies, in a partnership called Water Share, came together in partnership with Goal. We're delivering water and wastewater infrastructure in partnership with onsite Goal employees. We don't distinguish between ESG and sustainability, as they are linked and one and the same.

BF: EPS Group has come a long way since it started in 1968 in Kanturk. The company recently has grown through acquisitions, such as Ferrier Pumps and, more recently, Industrial Pumps and Process (IPP). Could you give our readers an overview of what services the company provides and recent milestones that have made the most impact on the company?

Patrick Buckley: We've been building and maintaining water and wastewater infrastructure now for well over half a century in Ireland in both the public and private sectors. No other company involved in the water sector today has that heritage or has been consistently focused on the sector as we have.

Our work on the treatment and pumping of water and wastewater for multiple sectors in Ireland starts with individual residences all the way up to Irish Water, providing public infrastructure for towns, villages, cities, industry, the leisure sector, hotels, offices, and businesses. We have five focus areas including design/build, mechanical, electrical, and civil construction. Full turnkey projects we deliver for clients in Ireland, the UK, and northern Europe, supporting other Irish construction companies, especially in the data sector, Irish farms, and agriculture sector. We have a strong dairy and food production system in Ireland, and we support that sector in water production, pumping, boosting, cleaning and disinfection and dealing with wastewater and byproducts produced in the processing of meat, dairy and alcohol production. We work with a lot of North American multinationals in pharma and biotech that have been established in Ireland. Most of the projects are protected by confidentiality agreements, but we've supported many known brands for over 30 or 40 years. Today we're involved in several projects in Ringaskiddy and Little Island in the south of Ireland, and in Leinster, working with global and American multinationals that are expanding here. We do that in partnership with other Irish companies, but yes, some milestones since our establishment in 1968 include reaching revenue of €100m in 2018 and now, in 2023, we're looking at over €150m and over 600 employees across the group, fueled by our expansion outside Ireland since 2008, which now provides us with a footprint across Northern Ireland, Scotland, England and, most recently, Northern Europe.

We invested €5m in our off-site design for manufacture and assembly digital construction capability which has allowed us to lead the way in the water sector in our area and the regions in which we are active. Others are only now beginning to follow in our footsteps, making that sort of investment some 6-8 years later. We have always led from the front in the water sector in Ireland and raised the bar in how we operate, whether that's via our quality, health and safety, environmental or energy standards. With our carbon measurement and reduction measures, energy initiatives and reduction, introduction of new technologies to the market, and digital delivery or our health and safety culture, we believe that it is great for our industry and sector overall, as it raises the bar across the board.

The challenge before us is to keep innovating and keep leading where we can; this is what keeps us lean, keen, focused and not getting complacent. Every day is a startup day for us at EPS.

BF: You mentioned recently that data centers are a key focus for the company. Since 2012, the company has worked on many of these projects all over Europe, including 10 in Germany and five in the Netherlands. What opportunities do data centers provide the water industry, and what projects has the company worked on in this capacity?

Patrick Buckley: With the ongoing move to the cloud, 5G and the edge, the data center sector in Ireland, and particularly in Europe over the last 10 to 15 years, has been a significant growth sector with more than 1,500 data centers built. In the main, it's Irish construction companies that have led the way in this marketplace. In the mid-2000s, a lot of large Irish construction companies had a period of growth and then saw a decline in domestic activity, so they looked to other markets in Europe. From 2010 to 2020, €7 billion was spent on data centers in Ireland, and from 2020 to 2025, based on the planning permissions that have been granted, a further 70 are in the pipeline, which is estimated to result in another €7 billion in investment in Ireland. In the last 15 years, the largest number of data centers were built in the UK, Germany, Holland, France, Poland and Ireland. Many were built by Irish companies, and many were built by data center developers that sell the space, but also by Google, Facebook, Microsoft, more recently, TikTok, among others. We've been involved in about 30 data centers in that period.

There are two types of data centers in terms of cooling. Some are air-cooled and some are water-cooled. Any data centre with a water-cooling system needs to treat and boost and pump that water, which is where we get involved via cooling towers, water pumping and recirculation of freshwater cooling water, potable water. We're involved in the water disinfection, the pumping, the treatment and the ongoing service and maintenance. In the last five years, the centers have become more conscious of energy usage, water reuse and water footprint, so we have developed solutions where we're fully reusing their water and capturing rainwater. They have huge roof space, so we capture, store, treat and use rain as well as groundwater. As well as Ireland, we've got active projects in Germany, Holland, the UK, Denmark, Poland and Spain. The areas that are catching up in the area of data centers are Spain, especially in Madrid, Milan in Italy, and Warsaw in Poland. We are mainly working in Europe where we are focused on modular data centers, providing plug-and-play solutions. The companies that build data centers talk about the density factor: the more dense per square meter of people active on-site, the fewer people on-site, the more sustainable the project construction is. Some American companies building data centers are focused on standard, repeatable designs, and we have worked with a lot of them.

BF: New digital technologies are changing the paradigm for most industries, and the water sector is no different. From big data to robotics, everything is being switched to more efficient methods. How has the digital revolution affected EPS Group's operations and what specific disruptive technologies have had the most impact?

Patrick Buckley: We went paperless with our invoicing system 25 years ago and, a quarter of a century later, that has proven to be very beneficial. More recently, to further eliminate excess paper, we embraced the use of QR codes, which have transformed what we do in many ways. It surprises me how few companies embrace the potential and possibilities provided by QR codes: how to use them to share information and be transparent, because that's been huge for us. We've been using them across various business areas from operations and health and safety to product sales for seven or eight years, and it's transformed what we do. It's eliminated a lot of paper but also allows us to ensure when we communicate that everyone gets the same message.

We also installed a new ERP/MRP system in 2014 called IFS, and that was transformational. It's like any SAP system. We've now got advanced analytics and automation to run and monitor water and wastewater treatment plants. We have sensors that monitor and provide data in real time, and remote technology allowing us to turn equipment on and off via laptop or tablet, using cloud-based solutions to support site operations. We build, cost, design, and deliver digitally in 3D, 4D, 5D, and there's the ability now to do building information modelling which can go up to 6D. Construction happens in modules to reduce time on site, reduce health and safety risks and reduce carbon. We can laser scan a site and then bring that back to build a model of the site, reducing the carbon footprint travelling to and from site. We are starting to test the intelligent tagging of assets. If you are really digital in design and construction you can then move to a circular model, which in construction is not possible without digital tools. Digital twins are starting to transform the wastewater sector also, so you twin your system offline so that you can beta test changes in the process offline, and then, when you are happy, you can easily change over.

Not necessarily digital, but certainly disruptive, has been our embrace of emerging technologies, such as the award winning Nereda activated granular sludge technology, which has revolutionized the way wastewater is treated and is used in large scale wastewater treatment plants serving vast populations, such as Cork Lower Harbour and Ringsend, both in Ireland.

BF: You stepped up as Managing Director of EPS Group in 2016 after almost 20 years with the company, including working in other markets such as the UK and the Middle East. Since then, you've successfully led the company through some interesting times for the Irish and global economy. What are your current top three priorities as Managing Director of EPS Group, and what is your vision for the company moving into 2023 and beyond?

Patrick Buckley: We've been fortunate here to have had a very strong, focused and ambitious first generation of family and non-family leadership. The current second-generation of family and non-family leadership, and wider employee base, which I'm privileged to lead, are equally as focused and ambitious. One of our priorities is to have a strong, solid foundation and base from which to compete and from which we can grow and innovate. We want to be a sustainable, profitable and stable business. When you have that, you can grow, develop, support your people, and develop strong strategic partnerships with businesses, customers and supply chain partners. Lots of our key clients are more like partners than the old definition of a customer. We depend on them, and they depend on us. Another key for us is growing through acquisition and innovation. When we grow by acquisition, we do that by investing in businesses like Ferrier Pumps in Scotland or IPP in Dublin. They give us skills and expertise we may not have, as well as territorial position, which we can use to grow. We don't change the businesses or their name, we reinforce them and their teams in their regions. We do that in Ireland and the UK, and we are looking to do it in Northern Europe and maybe, some time in the future, in North America. The vision is to continue growing in our existing markets and territories and, long term, to expand.

Twenty years from now, I see us and our group of companies as being fully embedded and integrated into the communities in which we operate. I think work will be very different. Businesses which are integrated into their communities are all interconnected: water, the environment, low-carbon solutions, and renewable energy, they are all intertwined. At its broadest interpretation, what we do sustains human beings and their communities, the environment, water quality and health.

Alongside this commitment to our stakeholders, we are also heavily focused on our communities and, therefore, our employees and supply chain. We provide a wide variety of supports to charitable organizations throughout the year, especially in December when our teams and customer base are asked to nominate smaller organizations they may be aware of or be involved with to receive donation from our Communities Fund.

Looking at the larger picture, twenty years from now I think people will work two or three days a week, there will be a greater work/life balance, and the business will be integrated into the ecosystem. We want to be a leader in that kind of model. A business that can position itself that way will be more successful long term because people are becoming more aware of ESG and social issues. Businesses that excel in ESG, I think, will be the ones that are sustainable. If community and your people isn't at your core, you won't be successful. Business models have changed and evolved, and your ESG credentials are as important, if not more so, than your financials. Naturally, a strong set of financials are crucial, but what really allows you to stand out from the pack is your sustainability and ESG performance, aspirations and efforts.

BF: Do you have a final message for the readers of USA Today?

Patrick Buckley: Anyone in North America looking to come to Ireland and who is involved in water will find opportunities for technologies around priority substances and those that reduce carbon and recycle and reuse water, especially for AI and monitoring and remote sensing. There are huge opportunities in Ireland and Europe. My key message is, if you haven't been to Ireland you need to come and see the opportunities for start-ups and existing businesses. It's a great platform for American businesses to launch into Europe, and many US companies have been successful with that in the past and continue to be. EPS is working with large companies in the US and Canada such as Danaher Group companies, Trojan and Hach, Franklin Electric, Hach, Aqua-Aerobic outside Chicago, and UGSI. We've been able to transfer knowledge between our companies and theirs. There's great support here for companies that want to come and set up here. The government, through the IDA, has a huge focus on FDI and has helped Irish companies, like EPS and others, work with and support FDI investors. Also, for any Irish businesses present in the USA, I encourage your readers to engage with them, support them and buy their products and services.

Ireland is a great place to live, work, innovate, start a business. If any one of your readers has something in common with what we are trying to achieve in EPS, we would love to hear from them as we are always on the lookout for new partners, new clients, new suppliers and people.