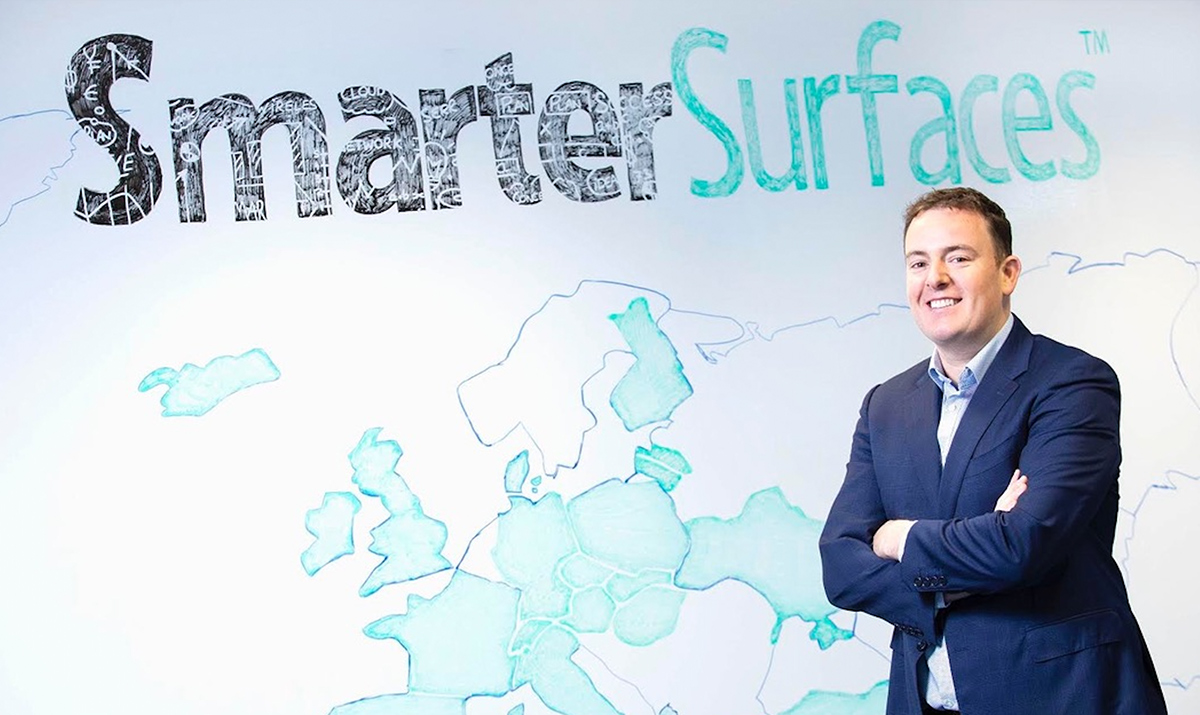 09 Jan

Interview with Ronan Clarke, Founder and Managing Director of Smarter Surfaces, Ireland

BF: Manufacturing represents one of the highest-performing sectors of the Irish economy, employing 12% of the total workforce and bringing in €1.7 billion in investments. What key factors make the country's manufacturing and export sectors so attractive in terms of ease of doing business and talent?

Ronan Clarke: We come from the perspective of being a small manufacturer that exports 95% or even 96% of our products. There's a longstanding cultural aspect in Irish businesses that emphasizes the importance of exporting to expand beyond the small local market. Exporting is crucial to the success of a business, regardless of its size, from a diversification perspective. As an entrepreneur, I learned this lesson during the economic crash of 2008, when our entire market took a huge hit. This was a wake-up call for me in terms of the importance of exporting and the opportunities and challenges that come with it.

BF: Smarter Surfaces has a presence in more than 20 countries and has major clients such as Microsoft, Google, Tesco, Coca-Cola, and Radisson Blu. Before we get into the company's journey, let's first talk about the company's offerings. Can you tell our readers what technologies the company currently offers and their applications? What products are currently receiving the highest amount of attention from clients?

Ronan Clarke: We make simple products that help people communicate, whether that's working or learning together. One of our most popular products is a magnetic wallpaper that acts just like a magnetic whiteboard but covers the entirety of walls typically found in an office or classroom, thereby changing how people interact with the space and communicate differently. For example, in a meeting room, people can bounce ideas off the wall and share problems, rather than just using a traditional whiteboard. The space becomes engaging and collaborative, tables can become writable surfaces. Our customers are businesses and educators that value modern communication methods and see the value in any tool that can help productivity. We have several US customers, including NASA, Microsoft and Harvard, among other famous educational institutes. Any organization that wants to promote communication, productivity, and engagement in the office would benefit from our products. It's a challenge to get people back to the office with the current shift in working culture. Our products are simple tools that have a powerful impact.

BF: In 2020, the company won the SFA Gala award for Exporter of the Year, showing just how far the company had gone since it launched almost a decade earlier. What key milestones have the company passed on during its growing journey to being a key Irish export staple?

Ronan Clarke: Our research and development program has been the foundation of our journey. We began with one product, whiteboard paint, which has since expanded into a range of paints, on projection screens, whiteboard and magnetic wall coverings, and solutions to add whiteboard and magnetic functions to furniture, such as desks and glass partitions.

The support of agencies like Enterprise Ireland has been instrumental in our growth. We've been able to access resources that would not be normally available to small companies with their assistance. For example, we work with the CREST Laboratory that's attached to the Technological University of  Dublin, which is the center for the research and engineering of surface technologies. This opportunity has provided us with knowledge, technical equipment, and expertise typically reserved for larger companies. However, research and development alone aren't enough, and we needed to market and sell our products to customers. We pursued a dual strategy of working with international distributors and direct sales operations, like our e-commerce platform in the USA. We would partner with suitable companies in specific geographical markets and support them in their sales and marketing efforts while also maintaining a direct presence in certain markets. The US market is very important for us, and around 30% of our export market comes from US clients. We also have clients in Europe, Australia, and several smaller markets.

BF: The company started with its initial technology, Smart Wall Paint, in 2012, which was your brainchild. How does the company now go about the R&D of newly applicable technologies for wall adhesives and coverings? And how would you assess Ireland's research capacities in this regard?

Ronan Clarke: We listen to our customers when it comes to new products. As a small company operating in a niche market, our management team takes time every quarter to call our customers and ask about their experience with the company and how they're using the product. We get some valuable insights into what the natural evolution of our products and the needs of our customers could be. We have a process embedded in the company that helps us identify new opportunities and we operate a gateway system for new products where they go through a simple process, including market research in the early stages. We have a number of gateways to make sure that we don't go too far down a path that may have significant technical challenges or limited demand. If a new product idea gets through those early gateways, it goes into a larger R&D process where we may work with a technical partner like CREST or bring in additional expertise as needed. The support that Irish companies big and small receive for R&D is exceptional from what I hear when talking with our customers, competitors and people in the industry internationally. The structure of the universities and Enterprise Ireland's support for R&D are unparalleled. I have yet to hear of anywhere that does as good a job as Ireland does in this regard.

BF: You have led the company since its beginnings through where it is today. It must be very satisfying to see your idea and work move toward something so huge! As managing director, what are your current top three priorities and what vision do you have for the company in 2023 and beyond?

Ronan Clarke: It's continuing to do the simple things correctly: focusing on business growth and developing our team. We have developed a very positive team culture and the dedication team of our team is a huge factor in the innovation that will be the foundation for us to grow and ensure that the basics, such as our systems and processes, are evolving with us. We've recently moved to new warehousing and manufacturing facilities. We're continuing to invest in new equipment, such as our manufacturing production line for wall coverings due for commissioning next quarter, which will give us more scope.

BF: Do you have a final message to the readers of USA Today?

Ronan Clarke: Continuing cooperation between the US and Ireland is so important, especially when we consider how our relationship with the UK, which in years past would have been a core market for us but now faces a very challenging trading environment, has evolved. Our relationship with the US is more important than ever for our business. We have to focus less attention on other areas and more attention on places like the United States, because there is such uncertainty, and barriers to trade have become significantly more challenging. It's a real priority for us to continue to grow our relationships and trade with the United States.