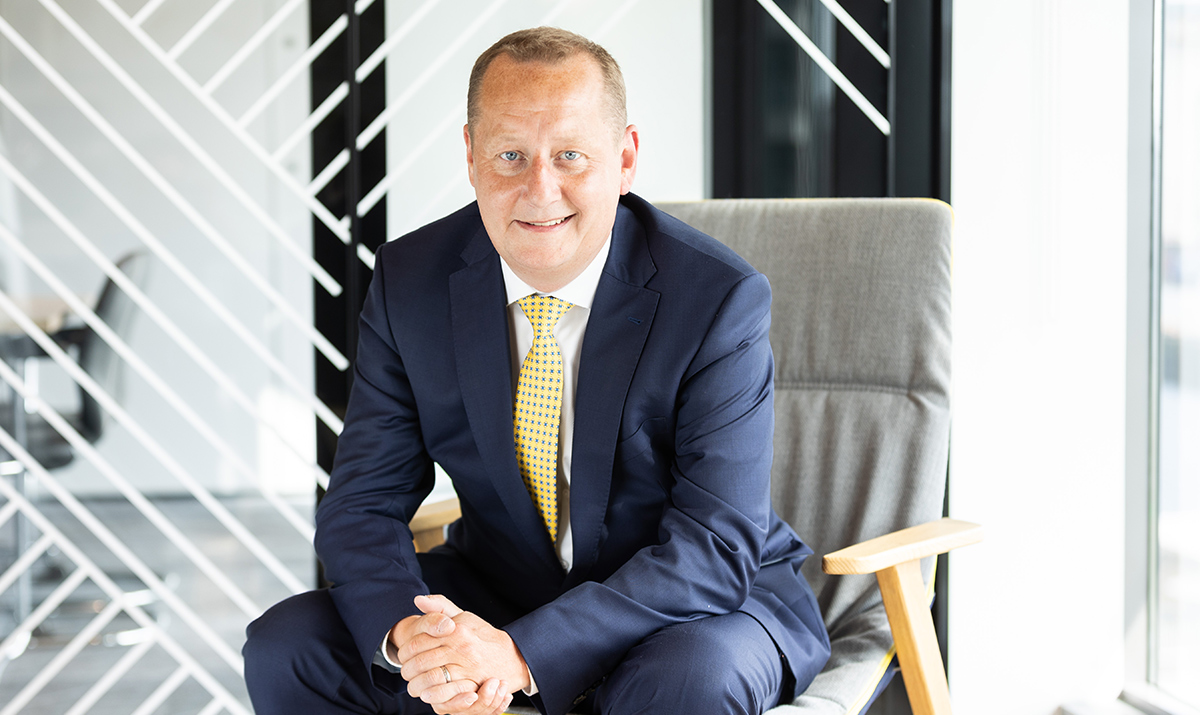 17 Jan

Interview with Ronan Murray, M&A Strategy and Transactions Partner, EY Ireland, President of Cork Chamber of Commerce

BF: Ireland has done extremely well over the COVID-19 pandemic, being the only economy in the EU to grow during 2020 after the pandemic hit and having projected GDP growth of 10.1 % last year. To begin the interview, I'd like to talk about Ireland's economy as a whole. What are the key reasons Ireland has achieved such a high level of economic success despite recent economic downturns?

Ronan Murray: Like other countries, Ireland has come through a challenging time with the pandemic, but a period which demonstrated the resilience of the Irish people.

The Government, Ministers, TDs, Government agencies such as the Industrial Development Agency (IDA) and Enterprise Ireland (EI), elected representatives and local authorities all played a pivotal role in ensuring our economy remained on track despite the prevailing uncertainties and challenges that the pandemic presented. It's important to recognize these achievements. There was a tangible collective effort to protect the business community and employees and the pace of economic progress post the pandemic is certainly linked to the insightful decisions made during that difficult period.

There are a number of other differentiating factors that have led to this position. First, there are exports. Ireland is connected to the world through our transport links to Europe, the UK and beyond. Overseas companies are significant exporters from here, serving global markets in pharmaceuticals, technology services, medical devices, food and beverages, and financial services. Equally Irish indigenous companies are growing their exports as the economy expands.

Then there is our political status as a member of the Eurozone. Ireland is an outward looking and one of the most internationally engaged countries in the world. Post Brexit, we are now the only English-speaking Eurozone country. Our Government and citizens overwhelmingly support EU membership.

Additionally, we have a committed FDI base. Some 1,700 multinational companies (MNCs) call Ireland home with over half of these being US companies. They make a positive contribution to Irish society and the economy through direct investment, capital expenditure, job creation, and payroll spending. Many have been here for a decade or more. This all helps add to a strong pro-business environment. Ireland consistently ranks among the top countries in the world in which to do business, supporting Foreign Direct Investment (FDI) growth. Successive governments have maintained this pro-business outlook: we tend to favour green lights over red tape. There are a significant number of Irish companies now based in the USA too and this very much adds to the spirit of partnership between both countries.

BF: EY Ireland has had an incredible year in 2022. After posting a 26% revenue increase, the company announced its intentions to hire 900 new employees, bringing its headcount to just above 5,000. What factors have led to EY's huge rise in activity along its verticals, and on what new areas of interest is the company hinging its corporate strategy?

Ronan Murray: In line with Ireland's strong and unique current economic position in the global economy, EY Ireland reported record levels of growth for our business on the island of Ireland. The strong client demand we witnessed in 2022 gives us the confidence to continue with our ambitious growth plans. We had strong performances across all four service lines (assurance, consulting, tax and law, and strategy and transactions) in our offices in Dublin, Belfast, Cork, Galway, Limerick and Waterford. The exceptional level of growth, we're pleased to say, allowed us to increase our Ireland headcount by a significant number. This reflects our commitment to investing long-term in our people to drive our growth targets.

These exceptional results are testament to our leadership team led by Managing Partner Frank O'Keeffe, our world class teams and our fantastic client base, who turn to us to support them with complex strategic challenges.

Our long-term investments in our people and in technology have allowed us to work seamlessly with our clients to deliver exceptional service as we help them to stimulate innovation, increase organizational agility and strengthen resilience.

As a Corporate Finance Partner, I get to experience first-hand the appetite for transactions in the market. So far the Irish economy has been resilient and the level of activity and deal flow continues at pace. There has been some adjustment to enterprise value expectations but there remains strong business optimism in the private landscape for transactions. The growing level of Private Equity being deployed in Ireland too is another strong indicator of future deal activity and this reconciles with our own pipeline in EY.

The EY Entrepreneur of the Year program is also our flagship program that celebrates the best of Irish indigenous companies on the island. This gives us a tangible opportunity to celebrate and acknowledge their achievements but equally a sense of the continued success of Ireland's private companies.

EY Ireland is now recognised as the preeminent brand, the disrupter in the marketplace. Our firm isn't afraid to think differently by bringing in new services to match our client's needs in all parts of our business, from EY Tax and Law, our SaT Strategy /Parthenon team to our best-in-market consulting practice. These are tangible examples of how we at EY are constantly thinking differently in how to support our clients.

 

BF: The Cork Chamber of Commerce launched its Our City, Our Future 2022-2028 plan in August, which outlines some amazing new projects for the city. Can you give us a highlight of the key projects in the plan and their projected impact on the city? What will be needed for these projects to come to fruition?

Ronan Murray: 'Our city, our future' refers to Cork City Council's Cork City Development Plan 2022-2028. The plan was devised in consultation with city stakeholders and community sets out how the city will grow and develop over the next six years, while complementing a longer national 2040 vision.

With a population of over 210,000, Cork is an emerging international city of scale and a national driver of economic and urban growth. Project Ireland 2040 designates the city for significant additional growth over the next 20 years, supported by large scale investment. Cork is very much a city on the rise and the positivity and sense of opportunity is tangible within the business community.

The plan finalized in 2022 sets out how the city can best enable this growth and investment over the next six years, while continuing to be an innovative, vibrant, healthy and resilient city.

Cork Chamber's priorities include advocating for investing in medium/long term capital investment plans and in urban infrastructure and housing alongside metropolitan area transport strategy, regional and international connectivity, innovation, energy, water, resilience and climate mitigation.

In the plan, key projects include the regeneration of City Docks and Tivoli Docks along with other brownfield sites identified as key regeneration areas to deliver compact livable growth by 2040. In the city center, the continued regeneration and expansion of residential, employment, culture and community will increase vibrancy in central neighborhoods.

Key game changers for Cork include the docklands. These will see €405m for urban regeneration across Cork, the bulk of which will be devoted toward helping kick-start regeneration of what are one of the largest urban dockland zones in Europe.

Significant investment is already in various stages: design, planning, final investment decisions with real on the  delivery of the major infrastructure projects in the pipeline for Cork as envisioned in Project Ireland 2040. The major projects include Cork City Docklands, Cork University Business School (CUBS), and the Crawford Art Gallery.

Transport-orientated development will see the delivery of Light-Rail Transit and its interaction with the Lee to Sea Greenway, suburban rail network, orbital bus routes and strategic bus corridors. The Cork Metropolitan Area Transport Strategy 2040 (CMATS) sets out the phased delivery of this new network designed to deliver an integrated multimodal city transport system.

If Cork is to meet it's 2040 growth plans, then a continued focus must be retained on the feasible quick wins contained in CMATS, in parallel with a determination to deliver wider scale projects on time. Reducing our car dependency is a priority now and this will only happen in parallel with the delivery of CMATS. It's important we as a City maintain this significant momentum.

All of these are important to ensure Cork continues to be a regional counterbalance to Dublin and a fantastic City to work, live, visit and invest in.

BF: Ireland launched its €11 billion 2023 budget in September, which is meant to address the global energy and cost of living crisis currently facing Ireland. What is your assessment of the new budget, and how does it set down a positive structure for development of Cork and the country's niche industrial sectors?

Ronan Murray: Cork Chamber welcomed the scale of Budget 2023 to tackle the challenges of the energy and inflation crisis. We actively encouraged Government to revisit the measures as the situation evolves. The cost of living supports package for households cushions people against rising inflation and energy prices but it also serves to support the wider economy and consumer spending on which much of our economy depends.

We asked for further measures to increase affordable and social housing supply and to address the viability challenge for high density housing developments or directly address the private sector supply of housing.

Renewable energy was high on the agenda, too. Budget 2023 confirmed the budget for Maritime Area Regulatory Authority (MARA) which will further enhance the renewable agenda and "Green" transition.

The announcements of increased transport infrastructure budgets were welcome as well as the extension of the public transport fare reductions. Accelerated capital investment in transport infrastructure will help us meet our 2030 climate targets.

The measures to improve the affordability of childcare were vey positive. Access to childcare is a vital element to supporting our labour market and has been a real challenge for people returning to work post-Covid. Additionally, we welcomed €15 million to support the development of an events centre in Cork which will support hospitality in the City Centre.

In our quarterly Economic Trends survey, Cork Chamber members shared their experiences through the most recent business quarter Q4 2022 and their outlook for the first quarter of 2023. The Q4 2022 survey found that 66% of businesses are confident in the Irish economy heading into Q1 2023 (47% in Q3). This reflects the growing level of optimism among the business community.

This uptick in business sentiment on the wider economy is a very positive signal heading into a challenging 2023.

BF: Ireland is aiming to have net-zero carbon emissions by 2050, which is seeing an upswing in green investment. The transition will be multifaceted. For example, Cork Harbour has been cited as a possible site for a hub for a floating offshore wind sector. What kind of impact has the country's drive towards sustainability had on the industrial makeup of Ireland, and what new green sectors are we now seeing cropping up in Cork, Dublin around the country?

 

Ronan Murray: Cork itself is in the midst of an exciting phase of development, projected to be the fastest-growing city region in Ireland with an estimated 50% increase in population by 2040. In recent years we have seen substantial achievements and the pipeline and appetite for further sustainable growth remains strong.

However, there's broad consensus on the risks of climate inaction. It makes good business sense to make green investments and integrate social and environmental concerns and share value through collaboration.

The Irish government published the latest iteration of the Climate Action Plan 2023 (CAP23) last December 2022.  Cork Chamber welcomed the legally binding targets, increased ambition and an action-oriented approach, which is essential to decarbonizing industry and enterprise, reducing negative impacts on the environment and securing Ireland's future competitiveness. The plan implements the carbon budgets and sectoral emissions ceilings and sets out a roadmap for taking decisive action to halve our emissions by 2030 and reach net zero no later than 2050.

It is encouraging at this stage, to see a strong focus has been placed on powering our renewable energy sector. Increases in the targets of energy production from renewables across onshore wind, solar, and offshore wind targets is particularly welcome and offers a greater opportunity for Ireland to secure its energy independence. Of course, this will need to be supported by government and the reform of the planning system will also play a part in ensuring that Ireland is an attractive destination for investors in the renewable energy sector.

Climate action and the transition to a carbon neutral society is laden with possibility and can be a key enabler to Ireland's economy, regional development and future competitiveness via renewable energy, transport, energy efficient housing and sustainable industrial development.

Cork has a palpable opportunity to pilot and accelerate climate programmes and to put our city on the map as one of 100 climate-neutral and smart Europe can cities by 2030.  Cork Chamber and its network of 1,200 member companies are ready to support Cork City Council and share in the realization of this ambition.

Cork's business community has a huge role to play in transitioning to a low-carbon economy to enhance our energy security, boost competitiveness, foster innovation, improve quality of life, grow businesses in areas such as offshore wind, hydrogen, sustainable agriculture, low-carbon construction, as well as creating sustainable employment opportunities in Cork that will ensure more balanced regional development.

 

BF: The US is undeniably one of Ireland's largest supporters, whether through trade or investment. FDI inflows from the US stood at $390 billion in 2020 alone, more than the US total for Brazil, Russia, India, China and South Africa combined. Why is Ireland, and specifically Cork, such an attractive place for foreign investment, and what new areas of opportunity are we seeing that might be of interest to US and foreign investors?

Ronan Murray: Ireland continues to win on the world stage, both attracting significant foreign direct investment to our island, while Irish private companies seek to grow and expand from these cities into the world beyond.

The Cork region is recognized as a hub for life sciences, both professional and financial services and technology. Cork continues to be a source of significant investment as small, medium, large indigenous companies seek to grow and expand. That, coupled with continued FDI investment, sends a very positive message on the future success of the city and beyond. Cork Airport is also a key driver of Cork's economic growth and its status as a region of economic significance.

Over 180 foreign investors have decided to locate in Cork, building strong industry clusters and employing over 43,000 people in the region. Strong local industry clusters here include life sciences, technology, cybersecurity, global business services, international financial services, marine and energy, and agri-food. It says a lot that five our of the top 10 Fortune 500 Companies have a presence in Cork. Ireland and the South West region is considered very attractive int terms of an investment location.

Cork has a real opportunity to further build its reputation as a sustainable and accessible city region, further attracting inward investment.  We need to build on recent success by harnessing the right ingredients that will continue to encourage companies to strategically invest and grow. In this region, we are working to ensure government continues supporting sustainable infrastructure projects that focus on economic and environmental resilience. In short, to become the investment city of choice on this island.

BF: You've had an inspiring career to date and are now "back home" with EY as a Corporate Finance Partner. You've also been involved on and off with the Cork Chamber of Commerce since 2013 and now sit as the organization's president. What are your current top three goals as President of Cork Chamber of Commerce, and what kind of vision do you have for Ireland's second largest city as we roll into 2023 and beyond?

Ronan Murray: I'm proud to be the President of Ireland's largest and longest established chamber, one of the nation's best regional lobby groups. Cork Chamber of Commerce (founded in 1819) has been a champion for the business community and a strong advocate for the economic development of the Cork region for over 200 years. With our members as our motivation, we champion Cork as a globally recognized place for business, innovation and quality of life. Working together we empower and support a successful and inclusive membership who drive a thriving Cork.

I share in the chamber's vision to be a world-leading chamber of commerce, delivering on a progressive, economic, social and sustainability agenda at the heart of a vibrant business community. Dynamic, inspiring, responsible, and purposeful are the core values that define our operations and will enable us to best represent our almost 1,200 members.

Collectively, we have achieved a lot in the past year, with the opening of the new container terminal in The Port of Cork, the transformation of Cork City centre with outdoor dining and pocket parks, investment in our rail and bus network, and the raft of FDI investments and job announcements. As president I am keen to champion all of the progress being made, much of which is key to achieving the 15-minute city concept and prioritizing access to Cork city centre, thereby maximizing benefits for retail, leisure, hospitality, and employment.

I firmly believe in the power of the collective and that a positive and practical approach to most things works best. We are very lucky to live in such a wonderful country and as President of Cork Chamber, I believe it's important to remind people of these positives while helping to address any challenges. I believe, there is great hope and optimism for the year ahead. I firmly believe the Cork City region is on the cusp of fulfilling it's true potential.

BF: What is your final message to the readers of USA Today?

Ronan Murray: Our two countries have very close social, economic, political, and business links. A significant number of American companies have invested in Ireland and likewise many Irish private companies are expanding into America. It was 60 years ago, in June 1963, that President John F. Kennedy made an emotional visit to Ireland. In many ways that was a watershed moment for those in Ireland.

Now Ireland is one of the world's most competitive countries, an innovative, technology driven, service focused and open trading economy. This new, modern Ireland is marked by both Cork and Dublin acting as twin beacons for inward investment and indigenous entrepreneurism. Our regions have grown and developed into world-leading destinations of choice for global companies, as well as providing a platform for indigenous private companies to develop and scale.

Finally it's estimated over 30 million of Americans have full or partial Irish ancestry. This is an incredible statistic, and it's a nice reminder for all Americans to come and visit us over the next few years. We promise to give you a traditional Irish welcome!