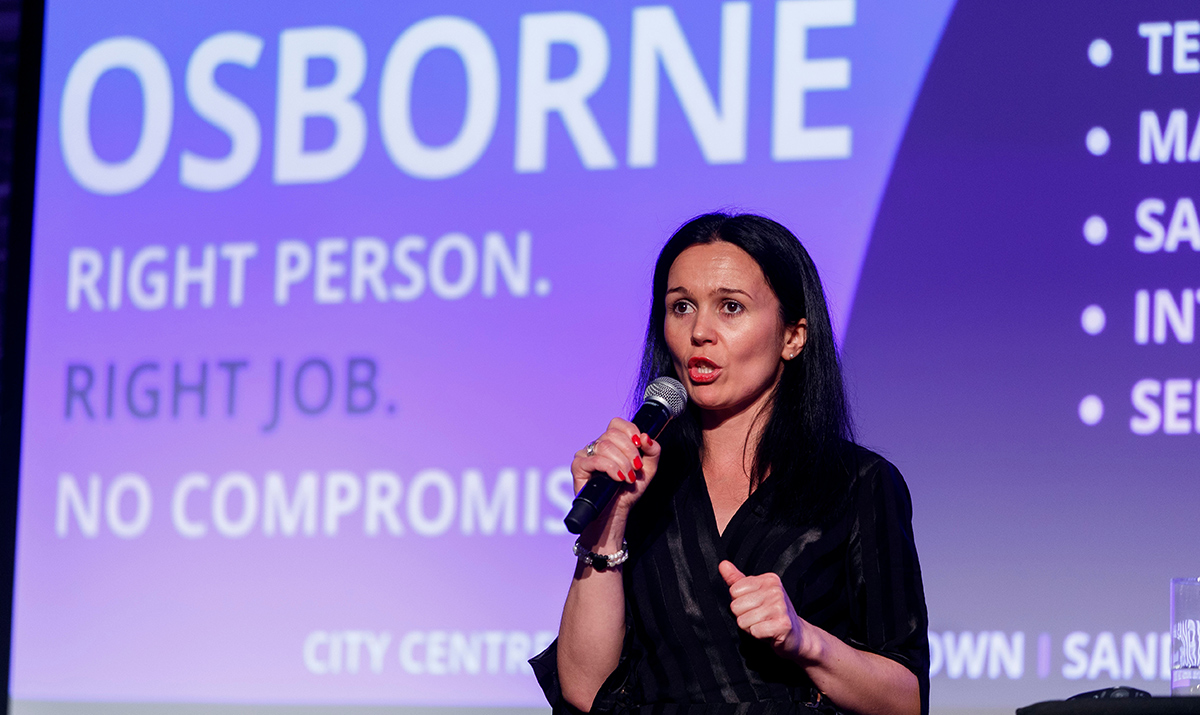 19 Jan

Interview with Shona McManus, CEO and Owner of Osborne, Ireland

BF: Osborne has grown dramatically since you took it over in 2013 and now counts nine offices across Ireland and one in Toronto. It's a wonderful success story! Can you give us an overview of the company's current operations? What are Osborne's key target sectors and what recent milestones has the company passed?

Shona McManus: Osborne is a multi-award-winning recruitment and talent consultancy with a reputation for excellence and a proven passion for growth, innovation and thought leadership. Our team is driven by a culture of high quality, high performance and high commitment, where trust, honesty, collaboration, professionalism, accountability and care are at the heart of everything we do.

We've been on a significant growth journey over the past nine and a half years. In fact, on April 1st this year it will be 10 years since I took over the company. In 2013 when, I took over, we had six staff in one office; today we have 90 permanent staff (Osbornites) across 10 locations. We operate a matrix business structure in that we have both specialist sectors and specific locations and regional markets. The company originally started in 1996 in the office administration space.  Over the last few years, we've expanded enormously within a number of key specialist areas including accountancy & finance, HR & talent acquisition, executive and C-suite appointments, I.T., manufacturing & engineering, sales & marketing, customer service, and international recruitment. These added sectors were organically grown through demand from our clients, who we have successfully partnered with and subsequently invited us to work across more industry verticals.

The majority of our business comes from our presence in Ireland, and we also have an operation in Toronto which we opened four years ago. We intend to expand further across America and Canada. Within Ireland, our focus is very much on temporary, permanent, contract recruitment, project and retained recruitment.

Our client base covers everything from government and public sector right through to professional services, MNC, SMEs and large Irish indigenous businesses. We also offer a full spectrum of recruitment solutions, from managed projects — where we literally manage all of the advertising, the applications, the screening, setting up of interviews — right through to coordinating and sharing the interview process and panel with the companies. That could be from the government sector, right through to an SME and MNC.

In terms of our recent milestones, I'm proud to say that Osborne emerged out of Covid as one of Ireland's largest Irish-owned self-funded recruitment consultancies, with a team of 90 Osbornites across 10 locations and 240 temps working with our clients.  Since then, Osborne has been on a significant growth trajectory. Our headcount has grown 25% over the last year with more plans in place to recruit another 17 team members this year. Our year-on-year revenue grew by 49.61%, with a 33% increase in the number of candidates we have assisted, while the number of clients we have worked with jumped by 39%. The Osborne team have also won a number of prestigious business awards over the past 12 months, something I'm very proud of.

 

BF: The COVID-19 pandemic has had a huge impact on the way the world does business — and this includes on a personal level. Hybrid working, holidays and the possibility to work from abroad have changed how companies are hitting the talent market in terms of recruitment strategies. What kind of changes has the company noticed in terms of new types of incentives to attract employees since the crisis?

Shona McManus: In January 2020, before Covid, we were discussing how we could offer more flexibility and the possibility of people working from home one day a month. Ironically, less than two months after that, we went into everybody working from home five days a week, making sure everyone remained safe in the face of the unknown with Covid 19.

That was step number one, and that was probably the same across most businesses, unless you were in the essential services space. We were on the essential services list and could have chosen to be in the office, but we decided to look at safety first, so there was only ever a very small portion of our staff in the office.

That instigated our learning around how to offer remote working and how to motivate and incentivize people who were at home. We learned what the benefits were for both the employee and the employer. Costs could be lowered with all of the offices closed, for example, especially from an energy/electricity point of view. For the employees, they weren't spending as much time commuting to and from the office and had more time at home to spend with their loved ones. However, this also came with its own issues, for example, how to have a healthy work-life balance, now that the workplace and home life were so blended together. Another huge learning curve for employers, managers and employees at home was how to stay motivated; there were lots of reports stating that in some businesses productivity has gone way up because people were working from home, but then in other businesses, productivity reportedly had gone way down as they were not focused on the right things.

We take our duty of care towards our Osbornites very seriously. During Covid we were aware of the many different living situations of our Osbornites while they were working from home. While some were at home with their families, others were house sharing or living alone and maybe didn't have that support system. In response to that we set up weekly colleague care calls across all our offices. It was a set time each week where every member of the team could pick up the phone and talk to another colleague about life or how they were feeling or even a TV program they watched the night before. It was also a way to preserve our culture and togetherness as a team, to be there for our Osbornites if they needed it.

There had also been various reports from different businesses realizing that their culture had changed massively because people were suddenly not together in person as much on a day-to-day basis. We heard how employees were not learning as quickly as they normally would purely because they were not sitting beside their colleagues and observing, generally learning from more experienced individuals in the office. This peer-to-peer learning was starting to get lost and become a business issue, so naturally, in due course and when it was safer to do so, businesses tried to adapt and change, trying to bring employees back into the office, which is where the hybrid model began to come into play.

The hybrid model of two to three days per week in the office with the remaining days working at home, became the typical norm.  What we are seeing now however is a further change where businesses are opting to bring people back into the office a little bit more because of the need for training, that culture piece, productivity and the comradery of being together in the office environment. There are, on the other side of the spectrum, companies who are still 100% remote and have completely successfully pivoted into a fully remote business model. It's very much around what works best for that business, the sector and their operational processes.

There are other benefits with remote working: companies can reach talent further afield. A person doesn't need to live in Dublin city or in the surrounding area anymore to work in a Dublin based business, for example. You can recruit somebody much further afield now. For example, a candidate living in Cork with a specific skillset can work remotely for a Dublin-based company. When this happens, there are often wonderful mutual benefits for both the employee and the employer in terms of access to talent.

In terms of how incentives have changed, and how you attract talent, it's very much about the individual person and the business. You have to get the fit right for both parties. There are some businesses who want their employees in the office three or five days a week. That will either suit an employee or not. Then there are employees who do not like to work at home, just like me. I want to come to work, I want to focus at work, I want to be with my colleagues and I want to be energized by that. Other people love to work at home. You must get the right fit, and I believe there is a market for both. The incentives then must be driven toward what's right for the business and what's right for the employee.

In terms of what's been offered currently to attract the right candidates, there has been a focus on offering more annual leave, adding pensions to benefits packages, learning and development opportunities, and, of course, an increase in salaries in certain sectors and for certain high skilled roles.

BF: You recently mentioned counteroffers are rising as the talent market dries up. According to Osborne's recent Talent Series, 67% of clients have increased their salaries since 2022 started. What are the main factors causing this lack of talent in Ireland, and what large gaps are we seeing in the market that might present opportunities for foreign participants?

Shona McManus: Actually, since we issued those stats, that has changed again. These trends have shifted a number of times over the last 24 months. During the first nine months of 2022 we saw a war for talent in almost every sector and an increase in salaries and counter offers. This is the nature of markets at the moment, because there are micro trends happening almost month on month at the moment. There were counteroffers of €10,000-€25,000 on salaries and pensions. There was a great demand for the right skill set. As businesses came out of Covid busy, ambitious and in growth mode, the need for more talent grew. When there's such a strong need for more people, talent and skills, the whole thing spirals upwards like a rising tide.  Candidates know they are in demand and, with the increased costs of living they required higher salaries, business costs rise then as employers try to compete and retain great talent.  Employers have to look at their staff salaries and benefits for retention purposes. The flexibility question was also coming into play with remote and hybrid working in demand.

There was a considerable shortage of talent and there still is in key areas. However, September, October, November of 2022 saw a change in that, where there was an easing of the market in some sectors and it became easier to get talent. The number of counteroffers reduced and the salary increases started to slow down. So, the increase of salaries tended to happen in the first six to seven months of last year, then it slowed down quite a bit toward the latter end of last year. For businesses, along with other rising costs, salaries are a massive cost factor and lead to a massive increase in costs to businesses last year, as well as energy, etc.

There's still a war for talent in different areas; the IT market in particular. The current redundancies will fill the gap, and help SMEs and Irish indigenous companies to hire candidates who've been let go from the multinationals in the tech sector, but there is still a requirement for those type of skills. There's also a considerable need for talent in the healthcare sector.

There was an increase in jobs in the last quarter, in terms of IT, in healthcare, in pharma, hotel and tourism also, as well as the management and executive side of things. While some sectors are loosening up a little bit in terms of talent, others still have a high demand. Lets see what lies ahead of us in 2023.

BF: IDA Ireland released a labor market overview in December that showed that green jobs in Ireland almost doubled between 2016 and 2021. How has the rise in sustainability impacted the industrial fabric of Ireland, and what kind of new emerging sectors and demand for new skills are we now seeing?

Shona McManus: Ireland's National Energy and Climate Plan: 2021 to 2030, that is the big focus now. There's a lot of talk about it, particularly within the renewable energy field. That's a big one for Ireland, especially being an island. 70% of our energy needs to come from renewable energy by 2030 and we're hard pressed to reach that goal. Now it's a matter of whether we're on track to meet that target or not. There's a lot of government funding as well as EU funding going into sustainable and renewable energy sources, including wind turbines and solar energy. This is leading to massive job growth in that sector.

In terms of new job roles in ESG; you have everything from managers to consultants, to sustainability managers and engineers, technical engineers, manufacturing and production. There are amazing companies currently being built and wonderful employment opportunities that have risen out of this sector over the last couple of years, and this will only continue growing and evolving into the future. Then there's all the direct and indirect employment that's involved in the transport, logistics, supply chain and production. There will be a lot more offshore and onshore renewable energy created in the immediate future and there's a big plan for Ireland. These plans will all lead to a high number of jobs and specialisms being created, and there may likely be a skills shortage within this area as the demand increases this year as projects come on stream. I expect it to be a global issue and not just in Ireland, because it's on every countries' radar. There will be roles, as with every sector, that don't exist right now, but that will become very prominent within the next 12 to 36 months.

BF: When asked about where you wanted to see the company in five years in a past interview, you responded with 'global.' You now have an international footprint in North America, with your office in Toronto. What impact has moving into the North American market had on the company, and what plans does the company have to increase its global operations?

Shona McManus: This is a very relevant topic for us at the moment. Right now, we're in the middle of devising our new growth strategy for the next three to five years. Due to the Covid Pandemic, we paused as we had to pivot the business quite a lot in the early days of Covid. Global expansion was not our focus at that stage. We're currently looking at where we are within Ireland, and where we want to be internationally with our footprint. We've grown from approximately a €1 million turnover back in 2013 to approximately €12 million turnover last year. We came out of Covid on quite a high growth trajectory and we've massively increased our growth by approximately 50% in the last two years. We are Irish owned, self-funded and have no investment or bank loans, so that is a fantastic position for the business to be in right now.

Now, we're getting ready for the next step of growth and the next trajectory toward the future for us. We will be expanding in Ireland initially, and then our Canadian operation. The business there has given us a great insight into how to start up internationally with organic growth. We've had all the learnings and challenges of how to do it right and how not to do it. We have great relationships internationally as well, with Enterprise Ireland and with the IDA, who are very supportive to Irish businesses that want to grow and export. For us, not only do we have a footprint in Canada, but we also recruit from Ireland and internationally based on the demand of our clients. We've recruited into the UK, Europe, the Middle East, Asia, Africa, Australia and New Zealand. We also intend to expand into the US, and we will look toward EU markets as well. It's an exciting time for Osborne.

BF: Any particular geographical locations, you're going to start with? You say into North America. Is there anything that you'd like to mention as far as the next one that's going to open?

Shona McManus: We are looking at organic versus acquisition options. 99% of our growth has been organic growth to date. Our leadership team is currently taking part in the Enterprise Ireland Going Global for Growth program, and we are working with a very experienced and knowledgeable business consultant as part of that program working through this. We are currently looking at our three-year strategy, what's next in terms of our international operations, our Irish operations and where we're going. It's very exciting and is perfect timing because we've just finished our 2022 Growth Plan, which included the Canadian expansion and our expansion to date in Ireland. So, once we finish writing our plan and commit it to paper, we will deliver our next phase.

Many of our international assignments have been working with Irish indigenous clients who are expanding their footprint. As a company who has gone through the same challenges ourselves, in the recruitment space our clients find that we are uniquely positioned to help them.  This has allowed us to grow internationally in markets that we might not have initially considered.

BF: You've received a lot of attention as an entrepreneur in Ireland! You have been listed six times running in both the SIA Top 150 Global Power Women In Staffing list and in the Top 100 European Staffing list. It's very inspiring! What are your current top three priorities as the CEO of Osborne?

Shona McManus: First and foremost, growth and development in recruitment excellence is our top priority. It is in our DNA. To expand and to double where we're at now, within the next three years, that would be a mix of our Irish and our international business; and first of all into the North American and US markets. I'd like to see a step toward the New York area, but we're also looking at other locations like Chicago and Detroit, etc.

As you grow from being a €1 million turnover company to being a €12 million turnover company, it comes with staples, challenges and growing pains. Learning is another part of our DNA, so we're learning to navigate those speed bumps faster as we grow the business. We've honed our business models and engineered our teams correctly to now develop and scale our business. We really want to focus on operational excellence, and to perfect it to enable growth and expansion even further. Our focus is, and always has been, on recruitment and operational excellence, so when we step into a new market, we're confident that, on a business level, we're performing, but that also from a culture point of view we are right where we need it to be. That's the second bid.

The third bid is around myself and my leadership team, because we have to be incredibly strong to lead our teams: excellent at what we do, always learning and always ahead of the curve in terms of what's happening in the market. We are very ambitious; we love what we do and we're very passionate about what we do within the recruitment space. So making sure that stays at the heart of our business in our DNA and culture, as we grow, is very important. We don't want to become a huge, cold company. That's not who we are and that's not how we're driven. We want to enter into our new markets and really bring all that we've learned to the table. As we expand in Canada, and as we move into the US market, we really want to put our own unique stamp on it, Recruitment excellence — the 'Osborne Way' — because that's what we're known for by our clients and candidates.