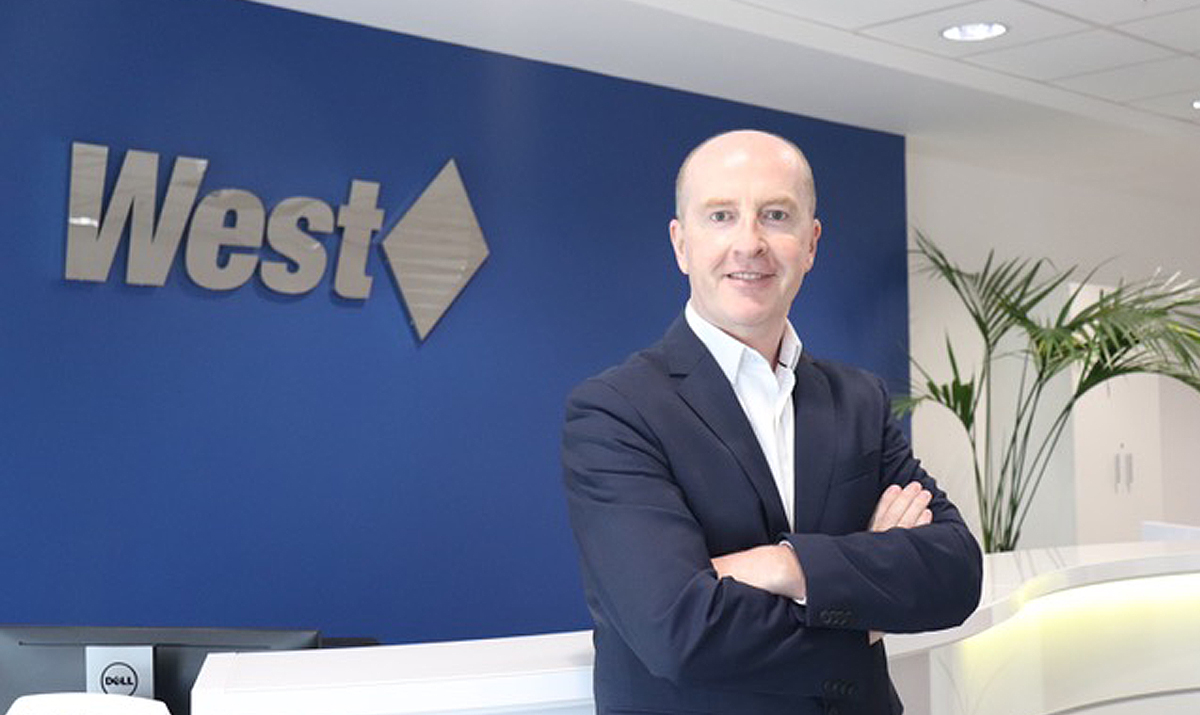 15 Jan

Interview with Tom Clarke, Senior Director of West Pharmaceuticals, Ireland

BF: Ireland's medtech is now one of the top five global hubs in the world and the second largest exporter of medtech products in Europe. The industry received a lot of attention during the pandemic and has continued to grow in value since. What makes Ireland such an attractive market to set up medtech operations in terms of the business environment, local policies and location?

Tom Clarke: If you look at Ireland today, life sciences accounts for 32% of Ireland's GDP, and it has the largest per capita of medtech professionals in Europe, with over 40,000 workers in the sector. In total, we have 450 medtech companies in Ireland with four out of five of those being in the SME sector.

You can look at the med tech sector going back to 1935, when Johnson & Johnson first came to Ireland, soon afterward followed by Abbott and Siemens, and many others afterwards, ranging from Medtronic, Boston Scientific to Stryker. Then, our own story goes back to 1998, when we here in Dublin we set up our operations with a small team of 17. We grew quite rapidly to the vision we had at that time for the medtech sector, right up to the point where we were acquired by West Pharmaceuticals in 2005. When we started up here, we were a private entity; we were Tech Group, a privately owned multinational organization, but West brought us on the next phase of our journey. Today, here in Ireland, we have over 1,000 team members, which includes two Manufacturing Centers of Excellence, here in Dublin and in Waterford, as well as a global financial shared services hub and global functions in R&D and engineering.

The prevalence of foreign direct investment and the success achieved in Ireland continues to be attractive for prospective entrance. Ireland's position as an English-speaking gateway to the European and US markets is a key location factor. But probably the dominant factor, and what has driven the track record of success in Ireland over these last 100 years, has been talent. No less than 47% of 25- to 64-year-olds have a third level qualification; our ecosystem is complemented by the interconnectivity or the exchange of that collaborative mindset across academia, research, startups or SMEs, and the FDIs.

BF: West Pharmaceuticals has grown alongside Ireland's medtech sector, with two manufacturing centers in Ireland. In 2021 you also opened a global finance center in Dublin and beforehand doubled your workforce at the Waterford site. Can you give us an overview of the company's operations in its 100th year and key milestones the company has recently passed that showcase its success?

Tom Clarke: We have over 1,000 team members here in Ireland. West Manufacturing Development Center in Dublin specializes in providing device design, development and manufacturing services for pharmaceutical and medical customers. It's also a global medical device R&D center with capabilities and expertise across all aspects of device development, from concept through to lifecycle management. Then if you look to our West Waterford facilities, our global center of excellence for West advanced manufacturing network, the Waterford facility produces West proprietary elastomeric laminate sheeting, which is used to package insulin for use in pen injectors, for example, but additionally provides high value finishing for components, including stoppers and plungers produced at other West facilities globally.

Looking then to our global financial services team, established in 2021, it's part of a new shared services model, centralizing West key financial activities, both here in Dublin and in Exton, Pennsylvania. These centers include accounting and financial activities, creating greater speed and value for West global businesses and operations.

Another bolt on to our operations and our strategy over the last year or so: in August 2022, we made a strategic investment in a company called Latch Medical. Latch Medical is a Dublin-placed leader in next-generation vaccine and biologics delivery technology; they're pioneering a new approach intradermal delivery. West investment in Latch advances our leadership in innovation through dedicated focus on the needs of patients. The methods by which medicines are delivered to patients continue to evolve, to meet the desire for ease and effectiveness of use of products and devices. Latch innovative intradermal delivery technology fits well with our strategy.

BF: The COVID-19 pandemic had a direct impact on Ireland's medtech sector, including West Pharmaceuticals operations. What kind of role did West Pharmaceuticals play in combatting the pandemic, and what long-term impacts have the crisis had on the company's operations and the global medtech community in general?

Tom Clarke: Ireland played a huge part in supporting the development of vaccines, as well as the rollout and the access to vaccines globally. But it wasn't just on vaccines alone. Medical technology was a huge part of what Ireland was able to deliver on behalf of Covid patients around the world. You can look at production of ventilators, you can look in the form of support for clinical trials, technology advancements, software advancement, right down to the diagnostics and the intervention required by our research capability, as well as our manufacturing capability.

Particularly looking to West, West engaged with the majority of vaccine developers and producers during that time. It was very obvious that our track record in West that we had developed over the last 100 years as a trusted partner was part of that trust that allowed us to move forward and be part of the rollout of these vaccines. For example, we grew our global workforce to over 10,000 team members during that time; we pivoted in some cases from operations running maybe five days a week to running 24/7. If you look at our Waterford facility particularly, it supplied millions of rubber vial stoppers to over a dozen global customers, which were used to package billions of vaccine doses in multi-dose vials.

It really magnified our purpose, and the purpose of West, being by the side of our customers and patients. The Ireland US Council presented its global public service award to West for the significant contribution made by our Waterford facility to the global fight against the pandemic in 2022.

BF: Ireland currently ranks third in highest level of education amont OECD members. While the market is well known for its R&D capabilities and skilled workforce, there remain gaps as companies expand their operations. How would you assess Ireland's current skills level in medtech, and how is West Pharmaceuticals contributing to the training of future leaders in the sector?

Tom Clarke: The first thing to say is that we must maintain our focus on talent development. Again, our success, whether it be at West or across the multinational community, the SMEs and the startups has been driven by our capacity and capability to bring talent through the ecosystem. Talent is the fuel for innovation.

That's critically important as we intersect with government, with academia, with the SMEs. That collaborative mindset is key. As a reasonably small economy, but a very successful and thriving economy, talent will be to the fore of that.  West, here in Dublin, has enjoyed a period of rapid growth and success in recent years. We've grown our team; we focus very much on developing and promoting from within, but not just within Dublin or Waterford; many of our colleagues are now doing global roles very successfully from here in Ireland.

We have a tagline here when we say what's critical to our strategy execution. The tagline is our talent, our future. Recently, we were recognized as having the best talent strategy in medtech. Of all the awards we've achieved over the years, this is the one that I'm most proud of, to achieve that talent strategy award. It's a global challenge; it's not just an Irish challenge. Strategic focus and prioritizing talent is really important for West and the Irish economy.

BF: West Pharmaceuticals has an impressive CSR catalogue, including raising thousands of euros for Temple Street Hospital and BUMBLEance. The Dublin team also created the West Active August campaign in 2020 to raise funds for local organizations. Can you tell us about what kind of CSR activities the company is currently engaged in and what impact they are having on the local community in Ireland?

Tom Clarke: We can be very busy when it comes to our day to day, our annual and longer-term strategy execution. Nurturing a culture of philanthropy and community involvement is one of the defining characteristics of our company. West and its team members endeavor to build upon our culture of giving back by demonstrating a commitment to the communities in which we live and work through financial support and volunteerism. West supports charities focused on children, disabled, hospital/healthcare and STEM education.

In 2021, West received the Pharma Industry Award for Corporate Social Responsibility Programme of the Year in recognition of the combined efforts of our sites in Dublin and Waterford and the support provided to Temple Street Children's Hospital and BUMBLEance, the Children's National Ambulance Service.

Over the past ten years, our Dublin team has donated a staggering $440,000 to Temple Street Children's Hospital. This has funded dialysis machines, patient monitors, a multi-purpose room in the recently opened Renal & Neurology Outpatient unit, and most recently, a 'Cubbie Booth' for the Autism & Intellectual Disability Working Group. This cutting-edge equipment saves children's lives every day.

BF: The head company is based in Pennsylvania and branches out to around 50 global sites. Given your position as a bridge between Ireland and the US, how significant would you say US contribution is in building the company's and Ireland's medtech capabilities, and what kind of further opportunities do you see from collaboration between the two markets?

Tom Clarke: There's a long-standing bond and business linkage between Ireland and the US going back many years; very successful. Continuing to build in that bond and that linkage needs to remain a priority for all stakeholders on both sides of the pond; we need to continue to build on it.

The strength of Ireland-US relationship is no more clearly demonstrated than in Ireland's unrivaled position as a US investment hub into Europe and particularly into Ireland in that med tech sector. The strong spread of regional innovation has also created a 'clustering effect' leading to strong sector representation and centers of excellence throughout Ireland such as tech in Dublin, medtech in Galway, pharmaceuticals in Cork and advanced manufacturing in Limerick, with West obviously also a key beneficiary in this regard.

The drugs of the future, whether it is development or manufacturing, will only gain the efficacy they need through the devices, the technology, and the software advances, whether it is digitalization through the manufacturing or the connected devices themselves, that interconnected collaboration that brings the pharma and medtech sectors together will absolutely be an imperative to our continued success.

BF: You stepped up as Senior Director in 2016 and have successfully led the company through some very interesting times! You acted as Chair of MedTech Ireland in 2021! What are your current top three priorities as Senior Director of West Pharmaceuticals in Ireland, and where do you see the company moving to in the next three to five years?

Tom Clarke: Our first priority, again, comes back to talent. Everything we have achieved, whether it be at West, or whether it's been in the sector, is fueled by talent. We need to continue to double down on our investment in education, in research, in digitalization. Talent attraction, retention, and development is really important. That's a challenge. No matter if I'm speaking with my colleagues in Europe or in the US or beyond. It's really important that we're doubling down on our efforts there. We need to continue to progress on the global digitalization journey of our manufacturing technologies. We have seen firsthand here in Dublin how these advances are providing real time/live data, enabling our teams to raise the bar in delivering higher yields and efficiencies. This is about our ability to access real time information on our operational performance, which in turn drives our capacity to deliver enhanced performance into the future, reaping higher outputs as a result.

Remaining close to our patients is also really important for us. If you look at our purpose, we serve to improve patients' lives. We are focused on continuing to ensure that our growth strategy creates value for our customers, patients and all our stakeholders. Our core values of passion for customers, leadership in quality and One West Team will continue to guide us into the future.

BF: Is there any last message that you'd like to leave to the readers of USA Today?

Tom Clarke: 2023 marks West's 100-year milestone of innovation, leadership in healthcare and improving patient's lives and experience. We remain committed to the pursuit of scientific innovation and partnerships to address the changing needs not only for today, but for the next 100 years.

At a global level, West is continuing to drive forward capital investment across our operations to meet current and anticipated future growth, so investing more than $400 million globally to expand capacity and delivery on unprecedented demand for the company's products and services. Through this investment, West is also increasing contract manufacturing and integrated services capabilities, among others.

West is committed to delivering on our customers' needs and driving innovation. Focus on the needs of patients continues to be at the heart of what we do, everything we do has a patient's name on it.

Medtech, pharma and technology continue to converge, and in doing so, are accelerating research and innovation where global healthcare is advancing from disease management to preventative medicine. Connected health and wellness solutions are enabling society to progress from a patient-centric to human-centric model.

The global pandemic taught us that when there is passion for a purpose, the extraordinary can be achieved when organizations, leadership and great minds come together. Passion for the extraordinary has fueled Ireland's success, it will continue to fuel our future.