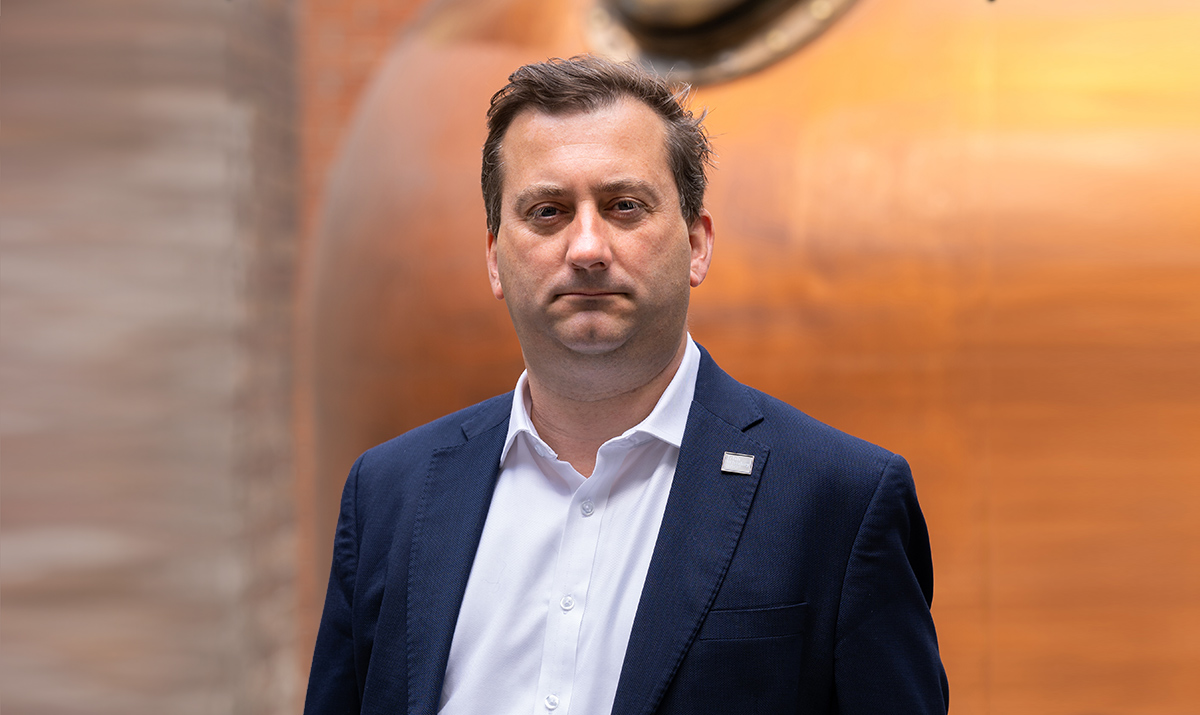 19 Jan

Interview with William Lavelle, Director of the Irish Whiskey Association (IWA)

BF: Ireland's beverage sector is massive, with a record contribution of €2.6 billion to the GDP in 2019. The country exported to more than 140 markets that generated €1.44 billion. To begin the interview, what factors have led to Ireland's beverage sector being so significant and what new trends are making it more popular than ever?

William Lavelle: We are a small island with a very large drinks industry that goes back centuries. In the medieval times, Ireland was known as "The Island of Saints and Scholars" and the roots of drink production here carry a great significance for this title. Celtic monks were the first producers of distilled whiskey. The Irish name for whiskey is uisce beatha, which translates to "Water of Life". The climate made it easy to grow barley. Brewing and distilling became a prominent part of the Irish industrial heritage. We had breweries and distilleries in every part of the country.

As the industry evolved, we used innovation to create the first cream liqueur. All of these factors played an essential role in making Ireland home to some of the most iconic drink brands in the world. Over the past decade, we have seen Irish whiskey return to its preeminent position within the industry. Since 2010, we went from only having four distilleries to now having over 40.

On a global level, we have had a tremendous turnaround in the last 12 years. We grew our exports from five million cases to sixteen million cases per year and 41% of all Irish whiskey is exported to the US, making America our largest market. We're seeing increased sales with higher price points. Within this decade, sales of Irish whiskey with have surpassed sales of scotch for the first time since prohibition. It's a really exciting time to be in the industry.

BF: The IWA represents a crucial part of the country's beverage sector. Can you give our readers an overview of key milestones passed by the organization in the last five years and its current strategy to grow the sector?

William Lavelle: The IWA represents 49 companies across the island, meaning we represent all the major players and our members account for 99% of Irish whiskey's global sales. We are one of the most representative trade associations in the world. We have an amazing industry of people who are willing to work together.

In 2015, the EU implemented regulations to protect the reputation and integrity of Irish whiskey. As an organization, our number one goal is to make sure Irish whiskey is protected. If you buy a bottle of it, anywhere in the world, that bottle is legally assured to be authentic. As the fastest growing spirits category in the world, it's our job to band together with companies to protect the name from false advertising.

International trade is a significant part in our business, and 96% of Irish whiskey is exported. In the last few years, we have seen transatlantic trade disputes between the US, UK, and the EU. Countries began to introduce country-only restrictions with new definitions of whiskey, so we've had an increasing focus on market access and international trade. Fortunately for us, 99.99% of all Irish whiskey was kept out of the Trump era trade disputes, unlike other spirits categories.

We have powerful backing from the Irish American community in the US. They recognized the importance of Irish whiskey for the Irish American community. We launched a sustainability roadmap last May titled "Irish Whiskey Sustainable Together". It has been recognized as a best practice for the sector. The purpose is to come together, find solutions and take action to become more sustainable. Along with reducing greenhouse gases (GHG), the sector is finding innovative ways to create greener packaging solutions.

Another key element is economic sustainability, where we focus on what we are giving back to our communities. We also look at our social sustainability to see how we can best support our workforce. This has led to government agencies wanting to work with us. This collaboration is at the heart of efforts by industries and government to work together to drive the sustainability agenda. In early 2023, we will be publishing our first report card to show, as an industry, the plans and actions that we are taking to accomplish these goals. It's important for us to show verifiable progress.

BF: Recent challenges such as the pandemic, Brexit and the conflict in Ukraine have upset regular value chains and changed the landscape of trade for Ireland. How much of an impact have these crises had on the beverage industry, and what new opportunities have they created?

William Lavelle: Covid was a major disruption. The hospitality sector was inactive for the majority of 2020 which had a direct impact on the sales of Irish whiskey. On the other hand, we saw a huge increase in e-commerce which led to consumers buying online. For our sector, Covid accelerated the movement to e-commerce. It was a lifeline for a lot of our smaller companies who were able to replace their lost sales with direct consumer sales with better margins.

In terms of sales, a downturn was seen in global travel retail. Overall, we demonstrated great resilience throughout the pandemic. In 2021, we saw a very strong rebound, which increased in 2022, and throughout that we saw a substantial pivot to e-commerce. The pandemic also presented us with significant supply chain challenges as demand recovered quicker than supply.

Shipping and port issues were very significant as well, and most of the issues had been left over from Covid and are still being resolved, but we are working through them. We faced a few challenges due to Brexit. There is only one single Irish whiskey industry, which incorporates both Northern Ireland and the Republic. We have crossed border supply chains. Distillers in the North purchase malt and grain from the South. There are producers distilling in one part of the country and maturing their barrels in another part of the island. The Irish whiskey industry is governed by geographic indication (GI) guarantees which had existed in EU law but now require a single GI covering EU and UK law. Thankfully, we have overcome a vast amount of these challenges through educating and minimizing these diversions.

One predicament that we are facing concerns trade agreements and the compliance with rules of origin. In order for our businesses to qualify for a 0% tariff, we must comply with the rules of origin, which states that all whiskeys have to be produced in the partner country to the free trade agreement (FTA). So for Irish whiskey to qualify under the EU FTA, all of the whiskey must be produced in the Republic of Ireland. For the UK FTA, the whiskey must be produced in Northern Ireland. We have a large amount of whiskey that is produced on an all-island basis, which means it will fall between the stools and won't qualify for any tariff reduction.

Regarding the conflict in the Ukraine, 7% of our sales in 2021 came from Russia and the Ukraine. Our members have made the decision to stop exporting to Russia, which was their choice. As an association we don't coordinate commercial decisions. Ukraine had been our fastest growing market in Europe and in the first few months of the year, following the invasion, there was no export, now they are slowly recovering.

The broader impact for businesses has been the energy crisis. Energy bills have skyrocketed in Ireland, and the impact energy costs have had on the supply chain are significant. Every ingredient that you're buying is being produced by a company with increased energy bills. These costs are relevant in every stage of the supply chain. For example, the cost of malt and barley, the key ingredients for producing whiskey, went from €400 to €1,200 per ton. Under the current business models in the sector, the cost of making whiskey is becoming extremely expensive, it will have a serious impact on the viability of a lot of our distilleries. This is one of our biggest concerns that we are communicating with government.

BF: Irish whiskey has seen a massive renaissance, with growth set at around 200% in the last 10 years. The country's whiskey distilleries have also grown tenfold since 2010. How significant is the Irish whiskey sector in comparison to other beverages made in the country, and what markets are the largest importers?

William Lavelle: The Irish whiskey industry has made the fastest growth out of any drinks category in the country. We see it in the massive increase in purchase of malt and grain and the rapid expansion of distilleries. While it's great to see beer and cream liqueur doing so well, Irish whiskey is becoming a major player. Irish whiskey is delivering a much greater value to the market. It's a premium product that is being matured and sold at a higher price point. It's a crucial part of our economy. For younger generations, Irish whiskey has become the drink of choice.

The pivot to e-commerce has been a driving force in that respect. Irish whiskey has been competing with scotch, selling premium products that have been maturing from 10-15 years. We are also seeing rapid market diversification beginning to show triple digit growth. While the US holds the place for our largest market, India and Nigeria have been two of our fastest growing markets, as of late. All of those factors attribute to the massive success Irish whiskey has had in the last few years.

BF: The US is undoubtedly one of Ireland's larger markets for its beverages and also represents a large portion of FDI into the country. How has the significance of the American market changed over the last decade for Irish beverages, and what kind of new opportunities might US investors be interested in?

William Lavelle: The Irish whiskey market has evolved simultaneously with the US market. Irish whiskey was once perceived as shot drink, but as the consumer matured so did our product. Today, the Irish whiskey drinker values a premium Irish whiskey, which is inevitably at a higher price point. We have seen Irish whiskey grow in volume and value. In terms of investment, we are very lucky to have a number of top US companies invested in the Irish whiskey industry. Beam Suntory, Brown-Forman and Sazerac to name a few. There's a deep affinity between the Irish and American industry, particularly in Kentucky and Tennessee. We have strong bilateral relations.

BF: What are your top three current priorities as the director of the IWA, and what kind of vision do you have for the beverage sector in the next five to ten years?

William Lavelle: Driving the implementation of our sustainability roadmap and delivering on the vision that Ireland will be home to the world's most sustainable whiskey distilleries is something that I'm absolutely committed to. This is a shared vision across the sector: to protect the name and integrity of Irish whiskey around the world. We've come a long way, but there is still more to accomplish. Whiskey has a lower level of protection in the US, making it easier for brands to mislabel their products and mislead consumers. One of our priorities for 2023 is to secure the same level of protection that scotch has in the US. We are actively working toward this milestone. We want to make sure that consumers are confident when they buy Irish whiskey that is it 100% authentic and truly Irish whiskey.

Protecting free trade globally is important. We saw the effect that tariffs had on the spirits industry over the last few years. Irish whiskey escaped as we fought hard. We want to avoid being dragged into trade disputes that have very little to do with us. We will continue educating policy makers about the importance of keeping us out of trade disputes.

BF: What's your final message to the readers of USA Today.

William Lavelle: Ireland is world leader when it comes to experiential distillery tourism. In 2019, we broke the one million visitor record for the first time. Due to our rich historic background, we have some of the most unique distilleries in the world. We encourage all whiskey connoisseurs to make the pilgrimage and come to Ireland and indulge in our traditions. You can find us on our platform at Irishwhiskey360.com.